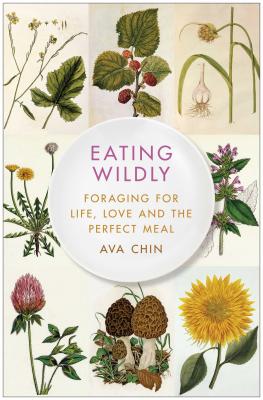 Eating Wildly
Foraging for Life, Love and the Perfect Meal
Hardcover

* Individual store prices may vary.
Other Editions of This Title:
Paperback (9/13/2016)
Description
In this touching and informative memoir about foraging for food in New York City, Ava Chin finds sustenance…and so much more.

Urban foraging is the new frontier of foraging for foods, and it's all about eating better, healthier, and more sustainably, no matter where you live. Time named foraging the "latest obsession of haute cuisine." And while foraging may be the latest foodie trend, the quest to connect with food and nature is timeless and universal.

Ava Chin, aka the "Urban Forager," is an experienced master of the quest. Raised in Queens, New York, by a single mother and loving grandparents, Chin takes off on an emotional journey to make sense of her family ties and romantic failures when her beloved grandmother dies. She retreats into the urban wilds, where parks and backyards provide not only rare and delicious edible plants, but a wellspring of wisdom.

As the seasons turn, Chin begins to view her life with new "foraging eyes," experiencing the world as a place of plenty and variety, where every element—from flora to fauna to fungi—is interconnected and interdependent. Her experiences in nature put her on a path to self-discovery, leading to reconciliation with her family and finding true love.

Divided into chapters devoted to a variety of edible/medicinal plants, with recipes and culinary information, Eating Wildly will stir your emotions and enliven your taste buds—a moving memoir about the importance of family, relationships, and food.
Praise For Eating Wildly: Foraging for Life, Love and the Perfect Meal…
"You'll root for Ava Chin from page one of her winsome memoir. Loves lost, herbs, mushrooms, and vegetation of all sorts found, and then how love—elusive and rare—follows suit like a 'patch of violets' among the weeds. Her story is not only about where to look for love and forage for edibles, but rather about how to keep your heart wide open while doing so."
— Monique Truong, bestselling author of Bitter in the Mouth

"Like the Metaphysical poets, Ava Chin finds the world in a weed, making us hungry for mysteries, edible and otherwise. So spare and careful is her prose, one at first is unaware of how moving and instructive her foraging excursions are. But by the time this quiet, enchanting memoir ends, and she has unearthed not only exotic foods but much of love and life as well, we realize a heightened taste for everything."
— Roger Rosenblatt, bestselling author of Making Toast

"EATING WILDLY is a pithy, elegant memoir that takes the reader into the urban wilderness and the thorny complexities of family and love. Ava Chin is a warm-hearted, intelligent, and trustworthy guide to hidden treasures and hard-won finds, whether a trove of oyster mushrooms, a backyard mulberry tree, or compassion and forgiveness."
— Kate Christensen, award-winning author of The Great Man

"Ava Chin's memoir has forever altered my relationship with nature; as a city girl I finally grasp the concept of finding oneself in the woods. The author forages through her past much in the same way she hunts for mushrooms, tenderly, with an almost worshipful respect for the delicate process of unearthing one's true self; the hidden treasure lying buried under the debris of everyday existence. I was left feeling awed by her courageous honesty and thrilled by her story of self-made redemption. Ava has inspired me to look deeper than the surface, both internally and externally, and I have a feeling she will convert many an urban dweller to the joys of 'eating wildly.'"
— Deborah Feldman, bestselling author of Unorthodox and Exodus

"EATING WILDLY, Ava Chin's terrific new memoir, connects it all—nature, self-discovery, and finding love. It's a journey of letting go and getting grubby, with lots of tips for urban food foragers. Chin is a personable narrator, who gently instructs while collecting wild edibles, and reveals her sometimes painful past with wry wisdom."
— Novella Carpenter, bestselling author of Farm City

"Forget the dude chefs and rockstar butchers. Chin's clear, honest prose forges the link between locavores and immigrant foodways without pretense or pose, sharing heartache and joy—and all the muddied life that roils in between. Like sitting with a good friend at the kitchen table, EATING WILDLY is a pleasure that lasts long after you're done."

— Tracie McMillan, bestselling author of The American Way of Eating

"EATING WILDLY intertwines the explorations of New York City's urban flora and the inner life of a thirtysomething single woman into a memoir rich with revelations, both personal and culinary. It makes you want to grab a bag and run out and forage in the parks so you too can have Wild Morel Linguini."
— Jennifer 8. Lee, bestselling author of The Fortune Cookie Chronicles
Simon & Schuster, 9781451656190, 256pp.
Publication Date: May 13, 2014
About the Author
Ava Chin is the author of Eating Wildly: Foraging for Life, Love and the Perfect Meal and the former Urban Forager columnist for The New York Times. She has written for the Los Angeles Times, Saveur, The Village Voice, Spin, and others. A former slam poet and activist, she is a professor of creative nonfiction and journalism at CUNY. She lives in New York City with her husband and daughter. Follow her at AvaChin.com.
or
Not Currently Available for Direct Purchase