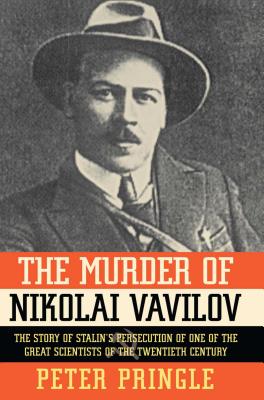 The Murder of Nikolai Vavilov (Paperback)
The Story of Stalin's Persecution of One of the Gr
Simon & Schuster, 9781451656497, 384pp.
Publication Date: July 2, 2011
* Individual store prices may vary.
About the Author
Peter Pringle is a veteran British foreign correspondent. He is the
author and coauthor of several nonfiction books, including the
bestselling Those Are Real Bullets, Aren't They? He lives in New York
City.
Praise For The Murder of Nikolai Vavilov: The Story of Stalin's Persecution of One of the Gr…
"This is a fascinating tale of science, politics, and intrigue. It weaves together the birth of genetics, the life of an amazing scientist, and the horrors of Stalin's collectivization and gulags. Pringle has again produced a great narrative with sweeping historical insights." -- Walter Isaacson, author of Einstein



"Nikolai Vavilov was in many ways the greatest and most courageous of the early Soviet geneticists who came under murderous attack by a quack, Trofim Lysenko, and his patron Joseph Stalin. Drawing expertly on archival sources and interviews, Peter Pringle provides a gripping account of Vavilov's brilliant rise and subsequent destruction." -- Matthew Meselson, Professor of Molecular Biology, Harvard University



"Even by the grim standards of the Stalinist era, Peter Pringle's story of the gifted geneticist Nikolai Vavilov stands out for its gut-wrenching absurdity and callous inhumanity. Pringle's book is an eloquent tribute to Vavilov -- and a chilling case study of Stalin's machinery of paranoia and terror." -- Andrew Nagorski, author of The Greatest Battle: Stalin, Hitler, and the Desperate Struggle for Moscow That Changed the Course of World War II



"This exciting and brilliantly written story about a great scientist is long overdue. Vavilov tried to launch a revolution in global agriculture three decades before America's so-called 'green revolution.' His extraordinary life, so full of adventures and brave expeditions, and his struggle for the survival of genetics in the Soviet Union make this book read like a thriller." -- Zhores Medvedev, author of The Rise and Fall of T. D. Lysenko, Soviet Science, and Soviet Agriculture



"Vividly written...Timely and important...Books such as The Murder of Nikolai Vavilov are becoming crucial for remembering Stalin's victims." -- Nature Genetics



"[C]ompelling...tells the story of the Lysenko affair with verve and pace....[A] timely reminder that public policies must be based on rational decisions drawn from the best data available." -- Nature



"A revealing account of Vavilov's remarkable career and brutal downfall.... Original and important.... Pringle's account of the brutal politics of Lysenko's campaign against Vavilov is gripping." -- Daniel J. Kevles, The New York Review of Books