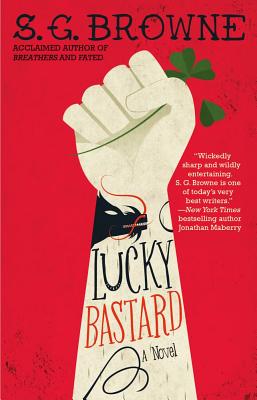 Lucky Bastard
Hardcover

* Individual store prices may vary.
Other Editions of This Title:
Paperback (6/18/2013)
Description
Meet Nick Monday: a private detective who's more Columbo than Sam Spade, more Magnum P.I. than Philip Marlowe. As San Francisco's infamous luck poacher, Nick doesn't know whether his ability to swipe other people's fortunes with a simple handshake is a blessing or a curse. Ever since his youth, Nick has swallowed more than a few bitter truths when it comes to wheeling and dealing in destinies. Because whether the highest bidders of Nick's serendipitous booty are celebrities, yuppies, or douche bag vegans, the unsavory fact remains: luck is the most powerful, addictive, and dangerous drug of them all. And no amount of cappuccinos, Lucky Charms, or apple fritters can sweeten the notion that Nick might be exactly what his father once claimed—as ambitious as a fart.

That is, until Tuesday Knight, the curvy brunette who also happens to be the mayor's daughter, approaches Nick with an irresistible offer: $100,000 to retrieve her father's stolen luck. Could this high-stakes deal let Nick do right? Or will kowtowing to another greedmonger's demands simply fund Nick's addiction to corporate coffee bars while his morality drains down the toilet? Before he downs his next mocha, Nick finds himself at the mercy of a Chinese mafia kingpin and with no choice but to scour the city for the purest kind of luck, a hunt more titillating than softcore porn. All he has to do to stay ahead of the game is remember that you can't take something from someone without eventually paying like hell for it. . . .
Praise For Lucky Bastard…
PRAISE FOR LUCKY BASTARD:

"Wickedly sharp and wildly entertaining. S.G. Browne is one of today's very best writers." —New York Times bestselling author Jonathan Maberry

"Springboarding off a traditional noir framework, Browne delivers an insightful, intriguing tale....With twists aplenty, this fast-paced adventure succeeds as both a hard-boiled homage and a paranormal romp." —Publishers Weekly (starred review & Pick of the Week)

"Browne hits the funny bone hard....Smartly constructed fiction...that sets it apart from the crowd." —Kirkus Reviews (starred review)

"Full of witty writing and hilarious adventures...I laughed out loud many times. Read the book: it will be your good fortune." —New York Times bestselling author Kevin J. Anderson

"Lucky Bastard is wonderful San Francisco noir, full of humor, irony, hot women, and cranial trauma. What more could you ask for in a book? The titular bastard may be in for a very bad day, but Browne's readers are the lucky ones." —New York Times bestselling author Christopher Golden

"A very clever novel....Nick [Monday] is a likable narrator...and the story's lightly noirish feel gives the proceedings an evocatively gritty texture. This one will appeal equally to readers of mysteries and fantasies." —Booklist
Gallery Books, 9781451657197, 368pp.
Publication Date: April 17, 2012
About the Author
S.G. Browne is the author of Big Egos, Lucky Bastard, Breathers, Fated, and the Breathers novella I Saw Zombies Eating Santa Claus, as well as the ebook collection Shooting Monkeys in a Barrel. He lives in San Francisco. Follow the author on Twitter and Facebook, or visit SGBrowne.com.
or
Not Currently Available for Direct Purchase