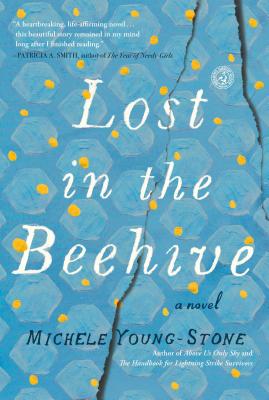 Lost in the Beehive
A Novel
Paperback

* Individual store prices may vary.
Description
Named one of O, The Oprah Magazine's "Best New Books of Spring"

From the author of Above Us Only Sky and The Handbook for Lightning Strike Survivors, a touching new novel set in the 1960s about the power of friendship, love, and accepting your past in order to find a future.

For nearly her entire life, Gloria Ricci has been followed by bees.

They're there when her mother loses twin children; when she first meets a neighborhood girl named Isabel, who brings out feelings in her that she knows she shouldn't have; and when her parents, desperate to "help" her, bring her to the Belmont Institute, whose glossy brochures promise healing and peace. She tells no one, but their hum follows her as she struggles to survive against the Institute's cold and damaging methods, as she meets an outspoken and unapologetic fellow patient named Sheffield Schoeffler, and as they run away, toward the freewheeling and accepting glow of 1960s Greenwich Village, where they create their own kind of family among the artists and wanderers who frequent the jazz bars and side streets.

As Gloria tries to outrun her past, experiencing profound love—and loss—and encountering a host of unlikely characters, including her Uncle Eddie, a hard-drinking former boyfriend of her mother's, to Madame Zelda, a Coney Island fortune teller, and Jacob, the man she eventually marries but whose dark side threatens to bring disaster, the bees remain. It's only when she needs them most that Gloria discovers why they're there.

Moving from the suburbs of New Jersey to the streets of New York to the swamps of North Carolina and back again, Lost in the Beehive is a poignant novel about the moments that teach us, the places that shape us, and the people who change us.
Praise For Lost in the Beehive: A Novel…
One of O Magazine's "Best New Books of Spring"

"Young-Stone is the rare writer who, like her characters, is able to perceive the magic in the world, even when the world is not spinning in the right direction. Through her novels—Lost in the Beehive, as well as her earlier Above Us Only Sky and Handbook for Lightning Strike Survivors—Young-Stone manages to show how even terrible experiences can, and often do, have a beautiful side. . . . Lost in the Beehive forces readers to examine their own notions about what is 'good' and 'right.'" —The Los Angeles Review

"In Lost in the Beehive, Young-Stone delves into the depth of the self, how we can excavate our true souls and how we can encourage joy, once the excavation is complete." —News & Observer

"Themes such as hetero-normativity, male entitlement, and systemic misogyny are at constant play. . . Young-Stone's words cut to the quick. . . . The novel's heroine, Gloria Ricci makes many mistakes, but learns from them and carries on. This is good a reminder for our community: We will struggle to find who we are, but we must keep going." —Edge Media Network

"Lost in the Beehive is a compulsively readable novel filled with colorful characters who practically leap off the page. The author's writing is lyrical and evocative, making me feel as though I had been transported back in time to the 1960s." —All About Romance

"Lost in the Beehive is a gripping and memorable novel about a lesbian woman's quest for her true destiny. Smartly structured, laced with Toni Morrison like moments. Highly recommend." —Elaine Neil Orr, author of Swimming Between Worlds and A Different Sun

"Michele Young-Stone's Lost in the Beehive is a tender, desperate portrait of teens branded as defective in the most critical aspect of their identities, and during the most critical years of their lives. Though she is buffeted by love and loss—and haunted by bees—Gloria doggedly chases acceptance and a sense of family. She's a believable character that adults and YA readers will cheer for and mourn with, and I recommend that you give Lost in the Beehive a try." —Historical Novel Society

"This is a moving story of a young woman trying to discover who she really is and how hard life can be in the meantime." —The Oklahoman

"A heartbreaking, life-affirming novel that champions the radical notion that to embrace our truest self is the one thing we can do to save ourselves. These characters and their lives and this beautiful story remained in my mind long after I finished reading." —Patricia A. Smith, author of The Year of Needy Girls

"Lost in the Beehive illuminates a timeless and universal lesson: life is brutal, but love redeems, and the only way through it all is truth. With an unforgettable main character and a beautiful big heart, this novel delivers what Michele Young-Stone does best: an opportunity to see directly into another soul. Not with artifice, or with sentimentality, but with glorious wit, and uncompromising compassion." —Lydia Netzer, author of How to Tell Toledo From the Night Sky

"Young-Stone has spun a romantic and magical yarn." —Booklist

"Emotionally rewarding...Readers' hearts will ache for Gloria as she strives for courage, self-realization, and, ultimately, the freedom to love and be loved." —Publishers Weekly

"Young-Stone's message is a strong one: do not deny your self...[A] mystical love story." —Kirkus Reviews
Simon & Schuster, 9781451657647, 320pp.
Publication Date: April 10, 2018
About the Author
Michele Young-Stone is the author of the novels Lost in the Beehive, Above Us Only Sky, and The Handbook for Lightning Strike Survivors, which The Boston Globe called "an exceptionally rich and sure-handed debut." She lives in the Outer Banks of North Carolina with her husband and son.
or
Not Currently Available for Direct Purchase