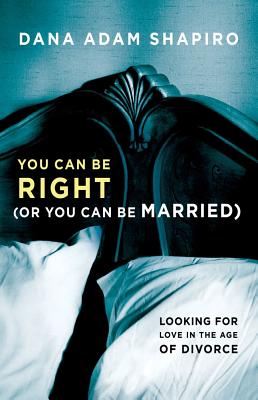 You Can Be Right (or You Can Be Married): Looking for Love in the Age of Divorce (Hardcover)
Looking for Love in the Age of Divorce
Scribner Book Company, 9781451657777, 236pp.
Publication Date: September 4, 2012
* Individual store prices may vary.
or
Not Currently Available for Direct Purchase
Description
A timely collection of brutally candid break-up stories resulting from three years of interviews by an Oscar-nominated documentary filmmaker, You Can Be Right (or You Can Be Married) began as an oral history about the failures of an age-old institution and evolved into a practical marriage guide as racy and romantic as it is revelatory. Fast approaching the age when bachelors go from seeming curious to seeming weird, Oscar-nominated documentarian Dana Adam Shapiro set out across the country with a tape recorder in search of modern answers to an age-old question: Why does love die--and what can we do to prevent it from happening? It all began as a self-help journey in the purest sense. A serial monogamist for more than two decades, Shapiro had just ended his fifth three-year relationship and wanted to know why the honeymoon phase never lasted until the actual honeymoon. Believing that you learn more from failure than from success, he spent the next four years interviewing hundreds of divorced people, living vicariously through the romantic tragedies of others, hoping to become so fluent in the errors of Eros that he would be able to avoid them in his own love life. The result is a timely treasure trove of marital wisdom--a provocative look inside the hearts, minds, beds, and e-mails of regular people who'd thought they found "The One" and lived to tell the tales of what went wrong. Shockingly intimate, universally relevant, and profoundly personal, this is a page-turning, voyeuristic peek into the private lives of our friends and neighbors that is as racy as it is revelatory. But ultimately, You Can Be Right (or You Can Be Married) is a hopeful investigation of modern love and a practical guide for any couple looking to beat the roulette-level odds of actually staying together forever.
About the Author
Dana Adam Shapiro directed the Academy Award-nominated documentary Murderball. He is the author of The Every Boy, a former senior editor at Spin, and a contributor to The New York Times Magazine. He lives in Venice, California.
Praise For You Can Be Right (or You Can Be Married): Looking for Love in the Age of Divorce…
"A wonderful and important piece of thinking and reporting."
--Elizabeth Gilbert, author of Committed: A Love Story and Eat, Pray, Love



"As a couples therapist, I witness daily the unraveling of adult intimacies. Dana Adam Shapiro's gripping testimonies of demise and divorce are written with vividness and aplomb—I felt as if he were eavesdropping in my office. A grand reportage of marriage and its discontents."
--Esther Perel, author of Mating in Captivity: Unlocking Erotic Intelligence




"A book about divorce written by a man who's never been married should be ridiculous. And yet I gobbled up this odd and touching and delicious book. I read it in a single sitting. And what's more, I learned something new about love and marriage and passion and commitment."
--Ayelet Waldman, author of Red Hook Road and Love and Other Impossible Pursuits



"After reading Dana Adam Shapiro's fascinating and revealing book, I will never again take my marriage for granted. I would write more, but I have to go buy some scented candles and tidy up the kitchen."
--A.J. Jacobs, author of Drop Dead Healthy: One Man's Humble Quest for Bodily Perfection

Advertisement