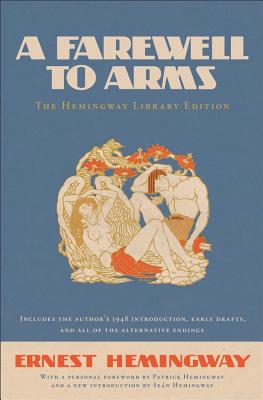 A Farewell to Arms: The Hemingway Library Edition (Hardcover)
The Hemingway Library Edition
Scribner Book Company, 9781451658163, 330pp.
Publication Date: July 10, 2012
Description
Presented by Patrick and Sean Hemingway, this augmented edition of Ernest Hemingway's classic novel of love during wartime features early drafts and, for the first time, all of the author's alternate endings. Written when Ernest Hemingway was thirty years old and lauded as the best American novel to emerge from World War I, A Farewell to Arms is the unforgettable story of an American ambulance driver on the Italian front and his passion for a beautiful English nurse. Set against the looming horrors of the battlefield--weary, demoralized men marching in the rain during the German attack on Caporetto; the profound struggle between loyalty and desertion--this gripping, semiautobiographical work captures the harsh realities of war and the pain of lovers caught in its inexorable sweep. Ernest Hemingway famously said that he rewrote the ending to A Farewell to Arms thirty-nine times to get the words right. This edition collects all of the alternative endings together for the first time, along with early drafts of other essential passages, offering new insight into Hemingway's craft and creative process and the evolution of one of the greatest novels of the twentieth century. Featuring Hemingway's own 1948 introduction to an illustrated reissue of the novel, a personal foreword by the author's son Patrick Hemingway, and a new introduction by the author's grandson Sean Hemingway, this edition of A Farewell to Arms is truly a celebration.
About the Author
Born in Oak Park, Illinois, in 1899, Ernest Hemingway served as an ambulance driver in the Red Cross during World War I and was severely wounded in Italy. He moved to Paris in 1921 to devote himself to writing and lived among the expatriate community that included Gertrude Stein, F. Scott Fitzgerald, and Ezra Pound. Defined by economy of language and understatement, Hemingway's terse prose revolutionized American writing. He was awarded the Nobel Prize for Literature in 1954, and his classic novella The Old Man and the Sea won the Pulitzer Prize in 1953. Known for his larger-than-life personality and his passions for bullfighting, fishing and big-game hunting, he died in Ketchum, Idaho, on July 2, 1961.
Coverage from NPR
Advertisement