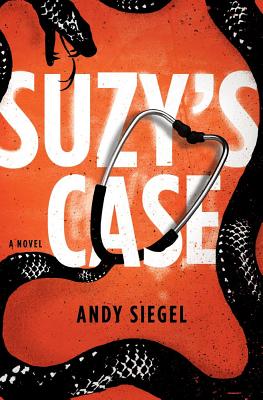 Suzy's Case (Hardcover)
Scribner Book Company, 9781451658781, 352pp.
Publication Date: July 10, 2012
* Individual store prices may vary.
or
Not Currently Available for Direct Purchase
Description
An exciting debut laced with insider details--a galloping legal thriller introducing a personal injury lawyer who stops at nothing to win his case. This wild ride of a debut thriller is packed with insider details that reveal the fascinating world of a New York lawyer who'll stop at nothing to secure justice. Introducing Tug Wyler, a dogged and irreverent New York City personal injury and medical malpractice attorney. He is as at home on the streets as he is in the courtroom, and larger than life in both places. Once you've met him, you won't ever forget him. When Henry Benson, a high-profile criminal lawyer known for his unsavory clients, recruits Tug to take over a long-pending multimillion-dollar lawsuit representing a tragically brain-damaged child, his instructions are clear: get us out of it; there is no case. Yet the moment Tug meets the disabled but gallant little Suzy Williams and June, her beautiful, resourceful mother, all bets are off. With an offbeat, self-mocking style, Tug Wyler's a far cry from your ordinary lawyer. Unswerving in his dedication to his mostly disadvantaged clients, he understands only too well how badly they need him with the system stacked against them. Tug is honest about his own shortcomings, many of them of the profoundly politically incorrect variety, and his personal catchphrase, handy in all situations, is "At least I admit it." When his passionate commitment to Suzy's case thrusts him into a surreal, often violent sideshow, the ensuing danger only sharpens his obsession with learning what really happened to Suzy. Blending razor-sharp intuition, intellectual toughness, and endlessly creative legal brinkmanship, Tug determinedly works his way through a maze of well-kept secrets--encountering a cast of memorably eccentric characters along the way--to get to the truth. Among the many fresh-to-the-genre pleasures of Suzy's Case is its eye-opening portrait of the brutally tough world of medical malpractice law in New York City, an aggressive, very-big-bucks, winner-takes-all game in which lawyers relentlessly cut corners, deals--and throats. With Andy Siegel as the expert guide to his daily home turf, that largely unseen medicolegal universe, where life--and death--always have a price, you'll experience its addictive, risk-taking reality. The result is a stunning debut as gripping as it is unexpected, as rollicking as it is compassionate, revealing Andy Siegel to be a bright new voice of remarkable energy, wit, and style.
About the Author
Andrew Siegel is a medical malpractice lawyer in New York City and serves on the Board of Directors for the New York State Trial Lawyers Association.
Praise For Suzy's Case…
"Anyone who can write a thriller this breezy and fascinating about medical malpractice law is someone to keep track of, ideally with a device."
-Josh Bazell, best-selling author of Beat the Reaper and Wild Thing



"Resourceful, funny, and thoroughly antiestablishment Tug makes an ideal protagonist; let's hope this debut novel is the start of a series." --Booklist
Advertisement