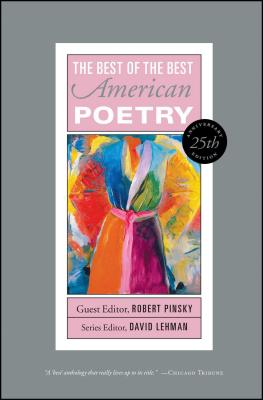 The Best of the Best American Poetry (Paperback)
Scribner Book Company, 9781451658880, 322pp.
Publication Date: April 9, 2013
Description
Robert Pinsky, distinguished poet and man of letters, selects the top 100 poems from twenty-five years of The Best American Poetry This special edition celebrates twenty-five years of the Best American Poetry series, which has become an institution. From its inception in 1988, it has been hotly debated, keenly monitored, ardently advocated (or denounced), and obsessively scrutinized. Each volume consists of seventy-five poems chosen by a major American poet acting as guest editor--from John Ashbery in 1988 to Mark Doty in 2012, with stops along the way for such poets as Charles Simic, A. R. Ammons, Louise Gluck, Adrienne Rich, Billy Collins, Heather McHugh, and Kevin Young. Out of the 1,875 poems that have appeared in The Best American Poetry, here are 100 that Robert Pinsky, the distinguished poet and man of letters, has chosen for this milestone edition.
Praise For The Best of the Best American Poetry…
"The strength of [The Best of the Best American Poetry] is its sense of subjectivity, the way these poems illustrate their editor's aesthetic, and in so doing, tell us something of how poetry operates in the world…These are poems that take the personal and make it universal, not by grand statements but by specific observation, building a common vision out of the very things that hold us apart."
-David Ulin

"The Best of the Best American Poetry collects 100 splendid works by American poets from a quarter-century of the Best American Poetry series."
-Colette Bancroft

"A concentrated, high-caliber, and exhilarating overview of the intensity and artistry that have made American poetry so splendidly varied and vital…This is an anthology of broad scope, serious pleasure, and invaluable illumination."
-Donna Seaman

"This indispensable volume, with its rich mix of voices, forms and techniques, serves as a melting pot of contemporary American verse."
-Julie Hale

"It takes special chutzpah and perspective to pick the poems that deserve to make the best cut twice—and Pinsky's fine collection proves that he's got the chops to do it…His selection is so rich and diverse one can't help but find several poems that will brighten any winter day…The Best of the Best American Poetry is a collection that never stops bringing light."
-Bruce Jacobs

"[A] survey of the past quarter-century of American verse…No doubt, some readers will discover new favorites here."
Advertisement