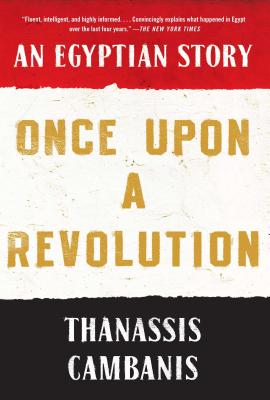 Once Upon A Revolution
An Egyptian Story
Paperback

* Individual store prices may vary.
Other Editions of This Title:
Hardcover (1/20/2015)
Description
Award-winning journalist Thanassis Cambanis tells the "wonderfully readable and insightful" (Booklist, starred review) inside story of the 2011 Egyptian revolution.

Cambanis brings to life the noble dreamers who brought Egypt to the brink of freedom, and the dark powerful forces that—for the time being—stopped them short. But he also tells a universal story of inspirational people willing to transform themselves in order to transform their society. He focuses on two pivotal leaders: One is Basem, an apolitical middle-class architect who puts his entire family in danger when he seizes the chance to improve his country. The other is Moaz, a contrarian Muslim Brother who defies his own organization to join the opposition.

These revolutionaries had little more than their idealism with which to battle the secret police, the old oligarchs, and a power-hungry military determined to keep control. Basem wanted to change the system from within and became one of the only revolutionaries to win a seat in parliament. Moaz took a different course, convinced that only street pressure from youth movements could dismantle the old order. Their courageous and imperfect decisions produced an uprising with one enduring outcome: No Arab leader ever again can take the population's consent for granted.

Once Upon a Revolution is "a welcome addition to the literature on Egypt's uprising" (Library Journal). Featuring exclusive and distinctive reporting, Thanassis Cambanis's "fluent, intelligent, and highly informed book…convincingly explains what happened in Egypt over the last four years" (The New York Times Book Review).
Praise For Once Upon A Revolution: An Egyptian Story…
"It is one of the many strengths of Thanassis Cambanis's fluent, intelligent, and highly informed book, Once Upon a Revolution, that he convincingly explains what happened in Egypt over the last four years. It should be read by anybody perplexed by how Egypt's apparent entry into a brave new democratic world was ultimately defeated. This account has the vividness and readability of eyewitness reporting combined with an unsentimental and perceptive judgment about where the opponents of autocracy went wrong."
— Patrick Cockburn

"Cambanis has achieved something altogether remarkable here. Through tracking the thoughts and actions of two rivals in the Egyptian revolutionary movement, complemented by his own acute on-the-street observations, he has produced an account of the rise and fall of the Egyptian Revolution that is at once gripping, illuminating and wise. Once Upon a Revolution is essential reading for anyone seeking to understand the political and religious crosscurrents currently roiling the Middle East, or who wishes to gain an insight into where the region might be headed next. It is also that rarest of 'compulsory' books: one that is a pleasure to read."
— Scott Anderson, author of Lawrence in Arabia: War, Deceit, Imperial Folly and the Making of the Modern Middle East

"A comprehensive, straightforward—and sympathetic—accounting of the Egyptian revolution. . . . A cautionary and instructive tale that should be required reading for would-be revolutionaries everywhere, Wall Street Occupiers and Hong Kong umbrella-holders alike, on the extent to which the powerful will go to prevent change and the pitfalls of decentralized revolutionary movements."
— Max Strasser

"In Once Upon a Revolution, Thanassis Cambanis draws on a decade of reporting in the Middle East to produce a kaleidoscopic narrative of 'the revolution that for an instant felt like it might transform the world.' Through the intertwining tales of two very different revolutionaries, Basem and Moaz, Cambanis conveys the profound moment of hope that existed in Tahrir Square—and the tumult and tragedy that followed. Gripping, vivid, compassionate, and often funny, Cambanis's book captures the political drama and human folly of these historic events in Egypt."
— Patrick Radden Keefe, author of Chatter and The Snakehead

"Once Upon a Revolution is a beautifully written, deeply reported and thrilling book. Thanassis Cambanis has remarkable access to the men and women at the heart of the most important revolution of our times and he uses that access to tell a story that is both compulsively readable and essential to anyone trying to understand people and politics of the modern Middle East."
— Matthew McAllester, author of Beyond the Mountains of the Damned

"The characters Cambanis renders in Once Upon A Revolution are irresistible; you will cheer for them, cry with them, and feel the weight of their task as they bring down a dictator only to face the harder challenge of re-inventing Egypt. Cambanis tells no fairy tales, but grim reality is tempered by the compassion, humor, and hope of the young people in the square."
— Quil Lawrence, NPR News correspondent and former Baghdad Bureau Chief

"The Egyptian uprising of 2011 was packed with principled struggles and craven opportunism, unexpected triumphs and horrifying reversals. Cambanis works to guide us through this thicket with intense on-the-ground reporting. His readers will understand why Egypt's would-be revolutionaries made the choices—and the mistakes—they did."
— Nathan J. Brown, author of When Victory Is Not an Option: Islamist Movements in Arab Politics and professor of political science at George Washington University

"A warm, deeply human chronicle of the people who drove the revolution and a cool, withering analysis of why they failed."
— Boston Globe

"Cambanis's remarkable account of Egypt's 2011 uprising and 2013 counterrevolution is built on his firsthand reporting. . . . Cambanis' analysis is sharp, and he does not hold back when it comes to graphically depicting the Egyptian state's violence against its own people, be they Coptic Christians or Muslim Brotherhood supporters."
— Foreign Affairs

"A gripping portrayal of the forces that led to the eruption in Tahrir Square in Egypt on January 25, 2011. . . . The richness of his reporting informs his book, but it is the narrative nonfiction frame that humanizes the account and makes it more accessible. Wonderfully readable and insightful."
— Booklist (starred review)

"In this highly readable book, journalist and author Cambanis recounts the trials and tribulations of that revolution. The work is informed by the author's sustained, on-the-ground, astute observations of the unfolding events in Egypt. A welcome addition to the literature on Egypt's uprising."
— Library Journal

"Smart, troubling study of the events surrounding Tahrir Square and their aftermath… A clear exposition and analysis of complex, swiftly changing events. The book gives readers cause to understand why we might support regime change in the Middle East, even if it brings instability and incoherence."
— Kirkus
Simon & Schuster, 9781451659009, 288pp.
Publication Date: January 19, 2016
About the Author
Thanassis Cambanis is a journalist who has been writing about the Middle East for more than a decade. His first book, A Privilege to Die: Inside Hezbollah's Legions and Their Endless War Against Israel, was published in 2010. He writes "The Internationalist" column for The Boston Globe and is a correspondent for The Atlantic. Thanassis regularly contributes to The New York Times, The Boston Globe, and other publications. He is a fellow at The Century Foundation in New York City. Thanassis lives in Beirut, Lebanon, with his wife, Anne Barnard, a reporter for The New York Times, and their two children.