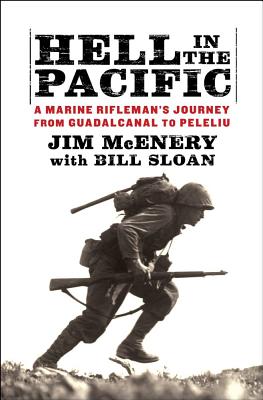 Hell in the Pacific: A Marine Rifleman's Journey from Guadalcanal to Peleliu (Hardcover)
A Marine Rifleman's Journey from Guadalcanal to Peleliu
Simon & Schuster, 9781451659139, 320pp.
Publication Date: June 5, 2012
* Individual store prices may vary.
or
Not Currently Available for Direct Purchase
Description
In the tradition of E.B. Sledge's With the Old Breed, this is a Marine rifleman's extraordinarily vivid, brutally candid memoir of what it was like on the front lines of World War II in the Pacific. In what may be the last memoir to be published by a living veteran of the pivotal invasion of Guadalcanal, which occurred almost seventy years ago, Marine Jim McEnery has teamed up with author Bill Sloan to create an unforgettable chronicle of heroism and horror. McENERY'S RIFLE COMPANY--the legendary K/3/5 of the First Marine Division, made famous by the HBO miniseries The Pacific--fought in some of the most ferocious battles of the war. In searing detail, the author takes us back to Guadalcanal, where American forces first turned the tide against the Japanese; Cape Gloucester, where 1,300 Marines were killed or wounded; and bloody Peleliu, where McEnery assumed command of the company and helped hasten the final defeat of the Japanese garrison after weeks of torturous cave-to-cave fighting. McEnery's story is a no-holds-barred, grunt's-eye view of the sacrifices, suffering, and raw courage of the men in the foxholes, locked in mortal combat with an implacable enemy sworn to fight to the death. From bayonet charges and hand-to-hand combat to midnight banzai attacks and the loss of close buddies, the rifle squad leader spares no details, chronicling his odyssey from boot camp through twenty-eight months of hellish combat until his eventual return home. He has given us an unforgettable portrait of men at war.
About the Author
Jim McEnery, born and raised in Brooklyn, New York, enlisted in the Marines in 1940 and fought in three major campaigns in the Pacific. Ninety-two, he now lives in Ocala, Florida. Bill Sloan is the acclaimed author of more than a dozen books, including Brotherhood of Heroes and The Ultimate Battle. He lives in Dallas, Texas.
Praise For Hell in the Pacific: A Marine Rifleman's Journey from Guadalcanal to Peleliu…
"A thoroughly satisfying account of war in the South Pacific packed with fireworks, tragedy and horseplay."
—Kirkus



"Sloan is a master of that narrative genre at least as old as the Iliad, the combat narrative."
—Bill Marvel, Dallas Morning News



"Battle reportage at its finest."— Joseph E. Persico, author of Eleventh Month, Eleventh Day, Eleventh Hour: Armistice Day 1918



"One of [World War II's] eminent historians and storytellers."—John D. Lukacs, author of Escape from Daveo
Advertisement