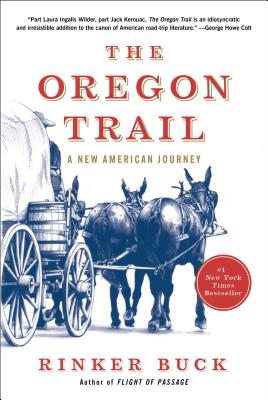 The Oregon Trail
A New American Journey
Hardcover

* Individual store prices may vary.
Other Editions of This Title:
Digital Audiobook (6/29/2015)
Paperback (6/7/2016)
Hardcover, Large Print (10/7/2015)
CD-Audio (11/28/2017)
Paperback, Large Print (6/7/2016)
CD-Audio (6/30/2015)
July 2015 Indie Next List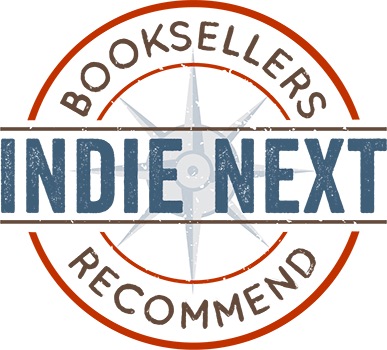 "Inspired by a family trip in a covered wagon in the 1950s, Rinker Buck and his brother Nick set out by wagon to discover what remains of the Oregon Trail between Missouri and Oregon. Along the way, readers learn about wagon design, mule heritage, and what pioneers needed to endure traveling west in the 19th century. This is also a moving personal story of brotherhood, endurance, and the kindness of strangers. Buck weaves fact, action, and reflection together into a page-turning delight that history buffs and fans of contemporary nonfiction will not want to miss."
— Dick Hermans, Oblong Books And Music,LLC., Millerton, NY
View the List
Description
#1 New York Times Bestseller * #1 Indie Next Pick

"Absorbing...Winning...The many layers in The Oregon Trail are linked by Mr. Buck's voice, which is alert and unpretentious in a manner that put me in mind of Bill Bryson's comic tone in A Walk in the Woods." —Dwight Garner, The New York Times

An epic account of traveling the length of the Oregon Trail the old-fashioned way—in a covered wagon with a team of mules, an audacious journey that hasn't been attempted in a century—which also chronicles the rich history of the trail, the people who made the migration, and its significance to the country.

Spanning two thousand miles and traversing six states from Missouri to the Pacific coast, the Oregon Trail is the route that made America. In the fifteen years before the Civil War, when 400,000 pioneers used the trail to emigrate West—scholars still regard this as the largest land migration in history—it united the coasts, doubled the size of the country, and laid the groundwork for the railroads. Today, amazingly, the trail is all but forgotten.

Rinker Buck is no stranger to grand adventures. His first travel narrative, Flight of Passage, was hailed by The New Yorker as "a funny, cocky gem of a book," and with The Oregon Trail he brings the most important route in American history back to glorious and vibrant life.

Traveling from St. Joseph, Missouri, to Baker City, Oregon, over the course of four months, Buck is accompanied by three cantankerous mules, his boisterous brother, Nick, and an "incurably filthy" Jack Russell terrier named Olive Oyl. Along the way, they dodge thunderstorms in Nebraska, chase runaway mules across the Wyoming plains, scout more than five hundred miles of nearly vanished trail on foot, cross the Rockies, and make desperate fifty-mile forced marches for water. The Buck brothers repair so many broken wheels and axels that they nearly reinvent the art of wagon travel itself. They also must reckon with the ghost of their father, an eccentric yet loveable dreamer whose memory inspired their journey across the plains and whose premature death, many years earlier, has haunted them both ever since.

But The Oregon Trail is much more than an epic adventure. It is also a lively and essential work of history that shatters the comforting myths about the trail years passed down by generations of Americans. Buck introduces readers to the largely forgotten roles played by trailblazing evangelists, friendly Indian tribes, female pioneers, bumbling U.S. Army cavalrymen, and the scam artists who flocked to the frontier to fleece the overland emigrants. Generous portions of the book are devoted to the history of old and appealing things like the mule and the wagon. We also learn how the trail accelerated American economic development. Most arresting, perhaps, are the stories of the pioneers themselves—ordinary families whose extraordinary courage and sacrifice made this country what it became.

At once a majestic journey across the West, a significant work of history, and a moving personal saga, The Oregon Trail draws readers into the journey of a lifetime. It is a wildly ambitious work of nonfiction from a true American original. It is a book with a heart as big as the country it crosses.
Praise For The Oregon Trail: A New American Journey…
"An incredible true story . . . Weaving a tale somewhere between a travelogue and a history lesson, Buck traces the iconic path literally and figuratively as he re-creates the great migration with his brother and a Jack Russell terrier."
—Entertainment Weekly

"Excellent . . . An amazing cross-country journey . . . Rinker and Nick Buck's conquest of the trail, the achievement of a lifetime, makes for a real nonfiction thriller, an account that keeps you turning the pages because you can't conceive how the protagonists will make it through the enormous real-life obstacles confronting them."
—Ian Frazier, The New York Review of Books

"Enchanting . . . Interspersed with the story of his westward journey, Mr. Buck entertains and enlightens with discourses on American history and culture. . . . He has delivered us a book filled with so much love—for mules, for his brother, for America itself. . . . Long before Oregon, Rinker Buck has convinced us that the best way to see America is from the seat of a covered wagon."
—Gregory Crouch, The Wall Street Journal

"Absorbing . . . The many layers in The Oregon Trail are linked by Mr. Buck's voice, which is alert and unpretentious in a manner that put me in mind of Bill Bryson's comic tone in A Walk in the Woods. . . . He's good company on the page, and you root for him. . . . He's particularly winning on how, as he puts it, 'the vaudeville of American life was acted out on the trail.' . . . This shaggy pilgrimage describes a form of happiness sought, and happiness found."
—Dwight Garner, The New York Times

"Awe-inspiring . . . Charming, big-hearted, impassioned, and a lot of fun to read . . . If Buck doesn't quite make you want to hitch up your own wagon, his rapturous account will still leave you daydreaming and hungry to see this land."
—The Boston Globe

"A remarkable saga . . . Thanks to Buck's utterly engaging voice, infectious enthusiasm, unquenchable curiosity, dogged determination and especially his ability to convey the interaction of two brothers (and three mules), all of whom pull together despite their strong but profoundly different personalities, the saga becomes nothing short of irresistible. . . . This tale of brotherhood, persistence and daring so snares the emotions that it becomes a tear-jerker at its close."
—Rosemary Herbert, Minneapolis Star Tribune

"A laugh-out-loud masterpiece . . . Alternately harrowing and exhilarating . . . The book is an unremitting delight."
—Willamette Week

"Interwoven in Buck's adventure tale is a fascinating history of the development of the trail, its heyday, and the colorful characters that made the journey. . . . Whether their primary interest is American history, adventure travel or a captivating memoir, readers are sure to be delighted by this humorous and entertaining story that allows us to believe that Walter Mitty–like fantasies can indeed come true."
—Associated Press

"A quintessential American story . . . The Oregon Trail attains its considerable narrative power by interweaving pioneer history with Rinker-and-Nick-and-mules interpersonal strife with poignant memories of the author's father, who took his own family on a covered wagon journey through New Jersey and Pennsylvania in 1958. . . . This makes The Oregon Trail a rare and effective work of history—the trail stories of the Buck brothers bring humor and drama, and the pioneer biographies supply a context that makes every other aspect of the book snap into sharp relief. . . . The experience of The Oregon Trail stands squarely opposite much of what is modern—it's slow travel with poor communication, it places struggle before comfort, and it represents a connection with history rather than a search for the newest of the new. In that sense, you'd think the book would be slow-paced and fusty, but it's really something else: raw, visceral, and often laugh-out-loud funny. For anyone who has ever dreamed of seeing America slowly from the back of a wagon, The Oregon Trail is a vicarious thrill."
—James Norton, Christian Science Monitor

"A trip back in time . . . Buck brings the land to life in a richly researched book that draws heavily from journals kept by the pioneers and their memoirs. . . . His exploration of America and himself is a joy to read."
—USA Today (4 out of 4 stars)

"What a way to spend a summer! Rinker Buck lived the dream of countless red-blooded Americans. . . . The Oregon Trail is must reading for anyone in love with the West."
—Jules Wagman, Cleveland Plain Dealer

"This book is a keeper. . . . The straight-ahead title scarcely does justice to this rollicking good read, a book that's as much fun as the Brothers Buck seem to be as they travel from Missouri to Oregon by covered wagon. . . . Observant, conversational, and often funny, The Oregon Trail makes for a satisfying trip."
—Seattle Times

"Exhilarating . . . Bristles with new information . . . Although the subject of the Oregon Trail has been raked over by some of America's finest historians, Rinker manages to relate stories about pioneer life, disease, grave location, and trail development and history that add to our collective knowledge. . . . The book sparkles."
—The Wichita Eagle

"An entertaining and enlightening account of one of America's most legendary migrations. Even readers who don't know a horse from a mule will find themselves swept up in this inspiring and masterful tale of perseverance and the pioneer spirit."
—Publishers Weekly

"Astonishing . . . By turns frankly hilarious, historically elucidating, emotionally touching, and deeply informative . . . A crazy whim of a trip on a covered wagon turns into an inspired exploration of American identity."
—Kirkus Reviews (starred review)

"This smart, endearing book is not just about a picaresque and probably ill-advised adventure; it's a story about us—who we are and how we came to be that way. As he makes his two thousand-mile pilgrimage by cussed mule across the dusty continent, Rinker Buck finds his way deep into our nation's DNA."
—Hampton Sides, author of Blood and Thunder and Americana

"How lucky we are that Rinker Buck and his brother, as stubborn and endearing as the mules they drove, undertook this patently imprudent journey—so the rest of us could sit in our easy chairs and tag along for the wild and woolly ride. Along the way we learn a little about mule breeders, tongue relievers, cholera, cattle guards, and littering, 1850s style—and a lot about the enduring essence of the pioneer spirit. Part Laura Ingalls Wilder, part Jack Kerouac, The Oregon Trail is an idiosyncratic and irresistible addition to the canon of American road-trip literature."
—George Howe Colt, National Book Award finalist for The Big House

"Buck's lean prose, historical insight, and penetrating curiosity elevate The Oregon Trail into an instant classic that deserves a place on your bookshelf between Bryson and Horwitz. A master storyteller and dogged reporter, Buck gives substance to an unrelenting wanderlust that is the envy of anyone who has ever dreamed of lighting out for the territories."
—Bob Drury, coauthor of The Heart of Everything That Is

"Once you start reading this book, you will not want to stop. With wonderful writing, colorful characters, and a deep understanding of history and the human condition, Rinker Buck delivers a richly rewarding portrait of the Oregon Trail, past and present. Using humor and compassion, he creates a compelling, page-turning saga of the American experience."
—Eric Jay Dolin, author of Fur, Fortune, and Empire and Leviathan

"Romantic . . . Compelling . . . The Oregon trip is fraught with mishaps, near-death experiences, and plain bad luck. But there were also angels along the way helping them get through."
—Library Journal
Simon & Schuster, 9781451659160, 464pp.
Publication Date: June 30, 2015
About the Author
Rinker Buck began his career in journalism at the Berkshire Eagle and was a longtime staff writer for the Hartford Courant. He has written for Vanity Fair, New York, Life, and many other publications, and his work has won PEN New England Award, the Eugene S. Pulliam National Journalism Writing Award, and the Society of Professional Journalists Sigma Delta Chi Award. He is the author of The Oregon Trail as well as the acclaimed memoirs Flight of Passage and First Job. He lives in northwest Connecticut.
or
Not Currently Available for Direct Purchase