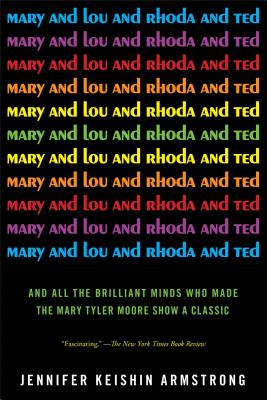 Mary and Lou and Rhoda and Ted (Paperback)
And all the Brilliant Minds Who Made The Mary Tyler Moore Show a Classic
Simon & Schuster, 9781451659221, 336pp.
Publication Date: October 29, 2013
Other Editions of This Title:
Digital Audiobook (5/12/2013)
Compact Disc (5/13/2013)
Hardcover (5/7/2013)
Hardcover, Large Print (5/15/2013)
MP3 CD (5/13/2013)
Compact Disc (5/13/2013)
* Individual store prices may vary.
Description
"Jennifer Keishin Armstrong's deft weave of social history and sharp entertainment reporting explains how [The Mary Tyler Moore Show] made the world safe for Lena Dunham" (Peter Biskind, author of Easy Riders, Raging Bulls)—the making of a classic and groundbreaking TV show, as experienced by its producers, writers, and cast.

When writer-producers James L. Brooks and Allan Burns dreamed up an edgy show about a divorced woman with a career, the CBS executives they pitched replied: "American audiences won't tolerate divorce in a series' lead any more than they will tolerate Jews, people with mustaches, and people who live in New York."

Forty years later, The Mary Tyler Moore Show is one of the most beloved and recognizable television shows of all time. It was an inspiration to a generation of women who wanted to have it all in an era when everything seemed possible.

Jennifer Keishin Armstrong's Mary and Lou and Rhoda and Ted tells the stories behind the making of this popular classic, introducing the groundbreaking female writers who lent real-life stories to their TV scripts; the men who created the indelible characters; the lone woman network executive who cast the legendary ensemble—and advocated for this provocative show—and the colorful cast of actors who made it all work. James L. Brooks, Grant Tinker, Allan Burns, Valerie Harper, Cloris Leachman, Betty White, Gavin MacLeod, Ed Asner, Ted Knight, Georgia Engel—they all came together to make a show that changed women's lives and television itself. Mary and Lou and Rhoda and Ted is the tale of how they did it.
About the Author
Jennifer Keishin Armstrong is the author of Sex and the City and Us, Seinfeldia, and Mary and Lou and Rhoda and Ted. She writes about pop culture for several publications, including The New York Times Book Review, Fast Company, Vulture, BBC Culture, Entertainment Weekly, and several others. She grew up in Homer Glen, Illinois, and now lives in New York City. Visit her online at JenniferKArmstrong.com.
Praise For Mary and Lou and Rhoda and Ted: And all the Brilliant Minds Who Made The Mary Tyler Moore Show a Classic…
"A rich chronicle of women making history."
— TheAtlantic.com

"A delightfully thorough history of the show, evoking in detail the making of a piece of pop-culture history and telling sweet tales about the colorful cast. But what really jumps from the page is the story of the women in the writers' room."
— New York Daily News

"A superb, highly entertaining history of one of television's most beloved sitcoms… A terrific pop culture history--well-written, lovingly researched and chock full of great stories from the Mary Tyler Moore Show set."
— Shelf Awareness for Readers

"Compelling and highly readable, this book is as informative as it is charming…As enjoyable as reruns of the classic show."
— Bust

"Armstrong takes us back to a golden age of comedy."
— Washington Post

"Delicious… For any fan of the show or TV history in general, this book is pure pleasure."
— Kirkus (starred review)

"Fast-paced and charming…Armstrong's absorbing cultural history offers the first in-depth look at a series that changed television."
— Publishers Weekly

"Poor dead Chuckles the Clown might be squirting seltzer water down the angels' robes, but as long as intelligent comedy has a role in our lives, the chuckles and change that "The Mary Tyler Moore Show" wrought will never die. And Armstrong, in this smart and charming history, shows us why."
— Richmond Times-Dispatch

"Goes behind the scenes to reveal the often-bumpy creation of the show whose influence appears in contemporary TV comedies almost every night of the week. In telling the tale, Armstrong, a former Entertainment Weekly reporter, offers a breezy tour of the way things used to be in television."
— Portland Oregonian

"A perfect microhistory of television and feminism and writing and money and pressure and the joy of creativity and those capri pants she wore."
— The Hairpin

"This is a wonderful book. It takes us backstage with a keen insight on the writing, directing and casting of one of the best television shows, ever. I didn't want it to end, any more than I wanted The Mary Tyler Moore Show to end."
— Carol Burnett, author of Carrie and Me

"I tried to skim this book, but failed miserably, finding I couldn't put it down. In case you're wondering how we got from I Love Lucy to Girls, the answer is: "The Mary Tyler Moore Show, stupid!" Jennifer Keishin Armstrong's deft weave of social history and sharp entertainment reporting explains how this revolutionary show made the world safe for Lena Dunham."
— Peter Biskind, author of Easy Riders, Raging Bulls

Mary and Lou and Rhoda and Ted hurt my face. Jennifer Armstrong brought back memories and laughs from one of the best eras in television. She made me stay up all night and by the morning my face hurt from smiling. I forgive her because I enjoyed the book so much.
— Gail Parent, author of Sheila Levine Is Dead and Living in New York

"Pop-culture gold: a can't-put-it-down history of The Mary Tyler Moore Show and the misfit genius women (and men) who made it. Mary and Lou and Rhoda and Ted is essential reading if you love The Mary Tyler Moore Show, or TV comedy wizards, or things that are awesome."
— Gavin Edwards, author of 'Scuse Me While I Kiss This Guy