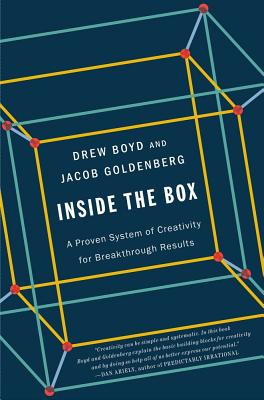 Inside the Box
A Proven System of Creativity for Breakthrough Results
Hardcover

* Individual store prices may vary.
Other Editions of This Title:
Digital Audiobook (6/10/2013)
Paperback (6/10/2014)
Compact Disc (6/11/2013)
MP3 CD (6/11/2013)
CD-Audio (6/11/2013)
Description
This counterintuitive and powerfully effective approach to creativity demonstrates how every corporation and organization can develop an innovative culture.

Want to be creative? Then think Inside the Box. The traditional view says that creativity is unstructured and doesn't follow rules or patterns. That you need to think "outside the box" to be truly original and innovative. That you should start with a problem and then "brainstorm" ideas without restraint until you find a solution. Inside the Box shows that more innovation— and better and quicker innovation—happens when you work inside your familiar world (yes, inside the box) using a set of templates that channel the creative process in a way that makes us more—not less—creative. These techniques were derived from research that discovered a surprising set of common patterns shared by all inventive solutions. They form the basis for Systematic Inventive Thinking, or SIT, now used by hundreds of corporations throughout the world, including industry leaders such as Johnson & Johnson, GE, Procter & Gamble, SAP, and Philips. Many other books discuss how to make creativity a part of corporate culture, but none of them uses the innovative and unconventional SIT approach described in this book. With "inside the box" thinking, companies and organizations of any size can creatively solve problems before they develop—and innovate on an ongoing, systematic basis. This system really works!
Praise For Inside the Box: A Proven System of Creativity for Breakthrough Results…
"Among the few ideas that have fundamentally changed how I look at life is the idea that creativity can be simple and systematic. In this book Boyd and Goldenberg explain the basic building blocks for creativity and by doing so help all of us better express our potential."
— Dan Ariely, author of Predictably Irrational

"Why wait for a brilliant idea to hit like a bolt from the blue? You can increase the odds of a creative lightning strike just by learning and applying a few simple tools—ones that have proven their effectiveness time and again. The 'inside-the-box approach' described by Drew Boyd and Jacob Goldenberg can reveal key opportunities for innovation that are hiding in plain sight. It's hard to imagine a real-world problem that wouldn't be amenable to their approach."
— Daniel H. Pink, author of To Sell is Human and Drive

"Innovation means a lot of things to a lot of people. Unfortunately, this can make it difficult to actually innovate—especially for big, established companies. Inside the Box uses very practical methods to take the mystery out of innovation and provides a roadmap for getting real results."
— David Butler, Vice President, Innovation, The Coca-Cola Company

"What's Inside the Box? In this case, a remarkably original way of thinking about and implementing creativity in the workplace. If you're interested in gaining a competitive edge over your rivals, open this package (of truly impressive insights) first."
— Robert B. Cialdini, author of Influence: Science and Practice and Professor Emeritus of Psychology and Marketing at Arizona State University

"Many books are written on the topic of stimulating creativity, but the practical examples provided here make Boyd and Goldenberg's advice stand out from the crowd. A captivating and fun read that adds insight to product design."
Simon & Schuster, 9781451659252, 272pp.
Publication Date: June 11, 2013
About the Author
Drew Boyd is assistant professor of marketing and innovation at the University of Cincinnati. He trains and consults in the fields of innovation, marketing, persuasion, and social media. He lives in Cincinnati, Ohio.

Jacob Goldenberg is a marketing professor at the Hebrew University of Jerusalem. He studies creativity, new product development, innovation, market dynamics, and the effects of social networks. He lives in Jerusalem, Israel.
or
Not Currently Available for Direct Purchase