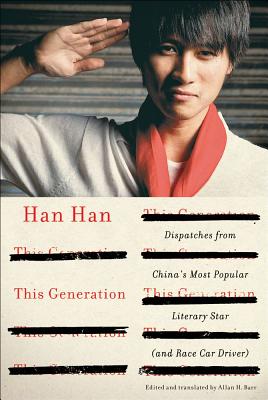 This Generation (Hardcover)
Dispatches from China's Most Popular Literary Star (and Race Car Driver)
Simon & Schuster, 9781451660005, 265pp.
Publication Date: October 9, 2012
* Individual store prices may vary.
or
Not Currently Available for Direct Purchase
Description
In this rare glimpse behind the Great Firewall, China's bestselling writer and hero of a new generation describes life in the world's most populous country. For those who follow Chinese affairs, Han Han is as controversial as they come--an irreverent singer, sports celebrity, and satirist whose brilliant blogs and books have made him a huge celebrity with more than half a billion readers. Now, with this collection of his essays, Americans can appreciate the range of this rising literary star and get a fascinating trip through Chinese culture. This Generation gathers his essays and blogs dating from 2006 to the present, telling the story of modern China through Han Han's unique perspective. Writing on topics as diverse as racing, relationships, the Beijing Olympics, and how to be a patriot, he offers a brief, funny, and illuminating trip through a complex nation that most Westerners view as marching in lockstep. As much a millennial time capsule as an entertaining and invaluable way for English readers to understand our rising Eastern partner and rival, This Generation introduces a dazzling talent to American shores.
Praise For This Generation: Dispatches from China's Most Popular Literary Star (and Race Car Driver)…
"I started to glance through THIS GENERATION expecting the usual—and I could not put it down! What a voice and what a wit! But so wise and generous, too."
-AMY CHUA, Yale Law Professor and

"Han Han is a phenomenon of today's China who personifies a rapidly changing society."
-Jonathan Fenby, author of Tiger Head, Snake Tails: China Today, How It Got There and Where It Is Heading

"China's most popular blogger . . . His manicured, swaggering persona is a rebuke to the rumpled archetype of the Chinese intellectual, and owes equal debt to Kerouac and Timberlake."

—Evan Osnos, The New Yorker


"Scaling the Great Firewall of China may be a tall order, but the 30-year-old Han Han has succeeded remarkably well. In fact, shock and awe will probably be the emotions that first register with readers unfamiliar with or ambivalent about Chinese culture. Yes, someone living inside Communist China is writing these things online—and, yes, has yet to face serious consequences. Prepare for even more enlightenment and entertainment, because the firebrand behind these invaluable posts is more Jon Stewart than John Brown. The sly and often funny dispatches take on Communist Party corruption, inequality, injustice, censorship and more. But the author isn't shy about taking on some of his other countrymen in the process . . . Han Han navigates around these and other cultural potholes with the same assuredness he shows on racetracks all over of the world. The finish line here is a relevant view of modern Chinese life, and Han Han's commentary on events both large and small inside China drives past politics, outruns Sinophobia and brings Chinese society into sharp focus. A must-read for anyone, especially 20- and 30-somethings, itching to understand China today." —Kirkus Reviews

"This Generation is a pragmatic guide to public expression in China… [Han Han] dissects the latest news with gusto."
Advertisement