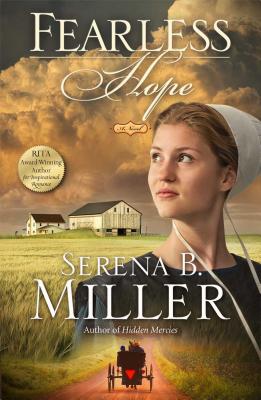 Fearless Hope
A Novel
Paperback

* Individual store prices may vary.
Description
When an Amish woman falls for the New York crime writer who buys her family farm, she must decide whether to follow the longings of her heart or the rules of her faith.

When Hope Yoder loses her husband, she is left trying to support her two small children—and one on the way—however she can. She ends up taking a job as a part-time housekeeper for the Englisch man who has bought the farm that once belonged to her family.

Logan Parker is a bestselling crime fiction writer from New York City who accompanies his fiancée on a trip to Holmes County, Ohio, but the trip takes a strange turn when he sees an Amish farmhouse for sale. Intrigued by a strong sense of familiarity, he enters the house and is overcome with a feeling of deep peace. He's never been to Ohio before, but something in this house feels right, and he purchases the farm to use as a retreat. Something about the peacefulness of the house frees him from the crippling writer's block that threatens to ruin his career, and something about the quiet Amish woman who comes to clean his home makes him less and less excited about returning to New York and the woman he is supposed to marry.

Slowly, Logan and Hope are drawn together, and when they discover that they share a strange past, they must decide how that affects their future. Will Hope overcome her fear of embracing love again?
Praise For Fearless Hope: A Novel…
"While obedient to the Amish faith, the heroine is truly brilliant as she questions some of the rules that keep her from fulfilling her dreams. The hero is charmingly clueless about Amish culture and sadly unaware of God's personal interest in him; these traits make him all the more exciting to readers who have had doubts of their own."
— Romantic Times (four and a half stars)

"A truly riveting read from first to last! Serena Miller immerses readers in the world of the most conservative Amish sect, the Swartzentrubers, with authenticity and depth. An Uncommon Grace is aptly named as it showcases the chasm between two cultures that can only be bridged by God's grace and truth. If you pick up this book, prepare to not put it down till the last page!"
— Laura Frantz, author of Courting Morrow Little and The Colonel's Lady

"Set in the heart of Amish country, An Uncommon Grace is the perfect mix of page-turning suspense and poignant love story. I was so captivated by the characters that I stayed up way too late reading their story. I couldn't put this novel down!"
— Melanie Dobson, author of The Silent Order

"Miller takes you from war-torn Afghanistan to the Shetlers' farm in Amish country Ohio in An Uncommon Grace. This story will make your heart pound in fear for a community terrorized by a killer and cause your heart to beat with hope for two lives in turmoil. I guarantee you will love these characters along with a story that will keep you turning pages and rooting for love despite the strict laws of the Swartzentruber Amish."
— Jillian Kent, author of Secrets of the Heart, The Ravensmoore Chronicles, Book One

"Serena Miller's latest offering, An Uncommon Grace, is a captivating story populated with fascinating characters, an unpredictable plot, and a memorable setting. Miller's attention to cultural detail sets this book apart. With gentleness and respect she invites readers into a unique and rarely viewed world. I became so involved in the characters and emotionally invested in their story, I was truly reluctant to reach the last pages of the book. Definitely a recommended read."
— Annette Smith, author of A Town Called Ruby Prairie

"Serena Miller breathes such life into her characters they almost leap off the page into your imagination. From the first paragraph of An Uncommon Grace to the final page, you are caught up in the story of Levi and Grace. Miller paints their very different worlds in wonderful, eye-opening detail. A great read."
— Ann H. Gabhart, author of Words Spoken True and the Shaker series
Howard Books, 9781451660371, 384pp.
Publication Date: April 8, 2014
About the Author
Prior to writing novels, Serena Miller wrote for many periodicals, including Woman's World, Guideposts, Reader's Digest, Focus on the Family, Christian Woman, and The Detroit Free Press Magazine. She has spent many years partnering with her husband in full-time ministry and lives on a farm in southern Ohio near a thriving Amish community.