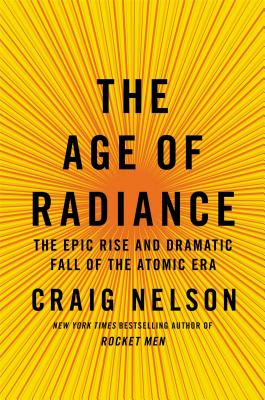 The Age of Radiance
The Epic Rise and Dramatic Fall of the Atomic Era
Hardcover

* Individual store prices may vary.
Other Editions of This Title:
Digital Audiobook (3/24/2014)
Paperback (12/30/2014)
Description
A riveting narrative of the Atomic Age—from x-rays and Marie Curie to the Nevada Test Site and the 2011 meltdown in Japan—written by the prizewinning and bestselling author of Rocket Men.

From the New York Times bestselling author of Rocket Men and the award-winning biographer of Thomas Paine comes the first complete history of the Atomic Age, a brilliant, magisterial account of the men and women who uncovered the secrets of the nucleus, brought its power to America, and ignited the twentieth century.

When Marie Curie, Enrico Fermi, and Edward Teller forged the science of radioactivity, they created a revolution that arced from the end of the nineteenth century, through the course of World War II and the Cold War of superpower brinksmanship, to our own twenty-first-century confrontation with the dangers of nuclear power and proliferation—a history of paradox, miracle, and nightmare. While nuclear science improves our everyday lives—from medicine to microwave technology—radiation's invisible powers can trigger cancer and cellular mayhem. Writing with a biographer's passion, Craig Nelson unlocks one of the great mysteries of the universe in a work that is tragic, triumphant, and above all, fascinating.

From the discovery of X-rays in the 1890s, through the birth of nuclear power in an abandoned Chicago football stadium, to the bomb builders of Los Alamos and the apocalyptic Dr. Strangelove era, Nelson illuminates a pageant of fascinating historical figures: Marie and Pierre Curie, Albert Einstein, Niels Bohr, Franklin Roosevelt, J. Robert Oppenheimer, Harry Truman, Curtis LeMay, John F. Kennedy, Robert McNamara, Ronald Reagan, and Mikhail Gorbachev, among others. He reveals how brilliant Jewish scientists fleeing Hitler transformed America from a nation that created lightbulbs and telephones into one that split atoms; how the most grotesque weapon ever invented could realize Alfred Nobel's lifelong dream of global peace; and how, in our time, emergency workers and low-level utility employees fought to contain run-amok nuclear reactors while wondering if they would live or die.

Radiance defies our common-sense views of nature, with its staggering amounts of energy flowing from seemingly inert rock and matter pulsing in half-lives that transforms into other states over the course of decades or in the blink of an eye. Radiation is as scary a word as cancer, but it's the power that keeps our planet warm, as well as the force behind earthquakes, tsunamis, and volcanic eruptions, and so organic to all life that even our own human bodies are radioactive. By tracing mankind's complicated relationship with the dangerous energy it discovered and unleashed, Nelson reveals how atomic power and radiation are indivisible from our everyday lives.

Brilliantly told and masterfully crafted, The Age of Radiance provides a new understanding of a misunderstood epoch in history and restores to prominence the forgotten heroes and heroines who have changed all of our lives for better and for worse. It confirms Craig Nelson's position as one of the most lively and skillful popular historians writing today.
Praise For The Age of Radiance: The Epic Rise and Dramatic Fall of the Atomic Era…
"A book that moves at a thrilling pace through the while history of the atomic age... Mr. Nelson wisely dramatizes the insights that led to understanding the nucleus by following the lives of a few physcists, each a leader in the field and each displaying remarkable traits of individuality, creativity and endurance... this ambitious book does achieve is goal, presenting a grand and very readable overview of the nuclear era."

"Rich with powerful images ... fraught with drama ... and moments of great pathos ... a thrilling, intense, and disturbing account of the scientific and sociopolitical history of the atomic era, from the discovery of X-rays to the tragic meltdown of Japan's Fukushima Daiichi nuclear power plant in March 2011."

"A page-turning history... Historian Craig Nelson tells the tale with exceptional panache… an example of top-notch storytelling… Nelson's version is one of the best, an ideal balance of detail, character, conflict and information…He's always able to find the image or observation that makes a scene or situation blossom in a reader's mind's eye. And much of what he finds is surprising."

"A fascinating, information-rich new work… Filled with drama, vivid anecdotes, and breathtaking scientific breakthroughs, this book is an engrossing, comprehensive history of the atomic age."

"Nelson writes a wonderfully detailed, anecdote-filled account of atomic energy, from Wilhelm Roentgen's 1895 discovery of radiation to the ongoing hangover of the Fukushima disaster.… Other authors have covered the myriad ways this invisible power impacts our lives, but Nelson brilliantly weaves a plethora of material into one noteworthy volume."

"This is the kind of book that doesn't just inform you but leaves you feeling smarter."

"A highly readable history of humanity's embrace of nuclear energy and radiation."

"This is no impersonal "march of science" story. The author also shows how the development of nuclear physics was deeply influenced by contemporary politics and the interplay of the personalities involved. An engaging history that raises provocative questions about the future of nuclear science."

"A sweeping panorama of the nuclear age, from Wilhelm Röntgen's discovery of X-rays to the Fukushima Daiichi nuclear disaster, paying particular attention to the colorful scientists whose brilliance and diligence unlocked the secrets of the atom.… Nelson tells their stories vividly, with a journalist's eye for symmetry and irony; the science itself is, at times, less central to his narrative than the fusion-reactions of interacting scientists and government officials."

"Nelson's vivid reconstructions...shine. They make this book fun to read and sometimes hard to put down.'"

"A comprehensive and fascinating look at the invention of atomic energy. It is the sort of book struck through with facts, quotes, and stories that you never even knew happened. Nelson is as dexterous writing about Cold War-era Realpolitik as he is writing about complicated science in a way that the proletariat can get an idea of what's going on; and he's funny to boot. The pleasure of reading this book comes from the many, many insights and facts that are brought to light through Nelson's smart voice."

"Nelson is especially good with a 'you are there' approach in describing Curie's work and her late-night visits to the backyard lab with husband Pierre to look at the glow from her experiments stored in jars. He uses a similar tack in describing efforts by Enrico Fermi, Leo Szilard and others to start a chain reaction at an old squash court at the University of Chicago, work that gave rise to the Los Alamos lab and the construction of the first working atomic bombs."

"Wow! Craig Nelson's The Age of Radiance is like the best of John McPhee mixed with the page-turning glory of a science-fiction thriller. A magnificent storyteller, Nelson takes even the most atomized of details and spins a dazzling history of the Atomic Age. This book gives you x-ray glasses: After reading it you literally can't walk down the street without seeing everything in our world anew."
— Doug Stanton, author of Horse Soldiers and In Harm's Way

"As he did with the space program in Rocket Men, in The Age of Radiance Craig Nelson has brought an era and an ethos to life. At the same time, he's performed an even more difficult task: he's made both the scientific and political complexities of the atomic era comprehensible and transparent."
— Daniel Okrent, author of Last Call

"A dramatic history, full of missteps and accidental discoveries, manipulations and malfeasance, outsized personalities and egos, and inadvertent deaths born of ignorance as well as human error...A readable and fresh romp through a familiar history."
Scribner, 9781451660432, 448pp.
Publication Date: March 25, 2014
About the Author
Craig Nelson is the author of Pearl Harbor: From Infamy to Greatness and the New York Times bestseller, Rocket Men: The Epic Story of the First Men on the Moon, as well as several previous books, including The Age of Radiance (a PEN Award Finalist chosen as one of the year's best books by NBC News, the American Institute of Physics, Kirkus Reviews, and FlavorWire), The First Heroes, Thomas Paine (winner of the Henry Adams Prize), and Let's Get Lost (shortlisted for W.H. Smith's Book of the Year). His writing has appeared in Vanity Fair, The Wall Street Journal, Salon, National Geographic, The New England Review, Popular Science, Reader's Digest, and a host of other publications.
or
Not Currently Available for Direct Purchase