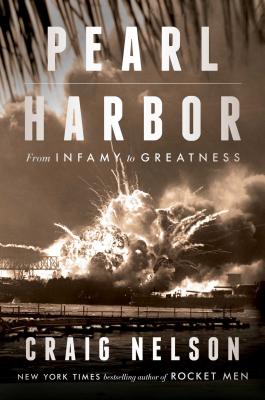 Pearl Harbor
From Infamy to Greatness
Hardcover

* Individual store prices may vary.
Other Editions of This Title:
Digital Audiobook (9/19/2016)
Paperback (8/1/2017)
Description
Published in time for the 75th anniversary, a gripping and definitive account of the event that changed twentieth-century America—Pearl Harbor—based on years of research and new information uncovered by a New York Times bestselling author.

The America we live in today was born, not on July 4, 1776, but on December 7, 1941, when an armada of 354 Japanese warplanes supported by aircraft carriers, destroyers, and midget submarines suddenly and savagely attacked the United States, killing 2,403 men—and forced America's entry into World War II. Pearl Harbor: From Infamy to Greatness follows, moment by moment, the sailors, soldiers, pilots, diplomats, admirals, generals, emperor, and president as they engineer, fight, and react to this stunningly dramatic moment in world history.

Beginning in 1914, bestselling author Craig Nelson maps the road to war, beginning with Franklin D. Roosevelt, then the Assistant Secretary of the Navy (and not yet afflicted with polio), attending the laying of the keel of the USS Arizona at the Brooklyn Navy Yard. Writing with vivid intimacy, Nelson traces Japan's leaders as they lurch into ultranationalist fascism, which culminates in their insanely daring yet militarily brilliant scheme to terrify America with one of the boldest attacks ever waged. Within seconds, the country would never be the same.

In addition to learning the little understood history of how and why Japan attacked Hawaii, we hear an abandoned record player endlessly repeating "Sunrise Serenade" as bombs shatter the decks of the California; we feel cold terror as lanky young American sailors must anxiously choose between staying aboard their sinking ships or diving overboard into harbor waters aflame with burning ship fuel; we watch as Navy wives tearfully hide with their children in caves from a rumored invasion, and we understand the frustration and triumph of a lone American teenager as he shoots down a Japanese bomber, even as the attack destroys hundreds of US airplanes and dozens of ships.

Backed by a research team's five years of work, which produced nearly a million pages of documents, as well as Nelson's thorough re-examination of the original evidence assembled by federal investigators, this page-turning and definitive work provides a thrilling blow-by-blow account from both the Japanese and American perspectives, and is historical drama on the grandest scale. Nelson delivers all the terror, chaos, violence, tragedy, and heroism of the attack in stunning detail, and offers surprising conclusions about the tragedy's unforeseen and resonant consequences that linger even today.
Praise For Pearl Harbor: From Infamy to Greatness…
"In this brilliant mix of history and emotion, Craig Nelson has managed to combine grueling research with masterful reporting in order to capture the long and the short, the overview and the detail, of that infamous day in a paradisal land of orchids and jacaranda. It has taken seventy-five years, but now, finally, the Pearl Harbor book has been written."
—Jim deFilippi, author of Mules of Monte Cassino and Murka

"Craig Nelson has completely retold the epic story of Pearl Harbor. Using his skills as a reporter and a literary stylist, he not only deftly paints the fleeting image—an enemy pilot waving as he flies by, a cup of coffee trembling on a table while outside a war commences—but a world roiled in titanic struggle. His gifts as storyteller, his empathy and scope, will appeal to fans of Walter Lord's Day of Infamy or Cornelius Ryan's A Bridge Too Far, and, in surprise, the inquiry of Lawrence Wright's The Looming Tower. This book has a thousand poignant and unforgettable moments. You'll read Pearl Harbor and want to pass it to a friend."
—Doug Stanton, New York Times best-selling author of Horse Soldiers and In Harm's Way

"Craig Nelson has taught me there's a lot to learn about an infamous day and it's a joy reading his deeply-researched and well-written account."
—James Bradley, bestselling author of Flags of Our Fathers, Flyboys, and The China Mirage

"Bookshelves groan with accounts of the 1941 attack on Pearl Harbor and its aftermath, but readers will not regret this thick new contribution to the literature. . . . Nelson weaves archival research, interviews, and personal experiences from both sides into a blow-by-blow narrative of destruction liberally sprinkled with individual heroism, bizarre escapes, and equally bizarre tragedies."
—Kirkus Reviews

"A valuable reexamination of the causes, the attack, and the aftermath of that seminal event [at Pearl Harbor] … Superbly done and instructive… Informative and poignant. ... This is a worthy addition to the already voluminous studies of a history-changing event."
—Booklist (starred review)

"Nelson brings his formidable narrative talents to bear on this well-known history as he comprehensively contextualizes and covers the battle....To differentiate his work from the many previous volumes on this event, Nelson highlights the individual experiences of soldiers at the battle's front and beyond. Nelson's well written history of Pearl Harbor will be enjoyed by the general reader and appropriately highlights the battle's historical significance."
—Publishers Weekly

"As close to a complete history as possible of the events leading up to the December 1941 bombing…This comprehensive account doesn't shy away from the horrors of war, successfully providing an even-handed chronicle of the events that led up to Pearl Harbor."
—Library Journal (starred review)

"Undoubtedly, we will read many stories about Pearl Harbor in the coming months, but this book is an invaluable resource for those who want to know the whole story."
—Bookreporter

"[An] important new piece of Pearl Harbor scholarship… A comprehensive, engaging new history of the attack that thrust the United States into World War II."
—Shelf Awareness

"A superb and instructive reexamination of the causes, the attack, and the aftermath of Pearl Harbor…backed by a deep look into prewar developments in Japan."
—Booklist

"Gripping…Nelson infuses his account with the primary-source memories of the people involved, giving his book a tense, epic feel."
—Christian Science Monitor

"A powerful, sweeping retelling of the Dec. 7, 1941, surprise Japanese bombing of U.S. military installations in Hawaii. The power derives from the author's deliciously connecting political, economic and social dots going back to 1914 and giving the reader the soldiers', the military's and political leaders' viewpoints, from both sides."
—Albuquerque Journal
Scribner, 9781451660494, 544pp.
Publication Date: September 20, 2016
About the Author
Craig Nelson is the author of Pearl Harbor: From Infamy to Greatness and the New York Times bestseller, Rocket Men: The Epic Story of the First Men on the Moon, as well as several previous books, including The Age of Radiance (a PEN Award Finalist chosen as one of the year's best books by NBC News, the American Institute of Physics, Kirkus Reviews, and FlavorWire), The First Heroes, Thomas Paine (winner of the Henry Adams Prize), and Let's Get Lost (shortlisted for W.H. Smith's Book of the Year). His writing has appeared in Vanity Fair, The Wall Street Journal, Salon, National Geographic, The New England Review, Popular Science, Reader's Digest, and a host of other publications.
or
Not Currently Available for Direct Purchase