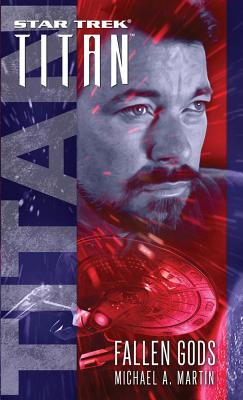 Fallen Gods (Star Trek (Mass Market)
The Next Generation)
Pocket Books/Star Trek, 9781451660623, 368pp.
Publication Date: July 31, 2012
Other Editions of This Title:
Paperback (10/21/2012)
Mass Market (10/25/2011)
Paperback (4/12/2014)
* Individual store prices may vary.
Description
The Starship Titan continues on her outward voyage of discovery in this latest exciting novel.


Though the United Federation of Planets still reels from Andor's political decision that will forever affect the coalition, Captain William T. Riker and the crew of the U.S.S. Titan are carrying out Starfleet's renewed commitment to deep space exploration. While continuing to search the Beta Quadrant's unknown expanses for an ancient civilization's long-lost quick-terraforming technology— a potential boon to many Borg-ravaged worlds across the Federation and beyond—Titan's science specialists encounter the planet Ta'ith, home to the remnant of a once-great society that may hold the very secrets they seek. But this quest also takes Titan perilously close to the deadly Vela Pulsar, the galaxy's most prolific source of lethal radiation, potentially jeopardizing both the ship and what remains of the Ta'ithan civilization. Meanwhile, Will Riker finds himself on a collision course with the Federation Council and the Andorian government, both of which intend to deprive Titan of its Andorian crew members. And one of those Andorians—Lieutenant Pava Ek'Noor sh'Aqaba—has just uncovered a terrible danger, which has been hiding in plain sight for more than two centuries. . . .
About the Author
Michael A. Martin's solo short fiction has appeared in The Magazine of Fantasy & Science Fiction. He has also coauthored (with Andy Mangels) several Star Trek comics for Marvel and Wildstorm and numerous Star Trek novels and eBooks, including the USA Today bestseller Titan: Book One: Taking Wing; Titan: Book Two: The Red King; the Sy Fy Genre Award-winning Star Trek: Worlds of Deep Space 9 Book Two: Trill -- Unjoined; Star Trek: The Lost Era 2298—The Sundered; Star Trek: Deep Space 9 Mission: Gamma: Vol. Three: Cathedral; Star Trek: The Next Generation: Section 31—Rogue; Star Trek: Starfleet Corps of Engineers #30 and #31 ("Ishtar Rising" Books 1 and 2); stories in the Prophecy and Change, Tales of the Dominion War, and Tales from the Captain's Table anthologies; and three novels based on the Roswell television series. His most recent novels include Enterprise: The Romulan War and Star Trek Online: The Needs of the Many. His work has also been published by Atlas Editions (in their Star Trek Universe subscription card series), Star Trek Monthly, Dreamwatch, Grolier Books, Visible Ink Press, The Oregonian, and Gareth Stevens, Inc., for whom he has penned several World Almanac Library of the States nonfiction books for young readers. He lives with his wife, Jenny, and their two sons in Portland, Oregon.
or
Not Currently Available for Direct Purchase