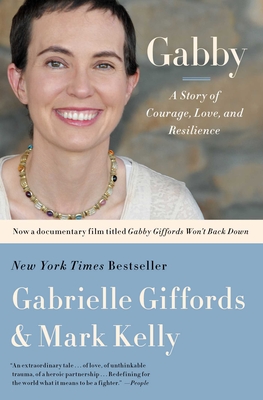 Gabby: A Story of Courage, Love, and Resilience (Paperback)
A Story of Courage, Love, and Resilience
Scribner Book Company, 9781451661071, 319pp.
Publication Date: October 9, 2012
* Individual store prices may vary.
or
Not Currently Available for Direct Purchase
Description
Now in paperback with a bonus new chapter, the New York Times bestseller by Gabrielle Giffords and her husband, astronaut Mark Kelly--an incredibly inspiring story of adventure, service, love, and overcoming tragedy. Gabrielle Giffords and Mark Kelly's story is a reminder of the power of true grit, the patience needed to navigate unimaginable obstacles, and the transcendence of love. Their arrival in the world spotlight came under the worst of circumstances. On January 8, 2011, while meeting with her constituents in Tucson, Arizona, Gabby was the victim of an assassination attempt that left six people dead and thirteen wounded. Gabby was shot in the head; doctors called her survival "miraculous." As the nation grieved and sought to understand the attack, Gabby remained in private, focused on her againstall- odds recovery. Intimate, inspiring, and unforgettably moving, Gabby provides an unflinching look at the overwhelming challenges of brain injury, the painstaking process of learning to communicate again, and the responsibilities that fall to a loving spouse who wants the best possible treatment for his wife. Told in Mark's voice and from Gabby's heart, the book also chronicles the lives that brought these two extraordinary people together--their humor, their ambitions, their sense of duty, their longdistance marriage, and their desire for family. A new, moving final chapter brings Gabby's story up to date, including the state of her health and her announcement that she would leave the House of Representatives.
About the Author
Gabrielle Giffords represented Arizona's 8th Congressional District in the U.S. House of Representatives from 2007 until 2012. A graduate of Scripps College, she has a Masters degree from Cornell University. She was a Fulbright Scholar in Mexico and a fellow at Harvard University's John F. Kennedy School of Government. Mark Kelly was a Captain in the United States Navy when he commanded the final mission of Space Shuttle Endeavour in May of 2011. A veteran of four space flights to the International Space Station he is a graduate of the United States Merchant Marine Academy and holds a masters degree from the U.S. Naval Post Graduate School. Jeffrey Zaslow (1958-2012) was most recently the author of The Magic Room. His other books include The Girl from Ames and, as coauthor of The Last Lecture by Randy Pausch.
Advertisement