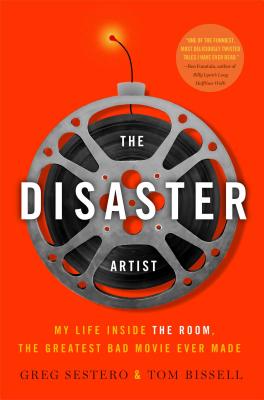 The Disaster Artist
My Life Inside The Room, the Greatest Bad Movie Ever Made
Hardcover

* Individual store prices may vary.
Other Editions of This Title:
Digital Audiobook (5/18/2014)
Paperback (10/7/2014)
MP3 CD (5/19/2014)
Paperback (11/28/2017)
Compact Disc (5/19/2014)
Compact Disc (5/19/2014)
Description
From the actor who lived through it all and an award-winning narrative nonfiction writer: the inspiring and laugh-out-loud funny story of a mysteriously wealthy social misfit who got past every road block in the Hollywood system to achieve success on his own terms—the making of The Room, "the Citizen Kane of bad movies" (Entertainment Weekly).

The hilarious and inspiring story of how a mysterious misfit got past every roadblock in the Hollywood system to achieve success on his own terms: a $6 million cinematic catastrophe called The Room.

Nineteen-year-old Greg Sestero met Tommy Wiseau at an acting school in San Francisco. Wiseau's scenes were rivetingly wrong, yet Sestero, hypnotized by such uninhibited acting, thought, "I have to do a scene with this guy." That impulse changed both of their lives. Wiseau seemed never to have read the rule book on interpersonal relationships (or the instruc­tions on a bottle of black hair dye), yet he generously offered to put the aspiring actor up in his LA apart­ment. Sestero's nascent acting career first sizzled, then fizzled, resulting in Wiseau's last-second offer to Sestero of costarring with him in The Room, a movie Wiseau wrote and planned to finance, produce, and direct—in the parking lot of a Hollywood equipment-rental shop.

Wiseau spent $6 million of his own money on his film, but despite the efforts of the disbelieving (and frequently fired) crew and embarrassed (and fre­quently fired) actors, the movie made no sense. Nevertheless Wiseau rented a Hollywood billboard featuring his alarming headshot and staged a red carpet premiere. The Room made $1800 at the box office and closed after two weeks. One reviewer said that watching The Room was like "getting stabbed in the head."

The Disaster Artist is Greg Sestero's laugh-out-loud funny account of how Tommy Wiseau defied every law of artistry, business, and friendship to make "the Citizen Kane of bad movies" (Entertainment Weekly), which is now an international phenomenon, with Wiseau himself beloved as an oddball celebrity. Written with award-winning journalist Tom Bissell, The Disaster Artist is an inspiring tour de force that reads like a page-turning novel, an open-hearted portrait of an enigmatic man who will improbably capture your heart.
Praise For The Disaster Artist: My Life Inside The Room, the Greatest Bad Movie Ever Made…
"The Disaster Artist has to be one of the funniest, most deliciously twisted tales I have ever read. This extraordinary book is many things: a guide on how to succeed, sort of, in Hollywood; a life lesson in the virtues of deaf, dumb, and blind persistence; a very surreal variation on the archetypal American story of the immigrant dream. But at its heart lies the story of a deep and abiding friendship that survives against all odds, and the insanely bizarre film that stands as proof."
— Ben Fountain, National Book Critics Circle Award-winning author of Billy Lynn's Long Halftime Walk

"Finally, a hilarious, delusional, and weirdly inspirational explanation for the most deliciously awful movie ever made."
— Rob Lowe, actor and author of Stories I Only Tell My Friends

"The Disaster Artist is not only the terrifically engaging tale of a bad Hollywood movie, it's one of the most honest books about friendship I've read in years."
— Los Angeles Times

"A book about a cinematic comedy of errors . . . sharply detailed . . . funny."
— The New York Times

"A great portrayal of hopefuls coming to Los Angeles to pursue their ambitions, and an even greater examination of what it means to be a creative person with a dream and trying to make it come true….In so many ways, Tommy c'est moi."
— James Franco, VICE.com

"Even if you haven't seen Tommy Wiseau's cult film phenomenon, The Room, it would be a mistake to not pick up The Disaster Artist. "
— The New York Observer

"Hilarious . . . the stories behind the making of The Room are even more bizarre than one might expect; truly, like the film itself, they must be seen to be believed."
— The Paris Review

"A story of obsession and friendship that only Hollywood can birth . . . Readers aren't propelled through this book simply wondering what will happen, they're more concerned with how in the world it all happened—whether they've never heard of The Room or they've watched it dozens of times."
— The Oregonian

"I laughed so hard reading The Disaster Artist that I cried."
— RollingStone.com

"The Disaster Artist delivers an evenhanded portrayal of Wiseau and elucidates more than Room superfans had ever dreamt of learning about their craggy, pale-faced idol."
— Esquire.com

"Very funny."
— The AV Club

"Possibly the most important piece of literature ever printed."
— The Huffington Post

"A revelatory and moving look at both the man and the movie that have proved so fascinating for so many . . . filled with juicy, jaw dropping stories that are too good to spoil here. . . .You don't need to have seen The Room to love The Disaster Artist."
— Asbury Park Press

"Sestero recounts this surreal filmmaking experience 10 years later with grace, intelligence and thoughtfulness. He and Bissell deftly put together an eloquent, wry, absolutely hilarious story. Wiseau's blunders and Sestero's dry observations make for laugh-out-loud experiences every chapter."
— Roanoke Times

"How bad is [The Room]? You should watch it and find out for yourself. Then you should read actor Greg Sestero's tell-all memoir, The Disaster Artist, to find out how and why everything about the movie went so wrong. . . . Hilarious and surprisingly touching."
— The Daily Oklahoman

"In The Disaster Artist, we learn some fascinating tidbits . . . [Sestero] is an engaging storyteller who takes us from football games in Golden Gate Park to ludicrous parking lot film shoots, peppering the journey with whip-smart insights and laugh-out-loud jokes."
— Los Angeles Magazine

"The book's behind-the-scenes tales are so outsized that they are due to become part of movie-making lore."
— The Brooklyn Rail

"Downright thrilling . . . a making-of book like no other."
— Booklist, starred review

"Funny, engaging first-person account of the making of The Room. . . . A deft, energetic narrative . . . an improbably resonant tale of warped creativity and friendship."
— Kirkus Reviews

"Make no mistake about it: The Disaster Artist is terrific. Every page is a treasure that reveals more background information for one of cinema's famous train wrecks."
— Man Cave Daily

"Hysterical . . . a terrific sense of humor is the book's greatest asset."
— Bookgasm

"Hilarious, and often poignant . . . If you're a fan of The Room, or if you're just looking for a memoir unlike any you've ever read, don't hesitate to pick up this book."
— ChicksDigBooks.com

"A human drama that's compulsively readable, a tale of men whose bond allows them both to stumble their way into cinema history."
— CriticSpeak.com

"One of the worst movies of all time has spawned one of the most entertaining books I've read in years. It's a happy ending worthy of Hollywood."
— A. J. Jacobs, author of Drop Dead Healthy

"A surprising, hilarious and compelling account of the making of the modern Plan 9 from Outer Space."
— Patton Oswalt, comedian and author of Zombie Spaceship Wasteland

"The Disaster Artist doesn't just answer the question: How do awful cult movies get made? It also reminds us how confusing, hilarious, and wonderful it is to be in your 20s, and why you're glad you don't have to do it twice. It's like a wonderfully weird mash-up of a contemporary Candide and Sunset Boulevard."
— Joel Stein, author of Man Made: A Stupid Quest for Masculinity

"Hilarious and unexpectedly moving."
— Los Angeles Review of Books
Simon & Schuster, 9781451661194, 288pp.
Publication Date: October 1, 2013
About the Author
Greg Sestero is a French-American actor, producer, and writer. He costarred in the cult phenomenon The Room.

Tom Bissell is the author of several books and a winner of the Rome Prize and a Guggenheim Fellowship. He writes frequently for Harper's and The New Yorker.
Book Videos
or
Not Currently Available for Direct Purchase