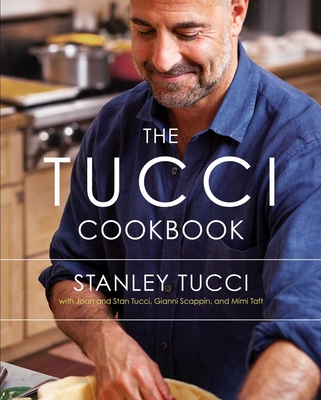 The Tucci Cookbook
Family, Friends and Food
Hardcover

* Individual store prices may vary.
Description
The Tucci Family brings wine pairings, updated recipes, gorgeous photography, and family memories to a new generation of Italian food lovers. There is some truth to the old adage "Most of the world eats to live, but Italians live to eat." What is it about a good Italian supper that feels like home, no matter where you're from? Heaping plates of steaming pasta . . . crisp fresh vegetables . . . simple hearty soups . . . sumptuous stuffed meats . . . all punctuated with luscious, warm confections. For acclaimed actor Stanley Tucci, teasing our taste buds in classic foodie films such as Big Night and Julie & Julia was a logical progression from a childhood filled with innovative homemade Italian meals: decadent Venetian Seafood Salad; rich and gratifying Lasagna Made with Polenta and Gorgonzola Cheese; spicy Spaghetti with Tomato and Tuna; delicate Pork Tenderloin with Fennel and Rosemary; fruity Roast Duck with Fresh Figs; flavorful Baked Whole Fish in an Aromatic Salt Crust; savory Eggplant and Zucchini Casserole with Potatoes; buttery Plum and Polenta Cake; and yes, of course, the legendary Timpano. Featuring nearly 200 irresistible recipes, perfectly paired with delicious wines, The Tucci Cookbook is brimming with robust flavors, beloved Italian traditions, mouthwatering photographs, and engaging, previously untold stories from the family's kitchen.
Gallery Books, 9781451661255, 400pp.
Publication Date: October 9, 2012
About the Author
Stanley Tucci is an actor, writer, director, and producer. He has directed five films and appeared in over seventy films, countless television shows, and a dozen plays on and off Broadway. He has been nominated for an Academy Award, a Tony, and a spoken word Grammy; is a winner of two Golden Globes and two Emmys; and has received numerous other critical and professional awards and accolades.