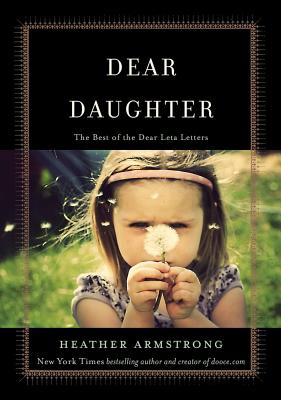 Dear Daughter (Hardcover)
The Best of the Dear Leta Letters
Gallery Books, 9781451661415, 179pp.
Publication Date: April 3, 2012
* Individual store prices may vary.
or
Not Currently Available for Direct Purchase
Description
From the author of It Sucked and Then I Cried, creator of Dooce.com, and "Queen of the Mommy Bloggers" (The New York Times)--a collection of disarmingly honest, irreverent, and heartwarming letters that Heather wrote to her daughter, Leta, every month for the first seven years of her life. A mother's love is unconditional: There are quiet snuggles, off-key sing-alongs, un-controllable belly laughs, and daily miracles that only a parent can understand. Heather Armstrong first wrote to her daughter when Leta was just eight weeks old. For the next five years, Heather wrote a letter every month, capturing the ups and downs of motherhood and chronicling the milestones and surprises of their lives together. These are letters that we wish we had written for our own children: disarmingly honest, self-deprecating, heartwarming, and irreverently funny. From the first time Leta holds a rattle; to her first steps; to her first curse word; to her excitement over becoming a big sister, Dear Daughter is a heart-felt and hilarious ode to the wonders of parent-hood that will have mothers everywhere nodding, laughing, and wiping away tears. *** Dear Leta, You have changed so much since that first morning you spent with us, a morning that altered my life so drastically that sometimes it still feels like I'm catching my breath. I imagine that I won't ever stop feeling this way, won't ever stop having a portion of my brain dedicated to the thought of where you are and what you're doing, won't ever be able to escape the constant, nagging hope that you are happy and fulfilled. My pulse is forever close to the surface because of you, because of my responsibility toward you, and I can't thank you enough for the dimension that this has added to what it means to be alive. Love, Mama.
About the Author
Heather Armstrong is a blogger who resides in Salt Lake City, Utah. She and her husband Jon have two daughters and two dogs: Former Congressman Henry "Buck" Chucklesworth, called Chuck, and Dame Eleanor Ritzford-Fitzsimons Puffs, a.k.a Coco.
Advertisement