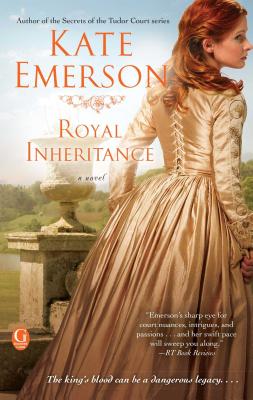 Royal Inheritance (Paperback)
Gallery Books, 9781451661514, 344pp.
Publication Date: September 24, 2013
* Individual store prices may vary.
or
Not Currently Available for Direct Purchase
Description
This new novel in the "wonderfully absorbing" (Library Journal) Secrets of the Tudor Court series, features a tailor's daughter who suspects she is an illegitimate offspring of King Henry VIII. Audrey Malte is illegitimate, though her beloved father--tailor to King Henry VIII--prefers to call her "merry-begot," saying there was much joy in her making. Then Audrey visits the royal court with her father, and the whispers start about Audrey's distinctive Tudor-red hair and the kindness that the king shows her. Did dashing Henry perhaps ask Malte to raise a royal love child? The king's favor, however, brings Audrey constraint as well as opportunity. Though she holds tender feelings for her handsome music tutor, John Harington, the king is pressuring her to marry into the family of treacherous, land-hungry Sir Richard Southwell. Audrey determines to learn the truth about her birth at last. The answer may give her the freedom to give her heart as she chooses . . . or it could ensnare her deeper in an enemy's ruthless scheme.
Praise For Royal Inheritance…
"A wonderfully absorbing novel that is full of enough historical detail to satisfy even the most hard-core Tudor fan. Emerson beautifully depicts the difficulty of living in a treacherous period in which one had to do what the king's pleasure demanded, in spite of the risk of losing one's head."
-Library Journal

"Sparked
by an actual letter written by a Spanish ambassador in 1534, Emerson creates a
believable scenario rich in accurate detail where her fictional Thomasine
strolls comfortably next to real-life figures."


"Subtle and well-drawn." 


"Intrigue, romance and treachery abound in this well-researched, sensitively written book."

 



"An engaging tale of loyalty, love, and treachery in
the court of King Henry VIII."

"In the first in Emerson's series, it's hard to tell where reality ends and fiction begins. Rich and lushly detailed, teeming with passion and intrigue, this is a novel in which you can happily immerse yourself in another time and place." 
-Kathe Robins

"It is this heroine that separates this book from the pack. The characters are subtle and well-drawn.."
Advertisement