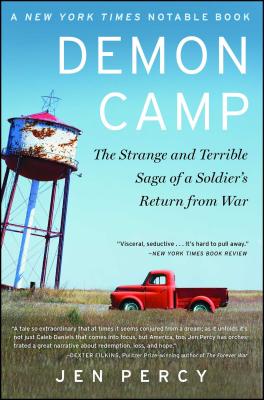 Demon Camp
The Strange and Terrible Saga of a Soldier's Return from War
Paperback

* Individual store prices may vary.
Other Editions of This Title:
Digital Audiobook (2/4/2014)
MP3 CD (2/5/2014)
Compact Disc (2/5/2014)
Hardcover (1/14/2014)
Description
A "chilling" (O, The Oprah Magazine), "darkly brilliant" (Bookforum) account of "the effects of war on the psyches of the soldiers who fight" (Esquire).

In 2005 a Chinook helicopter carrying sixteen Special Ops soldiers crashed during a rescue mission in Afghanistan, killing everyone on board. In that instant, machine gunner Caleb Daniels lost his best friend, Kip, and seven members of his unit. Back in the US, Caleb begins to see them everywhere—dead Kip, with his Alice in Wonderland tattoos, and the rest of them, their burned bodies always watching him. But there is something else haunting Caleb, too—a presence he calls the Black Thing, or the Destroyer, a paralyzing horror that Caleb comes to believe is a demon. Alone with these apparitions, Caleb considers killing himself.

There is an epidemic of suicide among veterans of Iraq and Afghanistan, men and women with post-traumatic stress disorder who cannot cope with ordinary life in the aftermath of explosions and carnage. Author Jen Percy finds herself drawn to their stories. Her main subject, Caleb, has been bringing damaged veterans to a Christian exorcism camp in Georgia that promises them deliverance from the war. As Percy spends time with these soldiers and exorcists—finding their beliefs both repellant and magnetic—she enters a world of fanaticism that is alternately terrifying and welcoming.

With "beautiful, lucid" (Los Angeles Times) lyricism, Demon Camp is the riveting true story of a veteran with PTSD and an exploration of the battles soldiers face after the war is over. As The New York Times Book Review said, "Percy's narrative may confirm clichés about war's costs, but it artfully upsets a common misconception that all veterans' experiences are alike."
Praise For Demon Camp: The Strange and Terrible Saga of a Soldier's Return from War…
A New York Times Notable Book

A Buzzfeed Best Nonfiction Book of 2014

A Flavorwire Best Nonfiction Book of 2014

"Visceral, seductive… It's hard to pull away… Percy's narrative artfully upsets a common misperception: that all veterans' experiences of war are alike."
— New York Times Book Review

"Demon Camp is the amazing story of one man's journey to war and back. It's a tale so extraordinary that at times it seems conjured from a dream; as it unfolds it's not just Caleb Daniels that comes into focus, but America, too. Jennifer Percy has orchestrated a great narrative about redemption, loss and hope."
— Dexter Filkins, Pulitzer Prize-winning author of The Forever War

"Shines a bright light on America's wounded psyche. . . . Percy's beautiful, lucid writing takes the reader into the lives of soldiers wrestling with faith in this often harrowing book on the personal, cultural, and political costs of war."
— Los Angeles Times

"The most unusual and beautiful portrait of trauma to come out of the last thirteen years."
— The New Inquiry

"This is the book I've been waiting for. Lyrical, haunting, surreal, as fiercely brave as it is fearsome, Jen Percy's Demon Camp is both damning and redemptive, a shot straight to the hellish heart of war."
— Kim Barnes, author of In the Kingdom of Men

"Thrilling . . . Percy is on to something essential here: understanding PTSD is one key to understanding our present cultural moment."
— Brian Van Reet

"Harrowing . . . An unpredictable and gripping story."
— Buzzfeed

"The writing is beautiful… Percy has a photographer's eye… She deftly makes this story part of a bigger picture -- for her, what happened to Caleb Daniels is a key to understanding the way America deals with war and its aftermath."
— Portland Oregonian

"Demon Camp is the most urgent, most harrowing book to yet emerge from our wars in Iraq and Afghanistan. Jennifer Percy is a brave and relentlessly powerful witness, again and again confronting us with the monsters of our own making. Written with haunting austerity, this exceptionally important book must be read not only by every voter but by every one of us yearning to be more humane."
— Claire Vaye Watkins, author of Battleborn

"A chilling work of narrative non-fiction."
— O, the Oprah magazine

"Beneath the taut, wry surface of Jen Percy's Demon Camp is a deeply felt investigation that is marvelously disturbing---a pitch-perfect blend of reportage, meditation, and outright fantasy that beautifully captures the wounds of mind and heart in ruins."
— John D'Agata, author of The Lifespan of a Fact

"[A] darkly brilliant book . . . Remarkable . . . Startling, precise prose."
— Jeff Sharlet

"A triumph of reporting, storytelling, and sympathy. Jennifer Percy writes as if possessed, not by her own demons but by the war-torn lives she documents. Like some pilgrim in a latter-day Inferno, with machine gunner Sergeant Caleb Daniels for her Virgil, she has descended into an all-American hell, eyes open, notebook in hand, and returned with this haunted and haunting fever-dream of a book."
— Donovan Hohn, author of Moby-Duck

"Gripping."
— Vogue

"This wild journey alongside madness leads Percy to the place where myth is conceived and destroyed, our wars overseas brought home as nightmares. You will begin to wonder how much pain is dreamed and if fantasy might be the way to cure it. A unique, fascinating and always surprising book."
— Benjamin Busch, author of Dust to Dust

"A disconcertingly intimate book . . . Beautifully creepy . . ."
— Flavorwire

"With exquisite patience, a wide open mind, and a willingness that trembles on vulnerability to immerse herself in her subject, Jennifer Percy recounts the terrible, ongoing struggles of soldiers whom the war has followed home. Writing in lucid, beautiful sentences, Percy exposes the great psychic cost of the Bush-era wars as paid by these young men, and gives us to understand that their stories are America's stories, their demons, America's demons."
— Michelle Huneven, author of Jamesland and Blame

"A powerful debut and a haunting portrait of PTSD, and the effects of war on the psyches of the soldiers who fight and the extreme lengths they'll go to to find relief and heal."
— Esquire

"Demon Camp is for fans of Michael Herr's Dispatches or Hunter Thompson's own dark journeys through America; indeed, it's hard to describe Demon Camp as anything but a tour de force literary experience: exquisitely written, psychologically deft and nimble, and shocking. Jen Percy writes a book that is at once so singular that it speaks to despair and joy yawing over our collective horizon. Here is a new, utterly surprising world we can scarcely imagine being in, except in Percy's hands."
— Doug Stanton, New York Times-bestselling author of Horse Soldiers

"Percy has taken a sensationalistic, tabloid-worthy subject and explored it in a remarkably clear-eyed and empathetic fashion, without a trace of condescension. Demon Camp is not only luminously written and exhaustively researched; it's an important account of post-traumatic stress disorder in modern warfare."
— Teddy Wayne, author of The Love Song of Jonny Valentine

"If you want to understand America now, read Jennifer Percy's Demon Camp. An electric, unflinchingly brave and entirely necessary debut."
— Alexander Chee, author of Edinburgh

"Haunting . . . Exposes the raw reality of pain and loss. Many of us have read and heard about the post-traumatic stress disorder . . . Percy has lifted the veil for us."
— Pittsburgh Post-Gazette

"Jennifer Percy has walked far out into The Twilight Zone and leads us into realms of horror and dread, mystery and high weirdness. I have never read anything quite like it. Are there devils? You might come away from this book thinking it's possible."
— Luis Alberto Urrea, author of The Devil's Highway

"Tropes surrounding veterans in the public discourse mask the reality of warfare, but Percy peels back the gauze, revealing deeply wounded individuals….Her sharp, unadorned writing captures the rawness of the congregants' lives, the permeability of the borderline between reality and imagination."
— Publishers Weekly

"You can't walk away from Percy's strong debut without feeling like you've spent a frightening moment inside the heads of soldiers who come home from war with nothing but demons, no place to go and no easy role to play. . . . An auspicious debut."
— Shelf Awareness (starred review)

"[A] talented young writer... Chilling and raw."
— Winnipeg Free Press

"Ambitious…. what Daniels, and Percy as his medium, have provided is a meditation on trauma, a haunted interior made external: an exorcism provided by the text. It is a rough-and-tumble first book for Percy and a remarkable one."
— Tottenville Review
Scribner, 9781451662061, 240pp.
Publication Date: February 10, 2015
About the Author
Jen Percy is a graduate of the Iowa Writers' Workshop, where she received a Truman Capote Fellowship in fiction. She also received an Iowa Arts Fellowship from Iowa's Nonfiction Writing Program. Winner of a Pushcart Prize and a grant from the National Endowment for the Arts, her work has appeared in a number of magazines, including Harper's, The New Republic, and The Oxford American. She teaches writing at New York University.