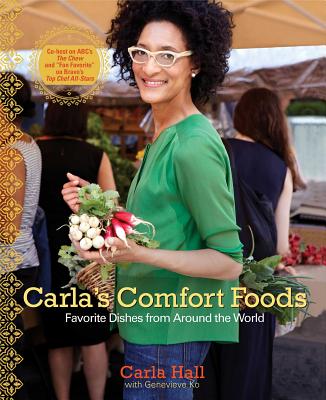 Carla's Comfort Foods (Hardcover)
Favorite Dishes from Around the World
Atria Books, 9781451662221, 240pp.
Publication Date: April 1, 2014
* Individual store prices may vary.
Description
Featuring 130 recipes with new variations on soulful favorites, this cookbook covers the culinary globe on an ingenious, delicious mission: to capture the international flavors of comfort.

For Carla Hall, co-host of ABC's The Chew, food is a wonderful way to forge connections with and between people. In her delicious new cookbook, Carla's Comfort Foods, she finds inspiration by going around the world in search of the universal home-cooked flavors of comfort. Spinning standbys into distinctive new recipes, she combines the beloved flavors of home with the most delectable, enticing spices and tastes of international cuisine. Carla starts with your essential recipe for perfect all-American burgers; from there, you can choose to do them up Persian-style with Cucumber Yogurt Sauce, lime, and fragrant spices; or give them a Vietnamese twist with pickled veggies, scallions, ginger, and cilantro; or take your burgers to Morocco with gutsy spices, chiles, and feta cheese.

Full of Carla's entertaining stories, the book shows how seasoning can transform any simple recipe. A comprehensive spice and flavor guide lets you chart your own course in the kitchen by turning your favorite go-to dish into a culinary trip around the world. In recipes that reflect her own vivacious personality, Carla takes you from Southern Chicken with Milk Gravy to West African Spicy- Sweet Chicken Stew; from German Double-Mustard Potato Salad to Moroccan Spice-Rubbed Beef Roast to Indian Chile, Pea, and Coconut Chutney; and from Southern Peach Cobbler to Greek Baklava. We all need an aromatic bowl of chicken soup from time to time; with Carla's Comfort Foods, you can perk it up Italian-style with fresh basil and oregano; or have a taste of India with cilantro, curry, cumin, and turmeric; for a Caribbean treat, make it fragrant with lime, thyme, and cayenne pepper.

From Nashville to Naples to Nigeria, nothing gathers friends and family around the table like the flavors of home. Now you can hug your friends and family with Carla's incredibly flavorful takes on creamy soups and noodles, fragrant stews and dumplings, and mouthwatering pastries, pies, and tarts. Join Carla for a delicious journey!
About the Author
Carla Hall attended L'Academie de Cuisine in Maryland and is owner and executive chef of Carla Hall Petite Cookies, an artisan cookie company based out of Washington, DC. A cohost on the ABC talk show The Chew, she lives in Washington, DC, with her husband, Matthew Lyons, and stepson, Noah.

Genevieve Ko is coauthor of Home Cooking with Jean-Georges and senior food editor at Good Housekeeping.
Praise For Carla's Comfort Foods: Favorite Dishes from Around the World…
"Carla Hall knocks it out of the park with her first book, all about love, tradition, family, flavor and style, and flavor again. Her true natural ability to make things delicious is all over every single recipe. I love working with Carla on "The Chew" every day and simply get jiggy every time we get to taste her magic on set. With this sweet tome in the home kitchen anyone can make thoughtful tasty food with real style."
— Mario Batali

"Carla is a born teacher. Full of useful insights and her signature humor (and patience), Cooking With Love puts Ms. Hootie Hoo herself right there at the stove next to you, every step of the way. Whether you're a novice or expert, she'll have you dancing into the kitchen to whip up unbelievably simple, sumptuous feasts from scratch."
— Daphne Oz, author of The Dorm Room Diet

"I love Carla's stories of how she develops her delicious dishes, tinkering with flavor combinations until she gets them just right. And what a range: her rustic mushroom tart is great and Granny's five-flavor pound cake is worth the price of the book."
— Jennifer Reese, author of Make the Bread, Buy the Butter

"Anyone who watches (or works at!!) the Chew knows that Carla Hall has a special way with comfort foods from the South, so it should come as no surprise that she is also a master of tasty, fresh, and simple foods from the rest of the known world. These quick and easy recipes give me an inexpensive opportunity to travel vicariously through Carla's eyes, and her fun-filled anecdotes and notes create a happy place to make exactly what I feel like eating right now. Carla is the international ambassador of the perfectly delicious!"
— Mario Batali
or
Not Currently Available for Direct Purchase