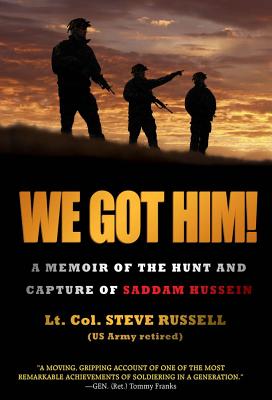 We Got Him!
A Memoir of the Hunt and Capture of Saddam Hussein
Hardcover

* Individual store prices may vary.
Other Editions of This Title:
Mass Market (10/30/2012)
Description
Retired U.S. Army Lt. Col. Steve Russell presents a compelling firsthand account of the actual raids that led to the capture of Saddam Hussein.

When U.S. forces exterminated Osama bin Laden in Pakistan on May 1, 2011, the world cheered not only the death of the 9/11 terrorist mastermind but the unmatched might, skill, and perseverance of America's military elite. It was a brilliant example of history repeating itself in the most positive way; less than a decade earlier, the capture of Saddam Hussein, a triumph of military strategy in and of itself, opened the door for the most recent and essential victory in the War on Terror. Here is the riveting account of a grand human saga that tested every element of character and fortitude: the six-month manhunt that ended at a hole on the bank of the Tigris River, and the blow-by-blow plays of the actual raids that netted Saddam, culminating in the electrifying quote heard around the globe, "We Got Him!"

No other event in Operation Iraqi Freedom caught the attention of the world like the hunt for and capture of Saddam Hussein. Square in the middle of the search, living in Saddam's hometown of Tikrit, were Lt. Col. Steve Russell and his men of the 1st Battalion, 22nd Infantry Regiment, 4th Infantry Division. Packed with rare photos and insider information, We Got Him! chronicles the day-by-day search and the successes and dead ends as regular and special-operations soldiers tore into Saddam's social networks. This is the definitive account of this major historical event and of the sacrifice that made it happen. It also provides a rare look at the enemy side of the action. With his extensive journal notes, combat reports, and painstaking research, Steve Russell has preserved the story as only someone who lived the experience can do.
Threshold Editions, 9781451662481, 480pp.
Publication Date: December 6, 2011
About the Author
Steve Russell served twenty-one years in the United States Army as an infantry officer, deploying operationally to Kosovo, Kuwait, Afghanistan, and Iraq. He was widely covered during the first year of the Iraq War by Time, CNN, Fox News, ABC, CBS, NBC, AP, and Reuters. He and his unit were featured in BBC Panorama's Saddam on the Run documentary as well as Discovery's Ace in the Hole. He has also been the subject of numerous books and publications. Russell retired from the Army in 2006 and now serves in the Oklahoma State Senate. He lives in Oklahoma with his wife and five children.
or
Not Currently Available for Direct Purchase