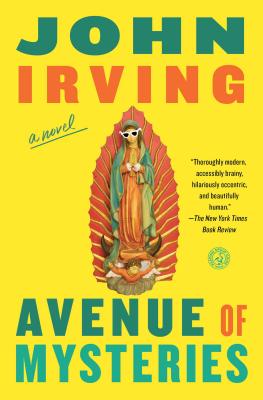 Avenue of Mysteries
Paperback

* Individual store prices may vary.
Other Editions of This Title:
Hardcover (11/3/2015)
November 2015 Indie Next List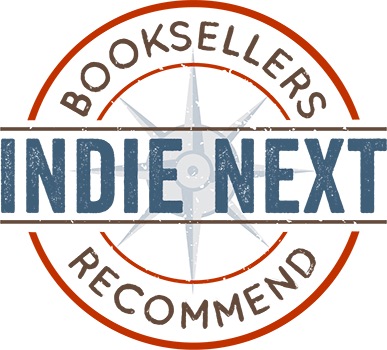 "With Avenue of Mysteries, Irving introduces readers to brother and sister, Diego and Lupe, denizens of the massive garbage dump in Oaxaca, Mexico. Each sibling is remarkable -- Lupe can intuit people's thoughts and Diego, though uneducated, reads everything he can lay his hands on. Their childhood is recalled by the adult Diego as he travels in the Philippines, trying to accomplish a dying request from an acquaintance of his youth. Avenue of Mysteries contains all of the things we love about Irving's novels: masterful storytelling, unforgettable characters, and a renewed sense of magic in everyday events."
— Mark LaFramboise (W), Politics & Prose Books and Coffee Shop, Washington, DC
View the List
Description
John Irving returns to the themes that established him as one of our most admired and beloved authors in this absorbing novel of fate and memory.

In Avenue of Mysteries, Juan Diego—a fourteen-year-old boy, who was born and grew up in Mexico—has a thirteen-year-old sister. Her name is Lupe, and she thinks she sees what's coming—specifically, her own future and her brother's. Lupe is a mind reader; she doesn't know what everyone is thinking, but she knows what most people are thinking. Regarding what has happened, as opposed to what will, Lupe is usually right about the past; without your telling her, she knows all the worst things that have happened to you.

Lupe doesn't know the future as accurately. But consider what a terrible burden it is, if you believe you know the future—especially your own future, or, even worse, the future of someone you love. What might a thirteen-year-old girl be driven to do, if she thought she could change the future?

As an older man, Juan Diego will take a trip to the Philippines, but what travels with him are his dreams and memories; he is most alive in his childhood and early adolescence in Mexico. As we grow older—most of all, in what we remember and what we dream—we live in the past. Sometimes, we live more vividly in the past than in the present.

Avenue of Mysteries is the story of what happens to Juan Diego in the Philippines, where what happened to him in the past—in Mexico—collides with his future.
Praise For Avenue of Mysteries…
"From the first page to the last, there is a goodness to this novel, a tenacious belief in love and the redemptive power of human connection, unfettered by institutions and conventions. This belief, combined with good old-fashioned storytelling, is surely why Irving is so often described as Dickensian. But John Irving is his own thing, and so is his new novel. Avenue of Mysteries is thoroughly modern, accessibly brainy, hilariously eccentric and beautifully human."
— The New York Times Book Review

"An empathically imagined, masterfully told, and utterly transporting tale of transcendent sacrifice and perseverance, unlikely love, and profound mysteries."
— Booklist (starred review)

"A richly detailed, imaginative and beautiful novel, with a series of events that seem equally bizarre and resoundingly universal.... It is a complex and many-layered novel that covers a lot of intellectual, moral and emotional ground, but in the end, it is the simplest, saddest and most wonderful tale of the human condition. It is about what we all fear: finding people to love, and then losing them, too."
— The Fort Worth Star-Telegram

"A dream-steeped, enchanted, and often amusing tale.... Irving keeps this imaginative story, his aging novelist, his odd cast of characters, and his readers, moving on a trajectory toward collision in this unfailingly masterful narrative."
— USA Today

"In its early pages especially, Avenue of Mysteries is laugh-out-loud funny.... Yet as funny as the new novel often is, Irving's reconsideration of earlier themes seems more somber here. The novel explores questions of belief and disillusionment, chance and choice, the mundane and the miraculous. Avenue of Mysteries is a provocative and perplexing novel."
— Bookpage

"Irving has always been a consummately convincing realist, in matters both great and small.... While writers of later generations seldom come close to achieving Irving's levels of verisimilitude, his realism is transmogrified by his general whimsicality and by his attraction to baroque extrapolations of the absurd. This sort of ambition... is part of what makes Irving such a prodigious entertainer.... This novel is not autobiographical, but it does present an aging artist with a sacred wound, tremendous desire, and an endless appetite for wonder."
— The Boston Globe

"Juan Diego's memories of adolescence around 1970 in Oaxaca compose some of the most charming scenes that Irving has ever written. He's still an unparalleled choreographer of outrageous calamities that exist somewhere between coincidence and fate.... Those conflicting currents of spirituality flowing through Avenue of Mysteries add to Irving's rich exploration of faith in several earlier novels."
— Washington Post

"A vivid writer about sex."
— The New York Times

"Like all of Irving's novels, Avenue of Mysteries is about awakening — to the past, to hidden emotions, and to the truth and weight of trauma and childhood. Only this time, the narrative is dreamier and more ruminative."
— Minneapolis Star Tribune

"The character is a captivating original; his tale includes humor, pathos, and acute observations. Once again, Irving charms by blending the fantastical with what is deeply, affectingly real."
— People

"A wild and rollicking ride.... Irving plays delightful havoc with this colorful collection of humanity, beguiling us from start to finish."
— Seattle Times

"This sprawling, imaginative tale about a writer whose life's journey has all the qualities of a modern Dickens novel is vintage Irving."
— AARP Magazine

"The outsize characters on the two vast alternating canvases Irving paints are more varied than the acts in a circus caravan."
— Philadelphia Inquirer

"The novel is a remarkable feat... as Irving ignores the constraints of conventional fiction and tosses all of his ideas into his novelist's blender and turns it on high."
— Dallas Morning News

"Irving proves his prose still packs a punch in Avenue of Mysteries.... It's good to see that this popular and insightful literary magician still has a few tricks up his sleeve."
— Portland Press Herald

"Avenue of Mysteries is full of Irvingisms — the transvestite, the circus, the orphanage, the character who can't speak, the car accident, the missing father, the weird Christianity. These elements are part of the fun for fans: hearing the familiar rhythm, finding the trademark components fit together in a novel way."
— Newsday

"Delivers Irving's typical blend of humor and tragedy."
— Houston Chronicle

"Meaningfully dark and classically quirky."
— Las Vegas Weekly

"Once again, Irving's lyrical writing grabs readers from the first page."
— Library Journal

"An entertaining, phantasmagoric look at the childhood that shaped a writer's life."
— St. Louis Post Dispatch

"The novel's tone moves easily from drama to comedy to tragedy, the perfect mix for a film adaptation someday. Casting will probably take time — these characters are so unique. Until then, lose yourself in this tale from one of America's pre-eminent storytellers."
— Associated Press

"Have had a hard time putting down Avenue of Mysteries. A new John Irving novel is always like an unexpected gift."
— Bookreporter.com

"Irving works his familiar themes—Catholicism, sex, death—with a light and assured touch.... A welcome return to form."
— Kirkus Reviews

"In describing what Juan Diego goes through, Mr. Irving is something like a magician showing the audience how the rabbit actually pops out of the hat. Perhaps more than in any other of his books, Avenue of Mysteries demonstrates what is under the hood – what goes on in writers' minds."
— Pittsburgh Post-Gazette
Simon & Schuster, 9781451664171, 496pp.
Publication Date: June 7, 2016
About the Author
John Irving was born in Exeter, New Hampshire, in 1942. His first novel, Setting Free the Bears, was published in 1968, when he was twenty-six. He competed as a wrestler for twenty years, and coached wrestling until he was forty-seven. He is a member of the National Wrestling Hall of Fame in Stillwater, Oklahoma. In 1980, Mr. Irving won a National Book Award for his novel The World According to Garp. In 2000, he won the Oscar for Best Adapted Screenplay for The Cider House Rules. In 2013, he won a Lambda Literary Award for his novel In One Person. An international writer, his novels have been translated into almost forty languages. His all-time bestselling novel, in every language, is A Prayer for Owen Meany. A dual citizen of the United States and Canada, John Irving lives in Toronto.