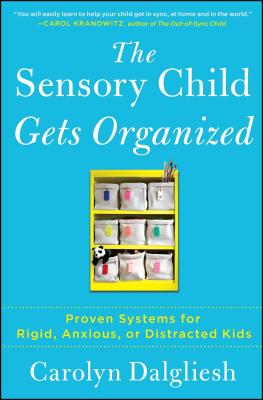 The Sensory Child Gets Organized
Proven Systems for Rigid, Anxious, or Distracted Kids
Paperback

* Individual store prices may vary.
Other Editions of This Title:
Digital Audiobook (4/15/2019)
MP3 CD (4/16/2019)
Compact Disc (4/16/2019)
Compact Disc (4/16/2019)
Description
The only book that teaches the parents of "sensory" kids how to organize and empower their children for greater success at home, at school, and in life.

Silver Winner, National Parenting Publications Awards (NAPPA)—Parenting Resources

Gold Honoree, Mom's Choice Awards—Parenting–Special and Exceptional Needs

Every year, tens of thousands of young children are diagnosed with disorders that make it difficult for them to absorb the external world. Parents of sensory kids—like those with sensory processing disorder, anxiety disorder, AD/HD, autism, bipolar disorder, and OCD—often feel frustrated and overwhelmed, creating stress in everyday life for the whole family. Now, with The Sensory Child Gets Organized, there's help and hope.

As a professional organizer and parent of a sensory child, Carolyn Dalgliesh knows firsthand the struggles parents face in trying to bring out the best in their rigid, anxious, or distracted children. She provides simple, effective solutions that help these kids thrive at home and in their day-to-day activities, and in this book you'll learn how to:

-Understand what makes your sensory child tick
-Create harmonious spaces through sensory organizing
-Use structure and routines to connect with your child
-Prepare your child for social and school experiences
-Make travel a successful and fun-filled journey

With The Sensory Child Gets Organized, parents get an easy-to-follow road map to success that makes life easier—and more fun—for your entire family.
Praise For The Sensory Child Gets Organized: Proven Systems for Rigid, Anxious, or Distracted Kids…
"Open this book and read a description of a well-regulated, efficient, effective child going through the day. Imagine -- this organized child can be yours! Employing Carolyn Dalgliesh's sensible systems for sensory kids, you will easily learn to help your child get in sync, at home and in the world."
— Carol Kranowitz, author of The Out-of-Sync Child

"Every year tens of thousands of children are diagnosed with disorders that affect their ability to process sensory information and deal with their everyday environments. Carolyn Dalgliesh has skillfully identified techniques, strategies and practical organizing solutions that will provide these children – and their families – the much needed structure, peace and calm they need. The Sensory Child Gets Organized will enable parents to better deal with their child's challenging sensory behavior and connect more deeply with those we love the most – our children."
— Peter Walsh, New York Times bestselling author of It's All Too Much and Does This Clutter Make My Butt Look Fat?

"Carolyn Dalgliesh has provided a much needed guide book to help parents meet the challenges of raising a sensory child. … The book bridges the gap between therapeutic support and practical organizational strategies by guiding the parent … with compassionate solution oriented techniques. Carolyn's book is a must for any parent who is tired of nagging and wishes to help their child become self-reliant."
— Sandy Maynard, AD/HD expert and founder of Catalytic Coaching

"Carolyn Dalgliesh offers us a clear picture of the many behaviors exhibited by children with sensory issues, more importantly she offers practical suggestions and systems parents can use while helping their child succeed in school and life. Keep this book close at hand; you will refer to it often."
— Donna Goldberg, author of The Organized Student

"Carolyn's accessible style and practical examples empower parents with knowledge of simple strategies that will make meaningful differences in the lives of their sensory children, and in turn their own. The Sensory Child Gets Organized includes a breadth of strategies covering the routine (e.g., morning schedule) to the not so routine (e.g., the family vacation)… readers will find relatable examples and realistic advice for implementation for these events and everything in between. Carolyn's passion for sensory organizing is clear throughout the book. It is apparent that she lives by these principles, personally and professionally, and that they have revolutionized her life and the lives of her clients."
— Amy Laurent, Educational Consultant

"Packed with superb strategies for creating calming sensory spaces, reassuring routines and checklists, organizing overwhelming environments and more, this is a sensational book for helping kids with sensory challenges to feel and function better every day."
— Lindsey Biel, coauthor of Raising a Sensory Smart Child

"Carolyn Dalgliesh braids her organizing expertise with evidenced-based practices to give the reader a road map on how to help their child be more successful at home, at school and in the community. Her proven systems are easy to understand and to set up. I think parents and professionals alike will find many important strategies in this book for their children, students or themselves!"
— Joanne G. Quinn, Executive Director of The Autism Project

"A brilliant book. From the opening paragraph and throughout, you know you are in the hands of a master tactician, an expert who knows her stuff cold, and a loving parent who's been there and back. Hugely practical, chock full of pearls, and written with sweet tenderness, Dalgliesh's book immediately becomes the go-to book on the subject."
— Edward Hallowell, M.D., author of The Childhood Roots of Adult Happiness and co-author of Driven to Distraction

"Kids with SPD live in a chaotic world paved with bumps at every turn that sabotages their efforts to do ordinary tasks needed to succeed in the world and creates on-going frustration, failure, distress and anxiety. Carolyn Dalgliesh's well organized and easy to follow book offers strategies to greatly help smooth out their path so these kids can navigate their day to day world more smoothly and successfully."
— Sharon Heller, Ph.D., author of Too Loud, Too Bright, Too Fast, Too Tight

"It is imperative that all professionals, parents, and family members understand the intricacies and special talents of those with sensory processing disorder. In her book The Sensory Child Gets Organized, Carolyn Dalgliesh provides an insightful, creative, and most positive look at a child with sensory processing disorder. This work will soon be a 'go-to' book to learn how to support this very sensitive, delicate and often gifted child."
— Elaine Hall, author of Seven Keys to Unlock Autism and founder of The Miracle Project

"Sure, Dalgliesh covers organization with checklists and labeled bins. But this book goes much further! "Organizing" in this book means giving parents the techniques to meet the challenges which are unraveling their special needs child. Abounds in excellent, practical and empathic strategies to help a child organize his/her mindset and thrive."
— Martin L. Kutscher, M.D., pediatric neurologist and author of Kids in the Syndrome Mix
Touchstone, 9781451664287, 272pp.
Publication Date: September 3, 2013
About the Author
Carolyn Dalgliesh is the founder and owner of Systems for Sensory Kids and Simple Organizing Strategies, helping sensory families, individuals, and businesses get organized. She is a member of the National Association of Professional Organizers (NAPO) and also serves on the Board of Governors for Bradley Hospital, a neuropsychiatric hospital for children and adolescents. Carolyn lives in Rhode Island with her husband and two children. Visit TheSensoryChildGetsOrganized.com.