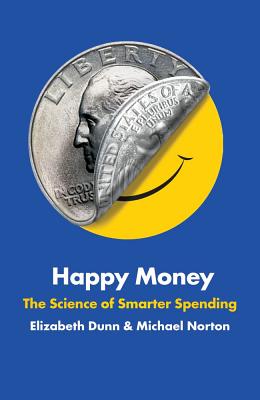 Happy Money
The Science of Smarter Spending
Hardcover

* Individual store prices may vary.
Other Editions of This Title:
Paperback (5/20/2014)
Description
Two professors combine their fascinating and cutting-edge research in behavioral science to explain how money can buy happiness—if you follow five core principles of smart spending.

Most people recognize that they need professional advice on how to earn, save, and invest their money. When it comes to spending that money, most people just follow their intuitions. But scientific research shows that those intuitions are often wrong.

Happy Money offers a tour of research on the science of spending, explaining how you can get more happiness for your money. Authors Elizabeth Dunn and Michael Norton have outlined five principles—from choosing experiences over stuff to spending money on others—to guide not only individuals looking for financial security, but also companies seeking to create happier employees and provide "happier products" to their customers. Dunn and Norton show how companies from Google to Pepsi to Charmin have put these ideas into action.

Along the way, Dunn and Norton explore fascinating research that reveals that luxury cars often provide no more pleasure than economy models, that commercials can actually enhance the enjoyment of watching television, and that residents of many cities frequently miss out on inexpensive pleasures in their hometowns. By the end of this "lively and engaging book" (Dan Gilbert, author of Stumbling on Happiness), you'll be asking yourself one simple question every time you reach for your wallet: Am I getting the biggest happiness bang for my buck?
Praise For Happy Money: The Science of Smarter Spending…
"If you think money doesn't buy happiness, then you're just not spending it right. In this lively and engaging book, Dunn and Norton use the latest scientific research to show how you can get a bigger emotional bang for your hard-earned bucks. HAPPY MONEY isn't a purchase; it's an investment—and a shrewd one at that."
— Dan Gilbert, author of Stumbling on Happiness

"No one understands how to get more happiness out of our money better than Liz Dunn and Mike Norton. Their research is not only on the cutting edge — it changes where the edge is. Like stand-up comedians of science, Dunn and Norton take ordinary observations that everybody experiences and craftily distill them with a clarity that makes us laugh, and then makes us think. They have done us a great service by sharing their knowledge with us in the easy-to-apply principles they present in this book."
— Dan Ariely, author of Predictably Irrational

"How to spend smarter? Read this book!—a rare combination of informed science writing, rollicking good fun, and practical pointers for a more flourishing and compassionate life."
— David G. Myers, author, The Pursuit of Happiness

"Many books have been written to tell you how to make money, save money, and invest money. Now there's a book that can tell you how to spend it. Wisely."
— Chip Heath, co-author of Decisive: How to Make Better Decisions in Life and Work

" ...wise and entertaining... moves beyond whether money makes you happy to how and what spending and lifestyle choices affect your well-being. Dunn and Norton provide practical and well-evidenced insights for all of us, from individuals, to communties, to governments."
— David Halpern, Behavioural Insight Team, No10, and author of The Hidden Wealth of Nations.

"University of British Columbia psychology professor Dunn and Harvard Business School marketing professor Norton, friends from graduate school, offer a witty, lively guide to changing the philosophy behind spending so that it brings you true joy.... Readers cannot help but be charmed by this funny, warm guide to creating the good life from scratch."

"This small, snappily written book is focused on five points, all directed at enabling people to get more bang for their bucks... Buy [this] book, read [it], take the advice [it] offer[s] to heart, and you'll be a happier person."
— Barry Schwartz

"Each of Dunn and Norton's five principles offers a scientifically validated means of increasing happiness. Like asking a surgical expert to perform your heart transplant, following their principles might be better than just winging it. And luckily, spending money is a lot easier and much less messy than major surgery."
— Guy Kawasaki

"Packed with tips...people will come away from this book believing it was money well spent"
— The Economist

"Dunn and Norton strive to show how to spend money in less typical but more pleasing ways. They offer five principles you can use to buy happiness…. I love the five principles of happy money because they aren't about getting more money but getting more out of the money you have."
— Michelle Singletary

"[Happy Money] is filled with surprising, counterintuitive findings that also produce a spark of recognition…. Dunn and Norton have outlined a series of valuable and instructive findings, demonstrating that people tend to overlook the effects of attention and adaptation, and that they would do better if they were to make expenditure decisions with those effects in mind."

"[S]hort and breezy but research-heavy"
Simon & Schuster, 9781451665062, 224pp.
Publication Date: May 14, 2013
About the Author
Elizabeth Dunn is an associate professor of psychology at the University of British Columbia in Vancouver, Canada. At age twenty-six, she was featured as one of the "rising stars" across all of academia by the Chronicle of Higher Education.

Michael Norton is an associate professor of marketing at the Harvard Business School. His research has twice been featured in The New York Times Magazine Year in Ideas issue. In 2012, he was selected for Wired magazine's Smart List as one of "50 People Who Will Change the World."