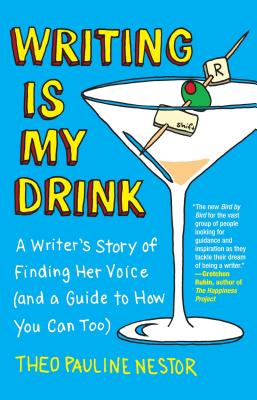 Writing Is My Drink
A Writer's Story of Finding Her Voice (and a Guide to How You Can Too)
Paperback

* Individual store prices may vary.
Description
Whether you're aiming for a New York Times bestseller or a short personal essay to share with family and friends, a popular blogger and memoirist shows you the way in this witty writing guide and disarmingly candid account of discovering her own voice.

Whether you're aiming for a New York Times bestseller or a short personal essay to share with family and friends, a popular blogger and memoirist shows you the way in this witty writing guide and disarmingly candid account of discovering her own voice.

"Theo Nestor is a writer who, I am positive, will be heard from," wrote Pulitzer Prize–winning author Frank McCourt, and hear from her we do in this enthralling memoir that doubles as a witty and richly told writing guide. Yet the real promise in Writing Is My Drink lies in Nestor's uncanny ability as a storyteller and teacher to make sure we'll also hear from you, the reader. Brimming with stories from her own writing life, and paired with practical "Try This" sections designed to challenge and inspire, this disarmingly candid account of a writer's search for her voice delivers charming, wise, and often hilarious guidance that will motivate writers at every stage of their careers.
Praise For Writing Is My Drink: A Writer's Story of Finding Her Voice (and a Guide to How You Can Too)…
The author takes readers onthe winding path of discovering her writing life as she uncovered that innervoice and found the courage to express her opinions, tackle graduate school andbecome a writing instructor. With honesty and humility, Nestor voices thethoughts many writers, especially female writers, often feel... "Writingoffers promise," writes the author. "At its best, writing comes from thewild place, from the home of the undomesticated, the untamed, the feral. Theplace that promises that we can bend time and space, the placebeyond practicality, punctuality, and iPhones." With the use of thenumerous writing exercises included at the end of each chapter, readers willunleash their own potential and find their own wild, untamed writing voices.
— Kirkus Reviews

"As though she's your own personal writing coach, best-selling memoirist Nestor guides novice and established writers alike in the fine art of creative writing, using her own personal learning curve to chronicle how she found the courage to become the writer she always knew she could be. Nimbly traversing such daunting obstacles as writer's block and candidly admitting to warts-and-all failures, Nestor ends each chapter with writer's workshop exercises designed to both inspire and enhance one's writing skills."
— Booklist

"As keenly observed, wickedly funny and haunting as a fine novel, Nestor gives us a field guide to the writer's life and how to navigate it without losing hope. "Writing Is My Drink" fearlessly plumbs the coming of age of a writer in a tough market -- offering not just signposts but effective exercises that will get you out of your head and onto the page. Nestor's triumphs are hard won and yet accessible to authors of all persuasions; she finds a way to unleash your voice and still the negative chorus that all writers inevitably face on the road through rejection and doubt to publication. This is not just a How To, but a gripping memoir as icy and refreshing as a cool martini on a hot summer's day. If you buy only one book about the writing life, make it this one."
— Suzanne Finnamore

"Self-expression is the new entertainment; consider the explosive growth of blogs, self-publishing, and NaNoWriMo! Increasingly, people recognize that creativity is an important element of happiness, and Writing Is My Drink by Theo Nestor will be the new Bird by Bird for the vast group of people looking for guidance and inspiration as they tackle their dream of being a writer."
— Gretchen Rubin

"If you don't like wisdom, then you probably shouldn't read this book. Also, if you hate good stories. Theo Pauline Nestor's beautifully useful book gives us necessary wisdom about writing, and in the offing she spins a great yarn about how she became the person she was meant to be."
— Claire Dederer

"In this thoughtful, yet practical guide, Theo Pauline Nestor will help writers find arguably the most elusive element of the memoir trade – finding one's voice on the page."
— Kathleen Flinn

"This is a book to savor, each delicious and thoroughly entertaining chapter revealing not just more of Theo's brilliance, but your own as well. For all those yearning to discover your own creative and unique inner literary genius, look no further. You've come home."
— Katherine Woodward Thomas

"For those feeling battered by writer's block, overwhelm, or self-doubt, this book is a magic carpet ride out of that muck and into wide-open, soul-connected creative flow, uncannily engaging for people who generally can't abide writing guides. And Nestor is a quietly captivating, intimate, healing storyteller--the best and rarest kind."
— Candace Walsh, author of Licking the Spoon: A Memoir of Food, Family, and Identity

"An amazing, honest commiseration from one writer to another, Theo Pauline Nestor's memoir is captivating, motivating, and above all encouraging."
— NYJournalOfBooks.com

Praise for How to Sleep Alone in a King-Size Bed:

"A divorced mother's funny, chatty, revealing take on Splitsville—with just enough anguish and sadness to be utterly believable."
— Kirkus Reviews "Top Pick for Reading Groups"

"With cheerfully self-deprecating humor, Nestor shares her divorce process, always giving generous credit to the family and friends who helped her, and in her telling she offers hope that if that's what readers are facing, they, too, can manage."
— Publishers Weekly

"Nestor captures the sense of stigma and failure many divorced parents feel."
— USA Today

"Nestor writes with a self-possession and gentleness that is arresting—offering sentiment, without sentimentality."
— Seattle Magazine

"Her account has remarkable candor, but also self-deprecating humor."
— Seattle Post-Intelligencer

"A beautifully told story that's as much about family, love and identity as it is about one of life's most traumatic events."
— The Vancouver Courier

"Her clever and relatable prose makes her tale endearing and insightful, and she sidesteps the cliches of a woman wounded with bittersweet honesty."
— Ladies' Home Journal

"Theo has a big heart and a real feel for the pain and craziness of human life."
— Frank McCourt

"Theo Nestor has an uncommon ability to evoke common yet very intense emotions. How to Sleep Alone in a King-Size Bed is smart, astringent, funny, precise, candid, and possesses not an ounce of self-pity."
— David Shields
Simon & Schuster, 9781451665093, 272pp.
Publication Date: November 5, 2013
About the Author
Theo Pauline Nestor is the author of How to Sleep Alone in a King-Size Bed, which was a 2008 Kirkus Review Top Picks for Reading Groups and a Target Breakout Book. An award-winning instructor, Nestor teaches the Certificate in Memoir Writing for the University of Washington in Seattle.
or
Not Currently Available for Direct Purchase