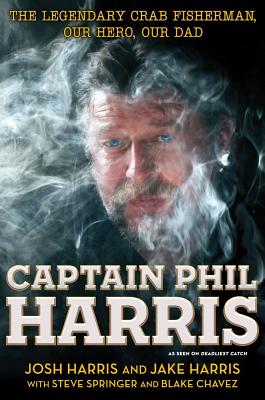 Captain Phil Harris: The Legendary Crab Fisherman, Our Hero, Our Dad (Hardcover)
The Legendary Crab Fisherman, Our Hero, Our Dad
Simon & Schuster, 9781451666045, 221pp.
Publication Date: April 23, 2013
* Individual store prices may vary.
or
Not Currently Available for Direct Purchase
Description
The electrifying behind-the-scenes story of the late Deadliest Catch star, from his own two sons. Prior to his untimely death in 2010, Captain Phil Harris was a star of Discovery Channel's Deadliest Catch, the hit show that follows the exhilarating lives of Alaskan crab fishermen as they brave the vicious Bering Sea. He led his crew through hurricane-force winds and fourstory- high waves, hauling in millions of pounds of crab and raking in millions of dollars. Phil worked hard, but he played even harder. His life on shore--from his rebellious days to his tempestuous marriages, from his addictive habits to his fundamental American success story--could serve as a reality show in itself. He lived his life at Mach speed: the blitz of crab season, the six-figure paydays, the thunderous motorcycles, and the drug-fueled parties. High-speed chases and all-night blackjack binges were par for the course. But as wild as Phil could be, he was always openhearted and infectiously friendly. He was a devoted friend, a loving father, a steadfast captain, and a hero to audiences across America and around the world. His death in 2010, the result of stroke and heart failure at the age of fifty-three, left a hole in the hearts of millions. In this exclusive authorized biography, Phil's two surviving sons, Josh and Jake Harris, team up with bestselling author Steve Springer and coauthor Blake Chavez to share the thrilling story of Phil's remarkable life.
About the Author
Jake and Josh Harris are Captain Phil's two surviving sons, both Discovery Channel stars in their own right. Steve Springer is a veteran journalist, an award winning sports writer, and author of eleven books, including multiple bestsellers. He currently lives and writes in Los Angeles.
Praise For Captain Phil Harris: The Legendary Crab Fisherman, Our Hero, Our Dad…
"A candid narrative ... captures the gritty details of [Captain Phil's] high-speed life, declining health and death. ... An unflinching portrait that will surely satisfy Harris' fans."

"[An] engaging, no-holds-barred biography ... a larger-than-life nautical rock star persona conveyed in a captivating, freewheeling style. ... Even those who never watched the show will find themselves captivated by these outrageous tales of a man who lived without restraint, like a modern-day mythical figure."

"Juicy is an understatement"
Advertisement