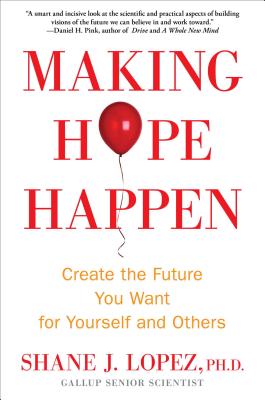 Making Hope Happen
Create the Future You Want for Yourself and Others
Hardcover

* Individual store prices may vary.
Other Editions of This Title:
Paperback (7/22/2014)
Description
With its cutting-edge research and inspiring true stories of people who create better lives for themselves, their families, and their communities, Making Hope Happen is the first practical guide to the anatomy of hope—how to create, use, and share it.

How do some people make good things happen and bounce back from setbacks? Why do they lead happier, healthier, more productive lives? It's because they have hope—not because of luck, or intelligence, or money. So, what exactly is hope and how can you get it, too?

Using discoveries from the largest study of hopeful people ever conducted, world-renowned expert on the psychology of hope Shane J. Lopez, Ph.D., reveals that hope is not just an emotion but an essential life tool. Hope is also a leading indicator of success in relationships, academics, career, and business. With Making Hope Happen you can measure your level of hope and learn how to create and share it.

In this newest evolution of positive psychology, Dr. Lopez provides strategies for building a high-hope mind-set and shares uplifting stories of real people—parents, educators, entrepreneurs, young and old people with health challenges, and civic leaders— who create hope and who change their own lives as well as their schools, workplaces, and communities. They include:

• The CEO who befriended a curious nine-year-old, bringing him into the company and transforming his attitude toward school and future goals.

• A young entrepreneur who worked to change laws that stood in his way, recruited friends to support his start-up, and rebuilt from scratch after a fire.

• The college president whose creative fundraising during the worst of the economic downturn kept her neediest seniors in school through graduation.

• The city council members who developed a visionary recovery plan only days after their community was flattened by a tornado.

• Two mothers and a principal who reversed decades of neglect and mismanagement to turn a failing school into a neighborhood magnet.

• A college student who is thriving after two heart transplants, and whose hopeful self-care has been key to her survival.

Making Hope Happen is for people who believe that the future can be better than the past or the present and who are looking for a way to make it so. The message is clear: Hope matters. Hope is a choice. Hope can be learned. Hope is contagious.
Praise For Making Hope Happen: Create the Future You Want for Yourself and Others…
"Hope is the most undervalued state of mind in the world. This book demystifies hope and makes it a much-needed secret weapon for all leaders at all levels."
— Jim Clifton, CEO, Gallup

"Shane Lopez, the world's preeminent expert on hope, shares his expertise and wisdom on what hope is, how to create more of it in your life, and how to teach it to others, with the aim of meeting your goals, leading a happier, more flourishing life, and making the world a better place."
— Sonja Lyubomirsky, author of The How of Happiness

"Making Hope Happen instantly draws you in. With intriguing stories and important insights on every page, this book not only illustrates the power of hope, but the simple steps we can all take to get more of it in our lives."
— Sian Beilock, author of Choke: What The Secrets Of The Brain Reveal About Getting It Right When You Have To

"Finally, a book that shines a light on one of the most powerful, and most misunderstood, emotional forces in our lives. Making Hope Happen is a smart and incisive look at the scientific and practical aspects of building visions of the future we can believe in and work toward."
— Daniel H. Pink, author of Drive and A Whole New Mind

"A clear and powerful introduction to the scientific study of hope by the leading researcher on this vital topic, Making Hope Happen is full of useful strategies for getting our future under control. A pleasure to read, and a treasure to save for those bleak days when defeat stares us in the face."
— Mihaly Csikszentmihalyi, author of Flow: The Psychology of Optimal Experience

"The world's leading expert on the psychology of hope shows us people who have succeeded because they had hope and how we can create it in our own lives to help ourselves and our world."
— Ed Diener, author of Happiness: Unlocking the Mysteries of Psychological Wealth

"There's no pill or supplement that can reverse aging. In fact, most of what explains longevity is not for sale--purpose, faith, and the hope. This book--from one of the nation's most renowned well-being researchers--explores the power of hope and shows us where to find it."
— Dan Buettner, National Geographic Fellow & author of The Blue Zones: Lessons for Living Longer from the People Who've Lived the Longest

"Thoughtful and pragmatic, Lopez's work will inspire readers to take control of their future, choose hope, and choose life."
Atria Books, 9781451666229, 272pp.
Publication Date: March 5, 2013
About the Author
Shane J. Lopez, Ph.D., a Gallup Senior Scientist, is the world's leading authority on the psychology of hope. He has published numerous professional books on what is right with people, including The Encyclopedia of Positive Psychology. He lives in Lawrence, Kansas, with his wife and son.
or
Not Currently Available for Direct Purchase