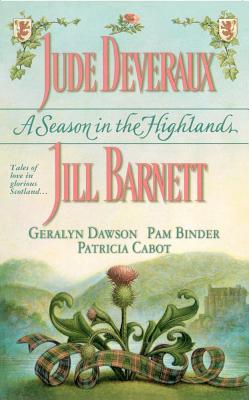 A Season in the Highlands
Paperback

* Individual store prices may vary.
Description
A Season in the Highlands contains five romance stories from Jude Deveraux, Jill Barnett, Geralyn Dawson, Patricia Cabot, and Pam Binder. With some of the best romance writers represented, these tales blessed with the misty magic and timeless passion of fair Scotland are sure to please.

Love that grows among the heather is enchanted indeed...blessed with the misty magic and timeless passion of fair Scotland!

New York Times bestselling author Jude Deveraux unravels a ghostly murder mystery in an ancient Scottish castle.

Nationally bestselling author Jill Barnett decrees all is fair in love—when a rollicking Highland clan war leads an impetuous lass to kidnap the wrong man!

Geralyn Dawson puts a rough-hewn Texas cowboy under the spell of a charming herbalist with some curious powers of attraction.

Patricia Cabot leads a beautiful runaway to her kindred spirit—a Scottish lord who sweeps her away to the rugged shores of the Isle of Skye.

Pam Binder flings a pretty Edinburgh baker and a computer-games designer into an adventure of passion and intrigue—inside the sixteenth-century palace of Mary, Queen of Scots.
Gallery Books, 9781451666649, 544pp.
Publication Date: September 10, 2011
About the Author
Jude Deveraux is the author of more than forty New York Times bestsellers, including Moonlight in the Morning, The Scent of Jasmine, Scarlet Nights, Days of Gold, Lavender Morning, Return to Summerhouse, and Secrets. To date, there are more than sixty million copies of her books in print worldwide. To learn more, visit JudeDeveraux.com.

Geralyn Dawson is the critically acclaimed author of more than a dozen novels, including My Big Old Texas Heartache and My Long Tall Texas Heartthrob (both available from Pocket Star Books). A three-time RITA finalist, Geralyn has won numerous awards, including the National Readers' Choice Award and a Career Achievement Award from Romantic Times. She is an active volunteer for the Making Memories Foundation and lives in Forth Worth, Texas, with her family. Visit her website at www.GeralynDawson.com and watch for the first novel in her Bad Luck Brides series, Her Bodyguard.

Jill Barnett is the New York Times bestselling author of fifteen acclaimed novels and short stories. There are more than five million copies of her books in print in seventeen languages. She lives in the Pacific Northwest. Visit her website at JillBarnett.com.

Pam Binder says she believes in happier-ever-after endings. Married 32 years, with three grown kids, she has had a good life with an understanding mate, one who has supported her lifelong writing habit.
"I've always loved to write." says Pam, an Issaquah, Washington resident and office manager at Chinook Middle School. "Poetry, short stories...I cannot remember a time when I didn't like to write or read."
Binder's path to her destiny was circuitous. As she raised her children, she put her writing career on hold. But old-fashioned diligence and a chance meeting with a receptive agent, changed her life.
When Pam Binder was a kid, a fifth grade teacher told her mother: "Pam's reading too much. She's reading during recess." Her mother retorted that she didn't consider her daughter's love of reading grounds for complaint.
About ten years ago, Pam decided she wanted to start writing again in earnest. She went to a Romance Writers of America conference. Then she signed up for the commercial fiction writing sequence at the University of Washington's extension division.
It was there that things fell into place.
Jack Remick, one of Pam's teachers in the UW program, referred to a book called. The Writer's Journey: Mythic Structure for Writers by Christopher Vogler. Based on the teachings of Joseph Campbell, the book teaches that most compelling stories, from the screenplay of Pretty Woman to Homer's The Odyssey, have the same elements:
1)The Quest -- the physical or emotional journey taken by the protagonist.
2)The Dragon -- the conflict the main character must endure, or surmount.
3)A resolution that comes back to the beginning of the hero's quest.
Pam learned that a story is "not a straight line, but a circle." When a character returns to his or her starting point "they're completely different, emotionally transformed."
"It was like a light bulb went off," Pam said. After traveling to Scotland on vacation with her husband, a story fermenting in her imagination suddenly came together and began to gel. The result was The Inscription, a time travel romance set in 16th century Scotland. Her book features a clan of immortals and a modern American teacher named Amber MacPhee who is pulled into their world of mystery, romance and adventure.
Pam's next class at the University was taught by the owner of a small regional press. P.R. Goodfellow bought Pam's work-in-progress, printed 2,000 copies of it in 1997 and sold them all.
If that were the end of the story, this would be a respectable happier-ever-after piece. It's not.
In 1998, Pam took the Goodfellow Press edition of The Inscription to the Pacific Northwest Writers' Association summer conference. More or less at random, Binder took the book to Liza Dawson, a New York literary agent. Dawson "patted my hand," Pam recalls, took the book on the plane and called her Monday morning.
"I can sell this," Dawson told Pam.
Dawson says she has a test for any book: "Am I having a really, really good time?" She recalls her immediate reaction to The Inscription: "I so much enjoyed reading that book. It's a bear of a trip from Seattle to Newark. I found myself laughing, enjoying it...it came as a surprise because I hadn't had any expectations." Though Dawson enjoys mixing with authors at such conferences, finding a saleable one is a relatively rare event.
Dawson sold The Inscription and another book by Pam Binder, The Quest, to Pocket. The Quest will be released in August 2000 under Pocket/Sonnet. It is also a time travel: A Celtic sorceress needs a warrior to free her mother; however, when she cast a spell, the man who appears is, Kenneth MacKinnon, a professional football player from the 21st century. For the first time in his life he is not in control of the situation.
What is this lesson in this happy ending?
Endurance, perhaps. Pam says she has a quality that approximates the "cone of silence" of Maxwell Smart on the old Get Smart television show -- she can block out anything and write anytime, everywhere. Writing on a regular legal pad, she writes during her lunch break. After work, she goes to Barnes & Noble and writes there. She credits her UW instructors for teaching her that you don't have to write in sequence. Write an adventure sequence when you feel like it -- write romance when the spirit moves you.
In fact, not a lot has changed since that fifth-grader was chastised for reading during recess. Pam's need to read and write endures. "I look at it as small steps", she says. "As a writer, you need to look at the long term."
The Inscription received 4 and a half stars and a Romantic Times Top Pick award in their February Review: "...Readers will be drawn in by Pam Binder's magic touch for blending the natural with the supernatural and creating a spellbinding tale with many subplots, wonderful historical backdrop and color, and the added attraction of the Highlander immortal. This is truly a love story for the ages."

Patricia Cabot is the author of several critically acclaimed romance novels, including Lady of Skye, A Little Scandal, An Improper Proposal, Portrait of My Heart, and Where the Roses Grow Wild. She is also the author of two series of young-adult novels, which have been optioned for film and television. She lives in New York City with her husband. Visit her Web site at PatriciaCabot.com.