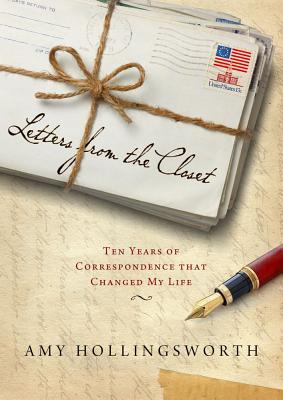 Letters from the Closet (Hardcover)
Ten Years of Correspondence That Changed My Life
Howard Books, 9781451666779, 256pp.
Publication Date: May 7, 2013
Other Editions of This Title:
Paperback (1/10/2015)
* Individual store prices may vary.
Description
An honest and poignant look into the deeply intimate yet platonic relationship between a gay English teacher and his young female protégée—each seeking connection and acceptance—as reflected by the decade of letters they exchanged.

It's Tuesdays with Morrie— if Morrie were young and gay and Mitch Albom were a woman.

As the years and letters passed between John and Amy, the layers fell off as they explored and unmasked themselves and each other. "A teacher is like a book," John wrote, "wasted until he's read. The student has to do that. You've done that." While going through a period of despair, he wrote, "I hope our relationship survives your growing up and my growing down."

Every writer needs a room of his own, but for some people, at certain times and in certain circumstances, the best you can do is a closet. From the confines—and protection—of his closet, John wrote these letters, letters that were read, cherished, and then locked away for decades in Amy's closet. Now they are chronicled and shared for your enrichment.

***

A Different Kind of Love Story

Timely and relevant, this is a love story of the most contemporary kind. It's a rare and beautiful glimpse into an intimate, but platonic, relationship between a gay English teacher and his young female protégée—each seeking connection and acceptance.

Now the student-turned-author looks back at the decade of letters that preceded her teacher's untimely death. She collects the shards left by their clumsy, sometimes violent, attempts to unmask each other and counts the cost of knowing and being known.

Alternating between letter excerpts and a beautiful narrative from Amy, the story unfolds, making readers privy to a very personal tribute to the teacher who profoundly changed her life. As you enter their unveiled world, you'll see truth reflected in their raw insights—and you'll discover new revelations for your own life.
About the Author
Before writing books, Amy Hollingsworth wrote for various magazines and was a writer for eight years for The 700 Club. She holds a masters degree in counseling psychology and a bachelors degree in both English and psychology. She lives in Fredericksburg, Virginia, with her husband Jeff and their children.
Praise For Letters from the Closet: Ten Years of Correspondence That Changed My Life…
"
Letters from the Closet
is a beautiful book: an unusually honest memoir that explores the need for self-discovery and exposes the dangers of self-delusion."
— Scott Jordan Harris, UK correspondent for Roger Ebert and culture blogger for The Daily Telegraph
"I felt deep stirrings in the first few pages of this remarkable book, stirrings that I eventually came to recognize as healing, my own. With her exquisite prose, wisdom, wit, and most of all courage, Amy Hollingsworth shows what wondrous things can happen when we open our respective closets and let the darkness meet the light. After the privilege of reading her here, I know I feel less alone."
— Tim Madigan, award-winning newspaper journalist and author of I'm Proud of You: My Friendship with Fred Rogers
"Rarely do I get excited about a book that comes my way, but
Letters from the Closet
is beautifully written, intelligent, multilayered, sensitive, and alarmingly mature. I promise you, you will enjoy this book for its art and its insight. As I read it, I felt that my heart was more active than my mind, but both were at full speed. You need to read it more than once, because there's a lot going on. If you don't read it at least once, you're missing out on a rare treat. There is not a word out of place in this skillfully written book."
— Thomas Moore, New York Times bestselling author of Care of the Soul
"The relationships that wield the most influence in our lives are often complex. They defy tidy categories, intermingle joy with pain, teach us how to live, and surpass even the power of death.
Letters from the Closet
poignantly captures just such a relationship. Part memoir, part love letter, and part tribute, the book shows how words, letters, books, and dreams are woven together to shape a life, a soul, and a love."
— Karen Swallow Prior, author of Booked: Literature in the Soul of Me
"In this unique memoir, Amy Hollingsworth opens the door to her intimate correspondence with her extraordinary high school English teacher. I had anticipated that
Letters from the Closet
was going to be about a teacher's struggle with sexual orientation, but the book turned out to be even more about the author's own self-exploration and discovery. By sharing the healing power of their mutual self-disclosure, Amy invites us to join them in lifting off our own masks—and identifying our own gifts and life purpose."
— Dr. David G. Myers, social psychologist, author, and professor of psychology at Hope College
"Psychologically astute and literarily informed, Amy Hollingsworth makes poetry of closets—closed ones, bursting ones, neat ones, and fearful ones. Yet there is one closet she does not mention, and it is that one that is central to this deeply insightful memoir. It is the one that a child enters, one filled with ghosts and frightful encounters, and one through which she can only feel her way until she bursts through the back and falls into maturity, wisdom, and what might well be called New Creation."
— Jim Street, Pastor, North River Church, Lawrenceville, GA
Letters From the Closet
by
Amy Hollingsworth
. Longtime Pop Candy readers will recognize Hollingsworth as "
Sister Carrie
" from our hugely popular
Lost
discussions. Her latest, beautifully written book tells the story of the enlightening correspondence she had with her closeted high school English teacher.
or
Not Currently Available for Direct Purchase