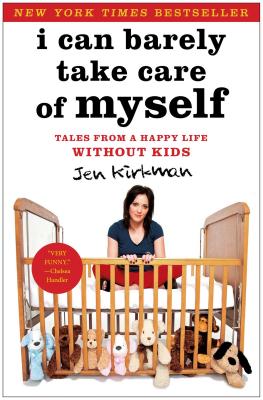 I Can Barely Take Care of Myself
Tales From a Happy Life Without Kids
Hardcover

* Individual store prices may vary.
Other Editions of This Title:
Digital Audiobook (4/21/2013)
Paperback (4/22/2014)
MP3 CD (4/22/2013)
MP3 CD (4/22/2013)
Compact Disc (4/22/2013)
Compact Disc (4/22/2013)
Compact Disc (4/22/2013)
Compact Disc (4/22/2013)
Description
Chelsea Lately regular Jen Kirkman is "childfree by choice." Here's what she'd like to say to everyone who can't stop telling her she'll change her mind.

"You'll Change Your Mind."

That's what everyone says to Jen Kirkman— and countless women like her—when she confesses she doesn't plan to have children. But you know what? It's hard enough to be an adult. You have to dress yourself and pay bills and remember to buy birthday gifts. You have to drive and get annual physicals and tip for good service. Some adults take on the added burden of caring for a tiny human being with no language skills or bladder control. Parenthood can be very rewarding, but let's face it, so are margaritas at the adults-only pool.

Jen's stand-up routine includes lots of jokes about not having kids (and some about masturbation and Johnny Depp), after which complete strangers constantly approach her and ask, "But who will take care of you when you're old?" (Servants!) Some insist, "You'd be such a great mom!" (Really? You know me so well!)

Whether living rent-free in her childhood bedroom while trying to break into comedy (the best free birth control around, she says), or taking the stage at major clubs and joining a hit TV show— and along the way getting married, divorced, and attending excruciating afternoon birthday parties for her parent friends—Jen is completely happy and fulfilled by her decision not to procreate.

I Can Barely Take Care of Myself is a beacon of hilarious hope for anyone whose major life decisions have been questioned by friends, family, and strangers in a comedy club bathroom. And it should satisfy everyone who wonders if Jen will ever know true love without looking into the eyes of her child.
Praise For I Can Barely Take Care of Myself: Tales From a Happy Life Without Kids…
"Jen Kirkman has written an excellent—and very funny—guide to promote not having children. Thanks girl, for saving me the time."
— Chelsea Handler

"If you've ever been told you'd 'change your mind' about anything in life—when you knew that you wouldn't—this book is for you. Jen has a unique, fresh and funny way of reminding people that sometimes, you really do know what's best for you. I'm glad she didn't change her mind about writing this smart, brave, and heartfelt book."
— Sarah Colonna

"Boldly funny without being anti-mom."
— InTouch magazine

"Very funny. . . . the core of the book is about not wanting to have children, and the ways in which society gets up in your face about it . . . I laughed out loud several times."
— TheHairpin.com

"Candid, funny stuff."
— Sacramento Bee

"A standup comedian's hilarious explanation for why, gee, thanks for asking, but she isn't going to change her mind about not having children."
— Tampa Bay Times

"Full of humor, wisdom, and laugh out loud moments."
— The Kentucky Democrat

"Kirkman puts her comedic talent to use by snarking to her readers about the ridiculousness of baby culture, overly-enthusiastic parents, and total strangers who feel it necessary to publicly pry. And since it's a good bet that those readers feel the same way, this book may very well strike a funnybone."
— Savannah Morning News

"A seriously humorous stance on deciding not to have kids. . . . With the novelist's penchant for self-flagellation and exploitation, and jokes punctuating at least every page, this book is ideal for the woman who needs a quick comeback for those who criticize her about not wanting kids, or for those just looking to laugh."
— Publisher's Weekly

"Between these charming, cringe-worthy, and badass tales, Kirkman successfully convinces us she isn't meant for motherhood. It's safe to say she's much better suited to birthing books."
— ThirdBeatMagazine.com

"This book takes you through the journey of Jen Kirkman's misunderstood child-free life. I'm now convinced of two things: Jen is freaking hilarious and she should definitely not have a baby—she should have a Valium."
— Whitney Cummings

"Jen Kirkman's wickedly original yet totally universal debut about the expectations of others kicks so much ass you'll agree with her even when you don't. Not for the stupidly over-sensitive. For lovers of great!"
— Greg Behrendt
Simon & Schuster, 9781451667004, 224pp.
Publication Date: April 16, 2013
About the Author
Jen Kirkman is a world-touring stand-up comedian and the author of the New York Times bestseller I Can Barely Take Care of Myself: Tales of a Happy Life Without Kids and I Know What I'm Doing—And Other Lies I Tell Myself: Dispatches from a Life Under Construction. Her Netflix original comedy special I'm Gonna Die Alone and I Feel Fine streams worldwide, and she has released two comedy albums, Self Help and Hail to the Freaks (which hit #13 on the Billboard charts). She was a longtime writer and panelist on the E! Network's Chelsea Lately and the narrator of many episodes in the award-winning TV show Drunk History on Comedy Central.
or
Not Currently Available for Direct Purchase