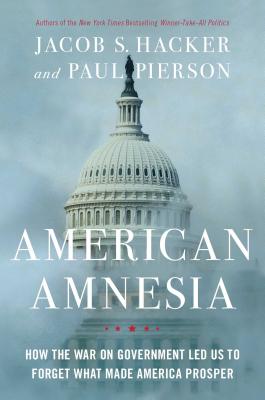 American Amnesia
How the War on Government Led Us to Forget What Made America Prosper
Hardcover

* Individual store prices may vary.
Other Editions of This Title:
Digital Audiobook (3/28/2016)
Paperback (2/14/2017)
Description
From the groundbreaking author team behind the bestselling Winner-Take-All Politics, a timely and topical work that examines what's good for American business and what's good for Americans—and why those interests are misaligned.

In Winner-Take-All Politics, Jacob S. Hacker and Paul Pierson explained how political elites have enabled and propelled plutocracy. Now in American Amnesia, they trace the economic and political history of the United States over the last century and show how a viable mixed economy has long been the dominant engine of America's prosperity.

Like every other prospering democracy, the United States developed a mixed economy that channeled the spirit of capitalism into strong growth and healthy social development. In this bargain, government and business were as much partners as rivals. Public investments in education, science, transportation, and technology laid the foundation for broadly based prosperity. Programs of economic security and progressive taxation provided a floor of protection and business focused on the pursuit of profit—and government addressed needs business could not.

The mixed economy was the most important social innovation of the twentieth century. It spread a previously unimaginable level of broad prosperity. It enabled steep increases in education, health, longevity, and economic security. And yet, extraordinarily, it is anathema to many current economic and political elites. And as the advocates of anti-government free market fundamentalist have gained power, they are hell-bent on scrapping the instrument of nearly a century of unprecedented economic and social progress. In American Amnesia, Hacker and Pierson explain how—and why they must be stopped.
Praise For American Amnesia: How the War on Government Led Us to Forget What Made America Prosper…
In this lively,engaging, and persuasive book, Hacker and Pierson explain how much of our health and prosperity rests on what governments have done. American Amnesia will help slow the intellectual pendulum that is currently swinging towards ananarchic libertarianism that threatens more than a century of American progress."—Angus Deaton, winner of the Nobel Memorial Prize for Economics in 2015

"The best business book of the year on the economy."—Brad DeLong, strategy+business

"This is a fascinating and much-needed book. America once invented universal public education and sharply progressive taxation of income and inherited wealth, and has shown to the world that strong government and efficient markets are complementary—not substitutes. But since 1980 a new wave of anti-governmentideology has prospered, and is about to make America more unequal andplutocratic than Europe on the eve of World War I. If you want to understandwhy this great amnesia occurred, and how it can be reversed, read this book!"—Thomas Piketty, author of Capital in the Twenty-First Century

If you are curious about why our infrastructure, our roads and bridges and water systems, is falling apart—then read American Amnesia. Curious about why the U.S. spends almost 18 percent of our GDP on medical care, but has health outcomes that are at levels of many developing countries—then read American Amnesia."—Inside Higher Ed

Progress and prosperity in the United States, they demonstrate, have rested in no small measure on a constructive relationship between an effective public authority and dynamic private markets. We are now paying a terrible price for "forgetting this essential truth."—The Philadelphia Inquirer

American Amnesia provides chapter and verse on why the public has good reason to be angry..."—The New York Times
Simon & Schuster, 9781451667820, 464pp.
Publication Date: March 29, 2016
About the Author
Jacob S. Hacker is the Stanley B. Resor Professor of Political Science at Yale University. A Fellow at the New America Foundation in Washington, DC, he is the author of The Great Risk Shift: The New Economic Insecurity and the Decline of the American Dream, The Divided Welfare State, and, with Paul Pierson, of American Amnesia: The Forgotten Roots of Our Prosperity; Winner-Take-All Politics: How Washington Made the Rich Richer—and Turned Its Back on the Middle Class; Off Center: The Republican Revolution and the Erosion of American Democracy. He has appeared recently on The NewsHour, MSNBC, All Things Considered, and Marketplace. He lives in New Haven, Connecticut.

Paul Pierson is the John Gross Professor of Political Science at the University of California at Berkeley. He is the author of Politics in Time, Dismantling the Welfare State?, and (with Jacob S. Hacker), American Amnesia: The Forgotten Roots of Our Prosperity; Winner-Take-All Politics: How Washington Made the Rich Richer—and Turned Its Back on the Middle Class; Off Center: The Republican Revolution and the Erosion of American Democracy. His commentary has appeared in The New York Times Magazine, The Washington Post, and The New York Review of Books. He lives in Berkeley, California.
or
Not Currently Available for Direct Purchase