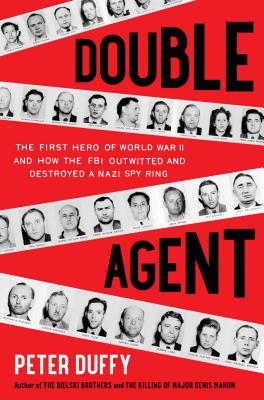 Double Agent (Hardcover)
The First Hero of World War II and How the FBI Outwitted and Destroyed a Nazi Spy Ring
Scribner, 9781451667950, 352pp.
Publication Date: July 22, 2014
Other Editions of This Title:
Digital Audiobook (7/21/2014)
Paperback (7/7/2015)
* Individual store prices may vary.
Description
The never-before-told tale of the German-American who spearheaded a covert mission to infiltrate New York's Nazi underground in the days leading up to World War II—the most successful counterespionage operation in US history.

From the time Adolf Hitler came into power in 1933, German spies were active in New York. In 1937, a German national living in Queens stole the blueprints for the country's most precious secret, the Norden Bombsight, delivering them to the German military two years before World War II started in Europe and four years before the US joined the fight. When the FBI uncovered a ring of Nazi spies in the city, President Franklin Roosevelt formally declared J. Edgar Hoover as America's spymaster with responsibility for overseeing all investigations. As war began in Europe in 1939, a naturalized German-American was recruited by the Nazis to set up a radio transmitter and collect messages from spies active in the city to send back to Nazi spymasters in Hamburg. This German-American, William G. Sebold, approached the FBI and became the first double agent in the Bureau's history, the center of a sixteen-month investigation that led to the arrest of a colorful cast of thirty-three enemy agents, among them a South African adventurer with an exotic accent and a monocle and a Jewish femme fatale, Lilly Stein, who escaped Nazi Vienna by offering to seduce US military men into whispering secrets into her ear.

A riveting, meticulously researched, and fast-moving story, Double Agent details the largest and most important espionage bust in American history.
About the Author
Peter Duffy is the author of Double Agent, The Bielski Brothers, and The Killing of Major Denis Mahon. He also works as a freelance journalist and writes regularly for The New York Times, The Wall Street Journal, New York magazine, The New Republic, Slate, and many other outlets. He lives in New York City with his wife and daughter. Visit his website at PeterDuffy.net.
Praise For Double Agent: The First Hero of World War II and How the FBI Outwitted and Destroyed a Nazi Spy Ring…
"Intriguing account of the unraveling of the German intelligence network in the U.S.... thrilling."

"Peter Duffy absorbingly recounts the true story of William G. Sebold… right on target."

"Rich with eccentric characters, suspense, and details of spycraft in the war's early days…. The result is a compelling cultural history with all the intricacy and intrigue of a good spy novel."

"Thrilling, well-researched, well-told, fascinating."

"Duffy tracks Sebold's efforts with a tense, exciting narrative filled with a motley collection of characters, some sinister and some unlikely as villains. This has all the elements of a fine spy novel, with the bonus that it is all true."

"One of the great spy missions of American history."

"Immensely readable... Colorful personalities proliferate throughout the narrative, the understated character of Sebold gleams. An entertaining work duly informed by Duffy's knowledge of both the war and New York City."

"Double Agent is worth reading."

"Peter Duffy's Double Agent exposes the shocking extent of German espionage in America on the eve of World War II with dazzling new research and deft historical insight. A riveting non-fiction thriller that exposes history's neglect of William Sebold, an unjustly forgotten American hero. Duffy offers still relevant insights into the boundaries of civilian surveillance and FDR's and J. Edgar Hoover's handling of intelligence information to influence public opinion."
— Jerrold L. Schecter, Cold War historian and coauthor of The Spy Who Saved the World: How a Soviet Colonel Changed the Course of the Cold War
or
Not Currently Available for Direct Purchase