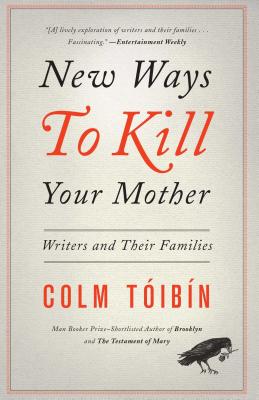 New Ways to Kill Your Mother (Paperback)
Writers and Their Families
Scribner, 9781451668568, 288pp.
Publication Date: June 4, 2013
* Individual store prices may vary.
Description
Novelist and critic Colm Tóibín provides "a fascinating exploration of writers and their families" (Entertainment Weekly) and "an excellent guide through the dark terrain of unconscious desires" (The Evening Standard) in this brilliant collection of essays that explore the relationships of writers to their families and their work.

Novelist and critic Colm Tóibín explores the relationships of writers with their families and their work in the brilliant, nuanced, and wholly original New Ways to Kill Your Mother.

Tóibín—celebrated both for his award-winning fiction and his provocative book reviews and essays—traces the intriguing, often twisted family ties of writers in the books they leave behind.

Through the relationship between W. B. Yeats and his father, Thomas Mann and his children, Jane Austen and her aunts, and Tennessee Williams and his sister, Tóibín examines a world of relations, richly comic or savage in their implications. Acutely perceptive and imbued with rare tenderness and wit, New Ways to Kill Your Mother is a fascinating look at writers' most influential bonds and a secret key to understanding and enjoying their work.
About the Author
Colm Tóibín is the author of nine novels, including The Blackwater Lightship; The Master, winner of the Los Angeles Times Book Prize; Brooklyn, winner of the Costa Book Award; The Testament of Mary; and Nora Webster, as well as two story collections, and Mad, Bad, Dangerous to Know, a look at three nineteenth-century Irish authors. He is the Irene and Sidney B. Silverman Professor of the Humanities at Columbia University. Three times shortlisted for the Man Booker Prize, Tóibín lives in Dublin and New York.
Praise For New Ways to Kill Your Mother: Writers and Their Families…
"A typical Tóibín essay describes the arc of a writer's development and life, and uses the writer's own words to draw graceful conclusions about his temperament and biography…Tóibín's skill at glossing the lives of great writers is on display in his latest essay collection."
— Andrew Martin

"Tóibín finds an engaging multiplicity of detail. And his critical voice is as seductive as the widely varying voices in his novels."
— Donna Rifkind

"Tóibín is a masterly novelist who is also a fine critic…powerful."
— Mira Sethi

"[Toibin possesses a] vast understanding of fiction and its uses, and a mind that processes novels and ideas like a rumbling supercomputer...Mr. Toibin is such an adept and morally serious close reader that his criticism becomes nearly as galvanizing as his fiction. There really aren't, it turns out, any new ways to kill your mother, at least not artistically. But all the old ways, in Mr. Toibin's telling, still work rather beautifully."
— Dwight Garner

"[A] lively exploration of writers and their families…Fascinating."
— Melissa Maerz

"[Tóibín writes] shrewdly and passionately as both critic and novelist."
— Fred Setterberg

"Like all fine critics, Tóibín inspires readers to go back to the work, and he brings a human aspect to the works of seemingly deracinated authors like Beckett and Jorge Luis Borges…It's a pleasure to watch Tóibín rove through 19th and 20th-century literary history."

"Tóibín excels when discussing craft…[New Ways to Kill Your Mother is] chock-full of biographic detail that will interest ardent readers."