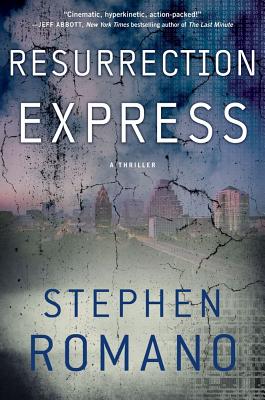 Resurrection Express
Hardcover

* Individual store prices may vary.
Other Editions of This Title:
Paperback (8/1/2015)
Mass Market (6/18/2013)
Description
A cutting edge storm of white-knuckle action and suspense—the year's most exciting debut thriller!

There is no code Elroy Coffin can't break, nothing he can't hack, no safe he can't get into. But for the past two years, he's been incarcerated in a maximum-security hellhole after a job gone bad, driven to near-madness by the revelation of his beloved wife's murder.

Now a powerful and mysterious visitor who calls herself a "concerned citizen" offers Elroy his freedom if he'll do another job, and sweetens the deal with proof that his wife might still be alive. All Elroy has to do is hack into one of the most complicated and deadliest security grids in the world—clear and simple instructions for the best in the business. Or so he thinks.

Quickly drawn into the epicenter of a secret, brutal war between criminal masterminds, Elroy is forced to run for his life through a rapid-fire labyrinth of deception, betrayal, and intrigue— where no one is to be trusted and every fight could be his last . . . and the real truth hidden beneath the myriad levels of treachery may be too shocking to comprehend. . . .
Praise For Resurrection Express…
High praise for the intense vision of STEPHEN ROMANO and RESURRECTION EXPRESS:

"The pace never slackens in Romano's superior debut thriller....[A] complex, multilayered storyline. Few will anticipate the plot twists or the extremely satisfying resolution." —Publishers Weekly (starred review)

"Cinematic, hyperkinetic, action-packed!" —Jeff Abbott, New York Times bestselling author of The Last Minute

"Compelling, devastating, and brutal, with battle-hardened prose and relentless energy, Stephen Romano has crafted one hell of a first novel. A juiced-up, whacked-out, back-to-the-wall book that reads like a ride through the Knife and Gun Club on the night of a full moon, riding the Resurrection Express will leave you dizzy from betrayal, speechless from reversals, and quite possibly battered and broken by its revelations." —Greg Rucka, New York Times bestselling author of Alpha and creator of the Eisner Award–winning Queen & Country series

"Stephen Romano's taut prose is as unrelentingly violent and brutal as the story he tells. Resurrection Express is a killer debut that demands attention. A scorching read." —Brian Azzarello, New York Times bestselling author of Joker and creator of the Eisner Award–winning 100 Bullets series

"Stephen Romano's imagination is so scary-brilliant, you should be required to obtain a controlled dangerous substance license before opening Resurrection Express."—Duane Swierczynski, author of the Anthony, Barry, Macavity, and Shamus Award–nominated Charlie Hardie series

"Resurrection Express whipsaws along at 100 mph, with so much momentum that the reader feels like if he hits one bump, he'll go straight through the windshield."—Tom Piccirilli, author of the International Thriller Writers' Award–winning novel The Cold Spot

"A high-voltage blast! Stephen Romano's action scenes are light-years ahead of the pack, fueled by muscular prose, terrifying villains, and Elroy Coffin—a protagonist for the ages. Resurrection Express is one of the finest examples I've encountered of noir's evolution into the twenty-first century."—Blake Crouch, acclaimed author of Run, Snowbound, and Abandon

"Resurrection Express is a rip-snortin' white-knuckle ride. . . . A page-turner that sinks its teeth into you and won't let go. Stephen Romano has created a meal you will want to swallow whole—it's that hard to put down. His damaged protagonist, Elroy Coffin, is a compelling computer freak with criminal skills who you can't help but root for. A savage and vicious little tale that fans of Don Winslow will lap up. Highly recommended!"—Don Coscarelli, award-winning director of cult classics Phantasm, Bubba Ho-tep, and The Beastmaster

"Deceit, treachery, and betrayal are the names of the game….The action is fun and fast paced in this thriller romp!"

"Gripping…[a] complex multifaceted novel starring hard-ass people battling for lead dog position in what will be shortlisted as one of the top thrillers of the year."

"Unshakable suspense….Romano relies on sharp instincts and scary-smart strategy over chance to give his hero nine lives, and he layers in plenty of depth beyond expertly drawn tech-thriller aspects….A must read for followers of Andrew Vachss and Charlie Huston."
Gallery Books, 9781451668643, 448pp.
Publication Date: September 18, 2012
About the Author
Stephen Romano is an award-winning author, illustrator, designer, and screenwriter. His acclaimed projects include an adaptation for Showtime's Emmy Award-winning Masters of Horror series; the illustrated work Shock Festival (hailed by Fangoria magazine as "one of the greatest homages to B-cinema ever undertaken"); the original novel Black Light, written with Saw franchise screenwriters Patrick Melton and Marcus Dunstan, and the critically acclaimed novel Resurrection Express. He lives in Austin, Texas. Catch him at StephenRomanoShockFestival.com.
or
Not Currently Available for Direct Purchase