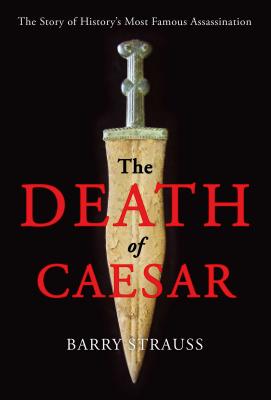 The Death of Caesar
The Story of History's Most Famous Assassination
Hardcover

* Individual store prices may vary.
Other Editions of This Title:
Digital Audiobook (3/2/2015)
Paperback (3/22/2016)
MP3 CD (3/3/2015)
Compact Disc (3/3/2015)
MP3 CD (3/3/2015)
Compact Disc (3/3/2015)
Description
The exciting, dramatic story of one of history's most famous events—the death of Julius Caesar—now placed in full context of Rome's civil wars by eminent historian Barry Strauss.

Thanks to William Shakespeare, the death of Julius Caesar is the most famous assassination in history. But what actually happened on March 15, 44 BC is even more gripping than Shakespeare's play. In this thrilling new book, Barry Strauss tells the real story.

Shakespeare shows Caesar's assassination to be an amateur and idealistic affair. The real killing, however, was a carefully planned paramilitary operation, a generals' plot, put together by Caesar's disaffected officers and designed with precision. There were even gladiators on hand to protect the assassins from vengeance by Caesar's friends. Brutus and Cassius were indeed key players, as Shakespeare has it, but they had the help of a third man—Decimus. He was the mole in Caesar's entourage, one of Caesar's leading generals, and a lifelong friend. It was he, not Brutus, who truly betrayed Caesar.

Caesar's assassins saw him as a military dictator who wanted to be king. He threatened a permanent change in the Roman way of life and in the power of senators. The assassins rallied support among the common people, but they underestimated Caesar's soldiers, who flooded Rome. The assassins were vanquished; their beloved Republic became the Roman Empire.

An original, fresh perspective on an event that seems well known, Barry Strauss's book sheds new light on this fascinating, pivotal moment in world history.
Praise For The Death of Caesar: The Story of History's Most Famous Assassination…
"Barry Strauss has a rare gift for the crafting of narrative history: in his hands, figures who had seemed forever frozen in marble breathe again. The Death of Caesar deftly depicts a world in which tangled motives, Machiavellian strategies, and a dose of sheer accident conspired to bring down the most powerful man in the world."
— Stephen Greenblatt, author of The Swerve: How the World Became Modern

"[A] compelling, clarifying account of one of history's most dramatic assassinations. . . . [Strauss] conveys the complexity of late republican Roman politics while keeping up a lively pace."
— Lev Grossman

"Strauss' account of the world's most famous assassination is as thrilling as any novel."
— Robert Harris, bestselling author of the Ancient Rome Trilogy

"[A] page-turner. . . . Detail after detail clothes the familiar facts of Caesar's seemingly inevitable murder with fresh images. . . . The last bloody day of the Republic has never been painted so brilliantly."
— Greg Woolf

"With keen historical insights and the pace of a thriller, Barry Strauss brings vividly to life the Rome of 44 B.C., the final days of Julius Caesar, and the men who killed him. This is history as it should be written—a deeply human story of all the men and women caught up in these famous events."
— Adrian Goldsworthy, author of Augustus: First Emperor of Rome

"The superb storytelling of Barry Strauss shows that the details of history's most famous assassination are just as fascinating as why it happened. . . . The Death of Caesar provides a fresh look at a well-trodden event, with storytelling sure to inspire awe."
— Scott Manning

"I have never read so detailed an account of the world's most famous assassination—how the plot was planned, the many personalities, the killing itself and the bitter aftermath. The Death of Caesar brings back all the suspense of an extraordinary story, as if we weren't sure what was going to happen next. An unputdownable book."
— Anthony Everitt, author of CICERO

"A fresh, accessible account of the archetypal assassination. . . .Strauss underscores [the conspirators'] dilemma with an urgency that makes each page crackle with suspense. . . . The Death of Caesar serves us both as an entertaining, vital act of preservation for those details and figures glossed over by other historians and as a reminder of a plot so daring it would be unthinkable today.""
— Nick Ochwar

"This engrossing account of that pivotal event is exhaustive, yet surprisingly easy to read. . . . The Death of Caesar is brimming with memorable facts."
— Joe Queenan

"This history of Caesar by the American academic Barry Strauss is a romp, yes, but a glorious one, through the final months of Rome's most famous ruler. . . . One of the most riveting hour-by-hour accounts of Caesar's final day I have read. . . . An absolutely marvelous read."
— Catherine Nixey

"Barry Strauss, as both sleuth and classicist, guides us through the why and how of the killing of Julius Caesar. A riveting blow-by-blow account by a masterful scholar and story-teller of a human drama that changed the course of Western history."
— Victor Davis Hanson, Senior Fellow, Hoover Institution, Stanford University and author of THE SAVIOR GENERALS and CARNAGE AND CULTURE

"This stupendous book has all the pace and action of a top-quality thriller—murder, lust, betrayal and high politics—yet it's all true, and comes from the pen of the world's senior academic expert in the field. A lifetime's study of the ancient sources has gone into Barry Strauss's utterly gripping account of the day that the course of human history radically changed. Superbly researched, wittily written, but above all driven by a truly exciting narrative that never lets up, this is history-writing at its best. Our understanding of what happened on the Ides of March and its chaotic, bloody aftermath is forever changed, and this will be the standard work for decades to come."
— Andrew Roberts, author of NAPOLEON: A Life

"I always knew the plunging of those fatal daggers was an epochal moment in Western Civ, but I never knew why – until now. Barry Strauss is our all-knowing Vergil, escorting us across the dim landscape of history, enlightening us with precious insight."
— Steven Pressfield, bestselling author of GATES OF FIRE and THE LION'S GATE

"A classics thriller. . . . The Death of Caesar teases apart this paramilitary operation of 60 or more conspirators and, in reporting the facts, revokes much of Shakespeare's poetic license in 'Julius Caesar.'"
— Katharine Whittemore

"Strauss takes us deep into the psyche of ancient history in an exciting, twisted tale."
— Kirkus Reviews (starred review)
Simon & Schuster, 9781451668797, 352pp.
Publication Date: March 3, 2015
About the Author
Barry Strauss, professor of history and classics at Cornell University, is a leading expert on ancient military history. He has written or edited several books, including The Battle of Salamis, The Trojan War, The Spartacus War, Masters of Command, The Death of Caesar, and Ten Caesars. Visit BarryStrauss.com.
or
Not Currently Available for Direct Purchase