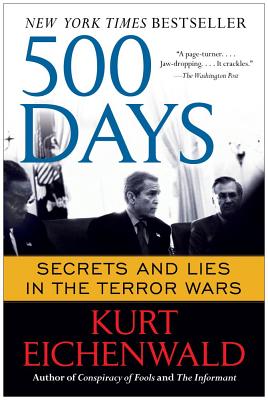 500 Days
Secrets and Lies in the Terror Wars
Paperback

* Individual store prices may vary.
Other Editions of This Title:
Digital Audiobook (9/10/2012)
Description
Kurt Eichenwald—New York Times bestselling author of Conspiracy of Fools and The Informant—recounts the first 500 days after 9/11 in a comprehensive, compelling page-turner as gripping as any thriller.

KURT EICHENWALD—NEW YORK TIMES BESTSELLING AUTHOR OF CONSPIRACY OF FOOLS—RECOUNTS THE FIRST 500 DAYS AFTER 9/11 IN A COMPREHENSIVE, COMPELLING PAGE-TURNER..

In 500 Days, master chronicler Kurt Eichenwald lays bare the harrowing decisions, deceptions, and delusions of the eighteen months that changed the world forever, as leaders raced to protect their citizens in the wake of 9/11.

Eichenwald's gripping, immediate style and true-to-life dialogue puts readers at the heart of these historic events, from the Oval Office to Number 10 Downing Street, from Guantanamo Bay to the depths of CIA headquarters, from the al-Qaeda training camps to the torture chambers of Egypt and Syria. He reveals previously undisclosed information from the terror wars, including never-before-reported details about warrantless wiretapping, the anthrax attacks and investigations, and conflicts between Washington and London.

With his signature fast-paced narrative style, Eichenwald exposes a world of secrets and lies that has remained hidden for far too long.
Praise For 500 Days: Secrets and Lies in the Terror Wars…
"An epic narrative....It may be his best book yet."
— Vanity Fair

"With the pacing of a suspense novel, award-winning journalist Eichenwald's richly researched account … [is] a breathtaking inspection of the war on terror that began on 9/11 and reverberates to this day."
— Booklist (starred review)

"Gripping . . . both a page-turning read and an insightful dissection of 9/11's dark legacy"
— Publishers Weekly (starred review)

"A blow-by-blow, episodic reconstruction of the fallout from 9/11 in the highest spheres of terrorist strategy … demonstrating literally how the anti-terrorist hysteria in the United States, and the hatred of America and general global paranoia, forged the 'trauma that haunts the world to this day.'"
— Kirkus Reviews

"Eichenwald is a master at making complicated stories easily understood....[500 Days is] a page-turner because of his journalistic attention to detail. Readers get fly-on-the-wall accounts as Bush administration officials weigh life-and-death decisions."
— Washington Post

"Thorough reporting and crisp writing . . . Moves at the pace of a movie-ready thriller."
— Dallas Morning News

"Illuminating and entertaining throughout."
— PARADE magazine

"An ambitious undertaking and a valuable resource. . . . [Eichenwald] brings home the fundamental rashness and recklessness of the American response to the Sept. 11 attack."
— New York Times Book Review

"Who really made the decision to go to war in Iraq, and how grounded in fact were the "facts" fed to the American public? The author gives us not a seat at the table but an awfully good listening post to the decisions that changed the world."
— Asbury Park Press and Home News Tribune (NJ)
Touchstone, 9781451669398, 640pp.
Publication Date: June 4, 2013
About the Author
Kurt Eichenwald wrote for The New York Times for more than twenty years. A two-time winner of the George Polk Award for excellence in journalism, he was a finalist for the Pulitzer Prize in 2000 and 2002. He is the author of three bestselling books, one of which, The Informant, was made into a major motion picture. He lives in Dallas with his wife and three children. Visit him online at KurtEichenwald.com.
or
Not Currently Available for Direct Purchase