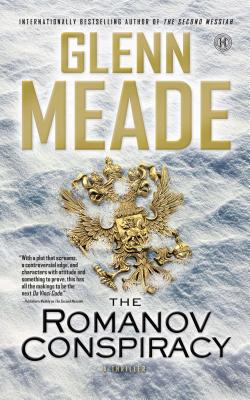 The Romanov Conspiracy (Paperback)
A Thriller
Howard Books, 9781451669459, 544pp.
Publication Date: June 11, 2013
Other Editions of This Title:
Digital Audiobook (8/6/2012)
Hardcover (8/7/2012)
MP3 CD (8/7/2012)
Compact Disc (8/7/2012)
Compact Disc (8/7/2012)
* Individual store prices may vary.
Description
Since July 1918, no one has been able to solve the mysterious disappearance of Princess Anastasia—until Dr. Laura Pavlov uncovers some haunting clues in this thriller by the acclaimed, bestselling author of The Second Messiah.

SOMETIMES MYSTERIES ARE NEVER SOLVED. SOMETIMES THERE ARE NO ANSWERS.

DR. LAURA PAVLOV, an American forensic archaeologist, is about to unravel a mystery that promises to shed light on one of the twentieth century's greatest enigmas. Digging on the outskirts of the present-day Russian city of Ekaterin­burg, where the Romanov royal family was executed in July 1918, Pavlov discovers a body perfectly preserved in the permafrost of a disused mine shaft.

The remains offer dramatic new clues to the disappearance of the Romanovs, and in particular their famous daughter, Princess Anastasia, whose murder has always been in question. Pavlov's discovery sets her on an unlikely journey to Ireland, where a carefully hidden account of a years-old covert mis­sion is about to change the accepted course of world history and hurl her back into the past—into a maelstrom of deceit, secrets, and lies.

Drawn from historical fact, The Romanov Conspiracy is a page-turning story of love and friendship tested by war, and a desperate battle between revenge and redemption, set against one of the most bloody and brutal revolu­tions in world history.
About the Author
Glenn Meade was born in 1957 in Finglas, Dublin. His novels have been international bestsellers, translated into more than twenty languages, and have enjoyed both critical and commercial success.
Praise For The Romanov Conspiracy: A Thriller…
"The Romanov Conspiracy is a book that affirms our essential goodness as human beings and our capacity for forgiveness. . . . it reveals our potential for tenacity, bravery and resilience, even when we're faced with overwhelming odds."
— Christian Retailing

". . . puts a fresh spin on the mystery surrounding the deaths of the Romanovs, in particular the possible escape of princess Anastasia."
— Publishers Weekly

"The Irish-born author (Snow Wolf) teeters on the edge of genius and sacrilege with this thriller about a subject known since the time of Christ. When archeologist Jack Cane discovers ancient documents that point to the existence of another messiah, he also quickly finds out that both Israeli and Catholic authorities have reason to possess, or suppress, such documents. Racked with the pain of personal loss, he meets up with an old friend, Lela, who is part of an Israeli police team investigating multiple crimes, including a cold case involving the possible murder of Cane's parents—also archeologists—20 years earlier. Some who have avoided Christian fiction or only dipped in will find this departure from the mold refreshing, even while some regular readers of Christian fiction may find certain passages revolting. Fans of Davis Bunn or Dan Brown won't bat an eye at Meade's unblinking look at the Vatican and the religious secrecy that fuels such novels. With a plot that screams, a controversial edge, and characters with attitude and something to prove, this has all the makings to be the next Da Vinci Code."
— Publishers Weekly

"Dan Brown meets Tom Clancy—Glenn Meade sure knows how to get your pulse racing. I was gripped from page one. Whether The Second Messiah is fact or fiction is up for debate, but one thing's for sure—it's one heck of a thriller. You know you're in safe hands with Glenn Meade—The Second Messiah is a rollercoaster of a thriller that lifts the lid on the inner workings of the Vatican and leaves you wondering just how much of the fiction is actually fact."
— Stephen Leather, author of Nightfall

"A thrill a minute. A cross between Indiana Jones and Dan Brown. Thriller readers will love this book."
— Midwest Book Review

"Reading similarly to both a Thoene novel and The Da Vinci Code, bestselling author Meade's The Second Messiah will keep readers on the edge of their proverbial seats . . . The Second Messiah reads quickly and will hold the reader's attention with its many plot twists. In the story, Meade also addresses the problem of suffering in an insightful comment from the pope. Fans of fiction tied to news headlines will enjoy this geopolitical thriller. Recommended for readers of Joel C. Rosenberg."
— Christian Retailing

"Written in the mold of The Da Vinci Code—sans all the erroneous claims (thankfully)—bestselling author Glenn Meade's latest geographical thriller, The Second Messiah, keeps readers on the edge of their proverbial seats with multiple plot twists."
— Charisma

"Meade knows how to entangle, and untangle, an exciting array of characters and plots guaranteed to keep the reader hooked . . . a talented storyteller, he sets the scene quickly before taking off on a rollicking ride that keeps the pages turning. It's a hard book to put down."
— Crosswalk.com

"Meade's second foray into international intrigue imagines that Nazis biding time in South America hatch a viable plot to take over contemporary Germany. The novel opens with a splendidly tantalizing episode of eavesdropping by a Paraguayan reporter who, before he's caught and killed, hides a tell-tale tape recording. . . . Fast, sly, and slick, this thriller delivers the goods—tension, action, plot twists—until the smoke clears on the last page."
— Booklist

Praise for Glenn Meade's other work:

"Meade's research is so extensive yet unobtrusive . . . that it is often easy to forget you're reading fiction and not history. This a completely riveting thriller in the tradition of the Day of the Jackal. A white knuckler!"
— The Washington Post

"A writer of powerfully built and skillfully executed plots. Immerse yourself in his intricately woven intrigue and explosive action, and enjoy them thoroughly!"
— Oleg Kalugin, former head of the KGB's First Directorate

"This a fascinating work of historic fiction, spanning countries and generations. . . . The characters are well-drawn, and the story holds the readers to its inevitable end."
— Portland Book Review