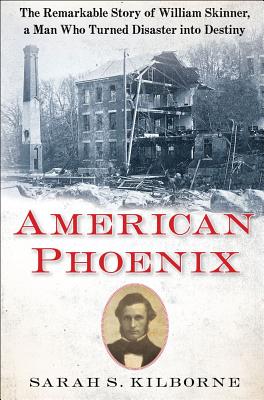 American Phoenix
The Remarkable Story of William Skinner, A Man Who Turned Disaster Into Destiny
Hardcover

* Individual store prices may vary.
Other Editions of This Title:
Paperback (9/6/2014)
Description
The remarkable story of nineteenth-century millionaire William Skinner, a leading founder of the American silk industry, who lost everything in a devastating flood—and his improbable, inspiring comeback to the pinnacle of the business world.

The incredible story of nineteenth-century millionaire William Skinner, a leading founder of the American silk industry, who lost everything in a devastating flood—and his improbable, inspiring comeback to the pinnacle of the business world

In 1845 a young, penniless William Skinner sailed in steerage class on a boat that took him from the slums of London to the United States. Endowed with rare knowledge in the art of dyeing and an uncanny business sense, he acquired work in a fledgling silk mill in Massachusetts, quickly rising to prominence in the nation's new luxury industry. Soon he opened his own factory and began turning out one of the bestselling silk brands in the country. Skinner was lauded as a pioneer in the textile industry and a manufacturer who knew no such word as fail. His business grew to sustain a bustling community filled with men, women, and children, living and working in the mill village of "Skinner-ville," producing the country's most glamorous, fashionable thread.

Then, in 1874, disaster struck. Hundreds of millions of gallons of water burst through a nearby dam, destroying everything in its path, including Skinnerville. Within fifteen minutes, Skinner's entire life's work was swept away, and he found himself one of the central figures in the worst industrial disaster the nation had yet known.

In this gripping narrative history, Skinner's great-great-granddaughter, Sarah S. Kilborne, tells an inspiring, unforgettable American story—of a town devastated by unimaginable catastrophe; an industry that had no reason to succeed except for the perseverance of a few intrepid entrepreneurs; and a man who had nothing—and everything—to lose as he struggled to rebuild his life a second time.

None of Skinner's peers who lost their factories in the Mill River Flood withstood the shock of their losses, but Skinner went on to stage one of the greatest comebacks in the annals of American industry. As a result of his efforts to survive, he became one of the leading silk manufacturers in the world, leaving an indelible imprint on the history of American fashion and style. More striking still, this achievement would never have been possible if Skinner hadn't been ruined by the flood and forced, at age forty-nine, to start all over again, rebuilding everything with just one asset: the knowledge in his head.

With masterful skill Kilborne brings to life an era when fabric was fashion, silk was supreme, factories were beacons of American success, and immigrants like Skinner with the secrets of age-old European arts possessed knowledge worth gold to Americans. Here is a story of ambition and desire, resilience and faith, disaster and survival. It is about making it, losing it, and then making it again despite the odds. An enthralling tale, American Phoenix offers a new twist on the American dream, reminding us that just when we thought the dream was over, it may have only just begun.

***

FROM AMERICAN PHOENIX

As the train slowed in its approach to the depot at the northern end of Skinnerville, one of Skinner's employees, John Ellsworth perhaps, awaited him on the platform. The depot was about a quarter mile from the house along a dark, unlit road. Thus when Skinner stepped down from the car and into the cold night air, he would have found both driver and horse all ready for the short jog home. The trip and this day were almost over, the anniversaries behind him, and a new year in the life of his marriage, his family, and his work was about to begin on the morrow. He was forty-nine years old, and the fabric of his existence had never been stronger. As he walked up the steps to his front door, there in the middle of Skinnerville, with the river flowing reliably behind him, the mill at rest across the way, the houses of his neighbors and employees all around, and a reunion with his wife and children just seconds ahead, there wasn't one clue, nor any sign, that the very next morning nearly everything in his world would be swept away.
Praise For American Phoenix: The Remarkable Story of William Skinner, A Man Who Turned Disaster Into Destiny…
"In American Phoenix, Kilborne weaves a compelling, richly textured tale of a tragic flood, an indomitable man, and the perils and promise of silk. She has a gift for unearthing the poignant, long-forgotten details that breathe life into history." -- Amy Butler Greenfield, author of A Perfect Red: Empire, Espionage, and the Quest for the Color of Desire

"Many business histories are also family stories, and Sarah Kilborne tells hers with with beautiful prose, meticulous research and the revelations that only personal archives can provide. In a book with special relevance for our own times, Kilborne gives us an American ideal in short supply these days: the self-made man who gets knocked down, only to climb back up again -- stronger than ever. Going well beyond the constraints of any business case study, Kilborne works through what can only have been daunting accretions of history to show, with breathtaking clarity, the mechanics of American industrial success." -- Jacob Soll, Professor of History, USC, MacArthur "Genius" Grant Recipient, and author of The Information Master

"A compelling, comprehensive biography of a man who contributed much to American manufacturing—perfect for readers who like to root for the underdog." --Kirkus Reviews

"Kilborne's biography of her great-great-grandfather tells a story of entrepreneurial struggle triumphing over seemingly insurmountable obstacles, a familiar trope in American culture. " --Library Journal
Free Press, 9781451671797, 448pp.
Publication Date: October 16, 2012
About the Author
Sarah S. Kilborne is a writer, historian, musician, and editor. She holds a degree in philosophy from Yale University and has been a research fellow at the Five College Women's Studies Research Center at Mount Holyoke College. She is the author of two acclaimed books for children, Peach & Blue and Leaving Vietnam: The True Story of Tuan Ngo. She lives along the Hudson River in upstate New York.
Book Videos
or
Not Currently Available for Direct Purchase