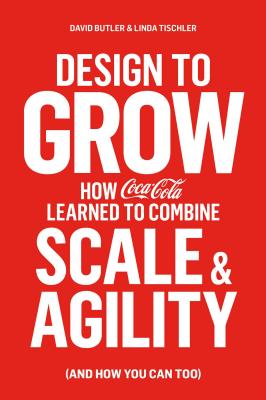 Design to Grow (Hardcover)
How Coca-Cola Learned to Combine Scale and Agility (and How You Can Too)
Simon & Schuster, 9781451671827, 256pp.
Publication Date: February 10, 2015
Other Editions of This Title:
Digital Audiobook (3/16/2015)
MP3 CD (3/17/2015)
Compact Disc (3/17/2015)
Paperback (2/23/2016)
* Individual store prices may vary.
Description
Expert advice from Coca-Cola's vice president of Innovation and Entrepreneurship: Learn how Coca-Cola uses design to grow its business by combining the advantages of scale with the agility to respond to fast-changing market conditions.

In today's world, every company is at risk of having a "Kodak Moment"—watching its industry and the competitive advantages it has developed over years, even decades, vanish overnight. The reason? An inability to adapt quickly to new business realities. Established companies are at risk, but it's no easier being an agile startup, because most of those fail due to their inability to scale. Tomorrow's business winners—regardless of size or industry—will be the ones that know how to combine scale with agility.

In Design to Grow, a Coca-Cola senior executive shares both the successes and failures of one of the world's largest companies as it learns to use design to be both agile and big. In this rare and unprecedented behind-the-scenes look, David Butler and senior Fast Company editor, Linda Tischler, use plain language and easy-to-understand case studies to show how this works at Coca-Cola—and how other companies can use the same approach to grow their business. This book is a must-read for managers inside large corporations as well as entrepreneurs just getting started.
About the Author
David Butler is the Vice President of Innovation and Entrepreneurship at The Coca-Cola Company and is responsible for Coca-Cola's Accelerator Program designed to generate early-stage, high-growth startups. Under David's leadership, Coca-Cola has been recognized with numerous design awards, including the prestigious Grand Prix from the Cannes Lions International Advertising Festival. In 2009, David was recognized by Fast Company as a "Master of Design" and by Fortune for its 2013 Executive Dream Team. David is a member of the World Economic Forum's Global Agenda Council on Design and Innovation.

Linda Tischler is an award-winning editor at Fast Company magazine, where she writes about the intersection of design and business. She helped launch Fast Company's design website, FastCoDesign.com, which is now the web's largest design site. Prior to joining Fast Company, Tischler was an editor at Boston Magazine, where she initiated the New England Design Awards. She has also written for Metropolitan Home, The Boston Globe, and Huffington Post and held editing and writing jobs at the Boston Herald and Microsoft's Sidewalk.com.
Praise For Design to Grow: How Coca-Cola Learned to Combine Scale and Agility (and How You Can Too)…
"What explains Coca-Cola's worldwide market dominance? David Butler and Linda Tischler argue that it's a result of attention to design details at every level of the organization, in every product line, in every country, by every employee. Whatever the size of your enterprise, you'll find in this book a master class in problem-solving, in cross-cultural marketing, and in decision-making."
— Daniel H. Pink, author of To Sell Is Human and Drive

"Kudos to Coke's leaders for embracing the power of designers like David Butler not only to make their products more accessible, but to improve how the entire business operates. In Design to Grow, Butler and Linda Tischler provide a step-by-step guide on how to translate design principles for lasting value. And they do it as only good designers would: simply and with a compelling story."
— Beth Comstock, CMO, GE

"Big and fast, complex and focused, large scale and agile. These seem like oxymorons in the world of business innovation. Using examples from the history of Coca-Cola, David Butler and Linda Tischler show how it is possible to embrace these tensions through the use of design. Reading Design to Grow has caused me to think differently about my company. I am confident it will do the same for how you think about yours."
— Tim Brown, CEO of IDEO

"Design to Grow walks the reader down a brilliant, gentle path to understand how one of the world's most important brands is applying design to transform its global enterprise. It shows readers how to reach extraordinary and often infernally complex accomplishments—like scale and agility, a seemingly impossible combination—in a way that isn't magical or exclusive, but rather a systematic approach to creative thinking. What's more, it does what every great design strives to do—it makes it look easy."
— Bruce Mau, Co-Founder, Massive Change Network

"David Butler and Linda Tischler demystify the transformation organizations face in this hyper-complex era. Now is the time to become more agile, more focused, more resilient. And a major key that can unlock that potential is design. Design to Grow is a practical guide leaders need to understand design, unleash creativity in all levels of an organization, and make it drive the right action. It's a book you'll come back to again and again as you design the future."
— Keith Yamashita, Chairman, SY/Partners, and a kyu collective member

"Butler and Tischler's book is an embodiment of how design is all about actionable opposites. They argue that design can help big companies, which have already mastered scale, learn to be agile—which breaks with common sense corporate wisdom. So, too, they say, design can help small companies and startups, which are already agile, achieve scale. Design to Grow shows exactly how Coca-Cola did it (without giving away the secret recipe to that brown fizzy liquid that we all love). And they lay out the principles that any company can use to do the same."
— John Maeda, Design Partner, Kleiner Perkins Caufield & Byers, and author of Redesigning Leadership
or
Not Currently Available for Direct Purchase