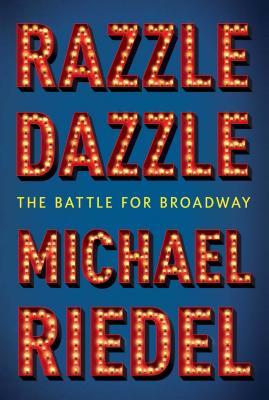 Razzle Dazzle (Hardcover)
The Battle for Broadway
Simon & Schuster, 9781451672169, 464pp.
Publication Date: October 6, 2015
Other Editions of This Title:
Digital Audiobook (10/5/2015)
Paperback (10/11/2016)
Compact Disc (10/6/2015)
Compact Disc (10/6/2015)
MP3 CD (10/6/2015)
* Individual store prices may vary.
Description
Broadway's most respected (and feared) commentator pulls back the curtain on its stars, its producers, and its mega-hits to reveal all the shocking drama, intrigue, and power plays that happened off stage.

Razzle Dazzle is a provocative, no-holds-barred narrative account of the people and the money and the power that re-invented an iconic quarter of New York City, turning its gritty back alleys and sex-shops into the glitzy, dazzling Great White Way—and bringing a crippled New York from the brink of bankruptcy to its glittering glory.

In the mid-1970s Times Square was the seedy symbol of New York's economic decline. Its once shining star, the renowned Shubert Organization, was losing theaters to make way for parking lots. Bernard Jacobs and Jerry Schoenfeld, two ambitious board members, saw the crumbling company was ripe for takeover and staged a coup amidst corporate intrigue, personal betrayals, and criminal investigations. Once Jacobs and Schoenfeld solidified their power, they turned a collapsed theater-owning holding company into one of the most successful entertainment empires in the world, ultimately backing many of Broadway's biggest hits, including A Chorus Line, Cats, Les Miserables, Phantom of the Opera, and Mamma Mia! They also sparked the revitalization of Broadway and the renewal of Times Square.

Now Michael Riedel tells the stories of the Shubert Organization and the shows that re-built a city in grand style, revealing the backstage drama that often rivaled what transpired onstage, exposing bitter rivalries, unlikely alliances, and—of course—scintillating gossip. This is a great story, told with wit and passion.
About the Author
Michael Riedel has been a theater columnist for the New York Post since 1998. He worked at the Daily News (New York) for five years before returning to the Post and has written for The Guardian, Harper's Bazaar, Mirabella, Departures, and Commentary. Riedel is the cohost of Theater Talk with PBS, is a contributor to the BBC, and has appeared on Larry King Live, the Today show, Good Morning America, and many other news programs. He lives in New York City.
Praise For Razzle Dazzle: The Battle for Broadway…
"This book is a love letter to Broadway, both a splendid history of this American institution and a wonderful account of how art gets made. It made me fall for Broadway's magic all over again: its history and its myths, its heroes and its villains, its up and its downs, its dirt and its dish, its failure and its glory."
– Hugh Jackman

"There have only been a handful of books in history that have come close to accurately depicting the energy and drive that run the business of Broadway. Michael Riedel's Razzle Dazzle joins that very short list that includes William Goldman's legendary The Season and Richard Maney's classic Fanfare—and is every bit the equal of those books that those of us who love Broadway can recite by heart."
– Scott Rudin

"Razzle Dazzle is a fantastically fun book, full of high energy, anecdotes, and wit. Michael Riedel lays bare the secret history of Broadway in all its grease paint, shady dealings, and shining moments. Written with love but also a piercing eye, this is one show no one should miss."

— Amanda Foreman

Riedel brings enthusiasm and authority to this rich, lively debut history of New York theater in the 1970s and '80s…. Riedel masterfully builds suspense as he chronicles productions from idea to stage to reviews to Tony Awards. A captivating gift to theater lovers.
— Kirkus (starred)

"Riedel may be known, where he is known, for his sharp wit and sharper tongue, but when it comes to Broadway as an institution, as a history, and as a legend, he's very much a man in love."
— Booklist

"Just finished RAZZLE DAZZLE, a vivid page-turner that's basically a history of Broadway by longtime theater observer Michael Riedel. It starts with a ticket-scalping scandal that practically brought down the industry, then flashes back to the sharp-elbowed early days of the Shubert empire, and then fills in with anecdotes both well-known (to aficionados) and long-forgotten (by nearly everyone). Startling deaths, unexpected demolitions, backstage gossip, inside stories — it's every bit as theatrical as its subject matter."
— Bob Mondello, NPR

"Michael Riedel's new book, Razzle Dazzle, brings this gritty world [of 1970's and 80's Broadway] back to life.... Riedel unearths treasures from the recent past and contextualizes events that would otherwise be too easily forgotten."
— The Washington Post

"The trouble with Razzle Dazzle, Michael Riedel's new book about Broadway, is that from the first page -- on which a man complains to the attorney general's office that "I made an investment in a play, and the producer used the money to buy a lobster boat in Montauk" -- you can't put the damn thing down.... Riedel subtitles his book "The Battle for Broadway," and he follows through by giving us a fascinating, eye-popping view of all the bloody carnage."
— Steven Suskin

"Fabulously juicy but simultaneously — in some areas singularly — substantial history of Broadway and its characters, which makes that point, only with more of the salacious details… Most books about Broadway, of course, center on the so-called creatives, the real artists of the field. Did I mention they're usually boring? Not so Razzle Dazzle. Riedel's book grips because he understands, far better than most, the power of the theater owners on Broadway."
— Chicago Tribune

"Michael Riedel's new book, Razzle Dazzle, brings this gritty world [of 1970's and 80's Broadway] back to life...His descriptions of the vices and foibles of the producers, choreographers and directors who shaped these productions would not seem out of place in a page-turning Hollywood tell-all…Riedel unearths treasure from the recent past and contextualizes events that would otherwise be too easily forgotten."
— The Washington Post

"The book our incomparable theater critic Michael Riedel was born to write. Great reporting, great writing, great read."
— New York Post

"Scrumptious…The personal and professional foibles of various Shuberts are documented with color and wit, as are the changing political and social dynamics that Broadway faced as a key part of New York City's cultural and economic fabric…there is no mistaking the positive, infectious zeal at the core of Razzle Dazzle. For those interested in the business behind the greasepaint, at a riveting time in Broadway's and New York's history, this is the ticket."
— USA Today

"Razzle Dazzle: The Battle for Broadway byMichael Riedel, the New York Post's flamboyantly mischievous Broadwaycolumnist, tells the thrilling history of the larger-than-life impresarios whohelped transform the Great White Way from cultural ugly duckling in the seedy1970s to the grand billion-dollar swan it is today."
– Los Angeles Times
or
Not Currently Available for Direct Purchase