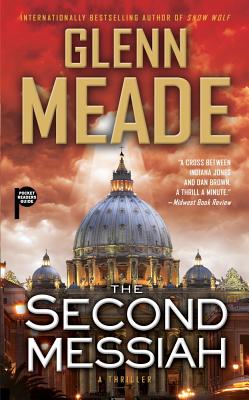 The Second Messiah
A Thriller
Paperback

* Individual store prices may vary.
Other Editions of This Title:
Paperback (5/1/2012)
Paperback (7/1/2011)
Hardcover (8/2/2011)
Description
The riveting thriller from award-winning author Glenn Meade: "With a plot that screams, a controversial edge, and characters with attitude and something to prove, this has all the makings to be the next Da Vinci Code" (Publishers Weekly).

From the award-winning international bestseller whose "FAST, SLY, AND SLICK THRILLERS DELIVER THE GOODS . . . UNTIL THE SMOKE FINALLY CLEARS" (Booklist) comes a riveting blend of fact and fiction that solidifies GLENN MEADE's place among the likes of Tom Clancy and John le Carré.

The desert near Jerusalem. A renowned professor is murdered and a two-thousand-year-old parchment is stolen before its stunning references to not one but two messiahs can be fully translated.

Rome. Widespread panic erupts among the faithful when a charismatic American priest with long-hidden secrets is elected pope. Is he the antichrist or the second coming?

A political and religious standoff explodes. Archaeologist Jack Cane and Israeli police inspector Lela Raul must stay one step ahead of a vengeful assassin before they are permanently silenced and the real truth behind the scroll and its controversial revelations is forever lost to humanity.
Praise For The Second Messiah: A Thriller…
"The Irish-born author (Snow Wolf) teeters on the edge of genius and sacrilege with this thriller about a subject known since the time of Christ. When archeologist Jack Cane discovers ancient documents that point to the existence of another messiah, he also quickly finds out that both Israeli and Catholic authorities have reason to possess, or suppress, such documents. Racked with the pain of personal loss, he meets up with an old friend, Lela, who is part of an Israeli police team investigating multiple crimes, including a cold case involving the possible murder of Cane's parents—also archeologists—20 years earlier. Some who have avoided Christian fiction or only dipped in will find this departure from the mold refreshing, even while some regular readers of Christian fiction may find certain passages revolting. Fans of Davis Bunn or Dan Brown won't bat an eye at Meade's unblinking look at the Vatican and the religious secrecy that fuels such novels. With a plot that screams, a controversial edge, and characters with attitude and something to prove, this has all the makings to be the next Da Vinci Code."



"Dan Brown meets Tom Clancy—Glenn Meade sure knows how to get your pulse racing. I was gripped from page one. Whether The Second Messiah is fact or fiction is up for debate, but one thing's for sure—it's one heck of a thriller. You know you're in safe hands with Glenn Meade—The Second Messiah is a rollercoaster of a thriller that lifts the lid on the inner workings of the Vatican and leaves you wondering just how much of the fiction is actually fact."

-Stephen Leather, author of Nightfall


"A thrill a minute. A cross between Indiana Jones and Dan Brown. Thriller readers will love this book."



"Tell Dan Brown to move over! It's Glenn Meade's turn."



"Reading similarly to both a Thoene novel and The Da Vinci Code, bestselling author Meade's The Second Messiah will keep readers on the edge of their proverbial seats . . . The Second Messiah reads quickly and will hold the reader's attention with its many plot twists. In the story, Meade also addresses the problem of suffering in an insightful comment from the pope. Fans of fiction tied to news headlines will enjoy this geopolitical thriller. Recommended for readers of Joel C. Rosenberg."



"This novel is a Da Vinci Code-type thriller, but it's far more. The secret scrolls and chases are standard thriller fare, but deftly handled. Some of the characters are particularly captivating, especially the new Pope, a true follower of God who's tormented by his past and struggling with the future of the Church. This suspenseful book is well worth reading."



"Written in the mold of The Da Vinci Code—sans all the erroneous claims (thankfully)—bestselling author Glenn Meade's latest geographical thriller, The Second Messiah, keeps readers on the edge of their proverbial seats with multiple plot twists."



"Meade knows how to entangle, and untangle, an exciting array of characters and plots guaranteed to keep the reader hooked . . . a talented storyteller, he sets the scene quickly before taking off on a rollicking ride that keeps the pages turning. It's a hard book to put down."



"Reads at a breathtaking, frantic pace from beginning to end. . . . A daring work of fiction that will have people talking."
Pocket Books, 9781451672831, 592pp.
Publication Date: June 26, 2012
About the Author
Glenn Meade was born in 1957 in Finglas, Dublin. His novels have been international bestsellers, translated into more than twenty languages, and have enjoyed both critical and commercial success.
or
Not Currently Available for Direct Purchase