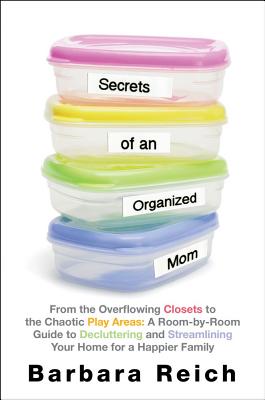 Secrets of an Organized Mom
From the Overflowing Closets to the Chaotic Play Areas: A Room-By-Room Guide to Decluttering and Streamlining Your Hom
Hardcover

* Individual store prices may vary.
Other Editions of This Title:
Paperback (4/1/2014)
Description
"Everyone should Barbarafy," raves The New York Times A life-changing program for streamlining everything that's weighing you down--from over-stuffed closets to overwhelming social calendars--courtesy of the media's go-to organizing guru: Barbara Reich. Organizing guru Barbara Reich offers a life-changing program for your life and home. Mothers can feel like life is running on a never-ending loop. Just when one problem or responsibility is overcome, another trips us up. But help is on the way: Barbara Reich has all the strategies for staying ahead of the curve--and she's wrapped them up into four easy steps that can be applied to any organizing project: 1. purge, 2. design, 3. organize, and 4. maintain. The keys to Barbara's success are simplicity and consistency. Room by room, she takes readers through the most problematic areas in the home-- from the tornado-struck play area to the packed basement or storage unit. Barbara shows readers how to approach organizing in manageable bites-- many of which can be dealt with in two hours or less. As the mother of thirteen-year-old twins, Barbara offers insight into the lives of crazed moms as only a mother could with tips like these: - When it comes time to clean out the toy bin, keep only what your child plays with-- educational toys "exist to make you feel guilty." - Throw away those kitchen gadgets you never use. A streamlined kitchen can mean the difference between another night of take-out and a healthy family meal. - Your child doesn't need to attend six birthday parties in one weekend. To avoid social overload, Barbara preaches the power of "No"--and there's no need to follow it up with a why. - Having trouble parting with your child's artwork from three years ago? Scan or digitally photograph everything and create a gallery on your computer. Combining the humor of a sympathetic friend and the no-nonsense advice of a true type-A personality, Reich offers clever, appealing solutions that are genuinely achievable for everyone.
Praise For Secrets of an Organized Mom: From the Overflowing Closets to the Chaotic Play Areas: A Room-By-Room Guide to Decluttering and Streamlining Your Hom…
"Everyone should Barbarafy!"



"Reich delivers. Her book just might take the anxiety out of tasks that many find completely daunting and overwhelming."

-Publishers Weekly


"Every mom should read Secrets of an Organized Mom. Power-packed with all you need to know to get and stayed organized, this book is the ultimate guide for anyone reorganizing, relocating, or just trying to make sense of the clutter."

-Tina Reber


"Barbara is a great editor. She took her razor sharp eye and cut a swath through my closet. When you can't see the forest through the trees, Barbara can. She's a true lifesaver!"

-Judith Regan

"Secrets of an Organized Mom gets you excited to organize your home. Who knew that was possible? It is packed with great tips to help you create a plan to organize your home in a fast and effective manner, which is a huge stress relief for busy moms. And she keeps it simple, so it's perfect for organization rookies."



"Barbara Reich gives busy moms the tools get their homes—and their lives—in perfect order. Secrets of an Organized Mom is stuffed full of helpful tips for tackling chaotic countertops, scary storage spaces and everything in between. All hail the Clutter Queen!"



"Barbara Reich makes having an organized house look so easy! And it can be if you follow some of her tips and stick with it."
Atria Books, 9781451672855, 242pp.
Publication Date: February 26, 2013
or
Not Currently Available for Direct Purchase