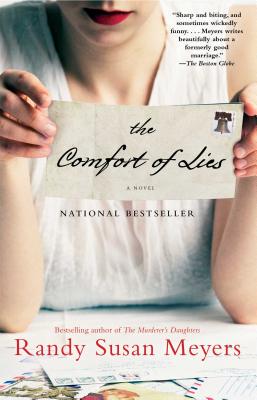 The Comfort of Lies (Paperback)
A Novel
Washington Square Press, 9781451673029, 352pp.
Publication Date: January 28, 2014
Other Editions of This Title:
MP3 CD (3/12/2013)
Hardcover (2/12/2013)
MP3 CD (9/23/2014)
Compact Disc (2/25/2014)
Compact Disc (3/12/2013)
Library Binding, Large Print (6/1/2013)
MP3 CD (3/1/2013)
Compact Disc (3/1/2013)
MP3 CD (2/25/2014)
* Individual store prices may vary.
Description
In this "sharp and biting, and sometimes wickedly funny" (The Boston Globe) bestselling novel, three very different families are threatened in the wake of an extramarital affair.

Five years ago . . .

Tia fell into obsessive love with a man she could never have. When she became pregnant, Nathan disappeared, and she gave up their baby for adoption.

Caroline reluctantly adopted a baby to please her husband. Now she's ques­tioning whether she's cut out for the role of wife and mother.

Juliette considered her life ideal: solid marriage, two beautiful sons, and a thriving business. Then she discovered Nathan's affair. He promised he'd never stray again, and she trusted him.

Now . . .

When Juliette intercepts a letter to her husband that contains pictures of a child who deeply resembles him, her world crumbles once more. How could Nathan deny his daughter? What other secrets is he hiding? Desperate for the truth, Juliette goes in search of the little girl, and before long the three women are on a collision course with consequences that none of them could have predicted.
About the Author
Randy Susan Meyers is the internationally bestselling author of five novels, including Waisted, The Widow of Wall Street, Accidents of Marriage, The Comfort of Lies, and The Murderer's Daughters. Her books have been designated one of the ten best works of fiction in 2010, 2014, and 2017 by the Massachusetts Center for the Book, an affiliate of the Library of Congress. She lives in Boston with her husband, where she teaches writing at the GrubStreet writing center. Her novels have been translated into more than twenty-six languages.
Praise For The Comfort of Lies: A Novel…
"The characters crackle with both intelligence and wit. Meyers' women resonate as strong, complicated and conflicted, and the writing flows effortlessly in this sweet yet sassy novel about love, women and motherhood."
— Kirkus Reviews

"Randy Susan Meyers's second novel is sharp and biting, and sometimes wickedly funny...but it has a lot of heart, too. Meyers writes beautifully about a formerly good marriage ­— the simple joys of stability, the pleasures of veteran intimacy ­— and deftly dissects just how ugly things can get after infidelity. The battles these women fight take place on a small stage, yet they're anything but trivial: saving a marriage, making a meaningful career, learning to parent. In the end, thanks to Meyers's astute, sympathetic observation, we want these women to win."
— The Boston Globe

"Meyers has crafted an absorbing and layered drama that explores the complexities of infidelity, forgiveness, and family."
— Booklist

"Meyers enriches her character development with class and career difficulties, as well as settings involving far differing neighborhoods of Boston. Readers who enjoyed The Memory Keepers Daughter or Jeanette Halen's Matter of Chance, will feel right at home in the anxious pages of Meyer's captivating novel."
— Library Journal

"Meyers creates three distinct voices, with each woman speaking from a place of pain and strength while navigating complicated emotions in the aftermath of a life-changing event. The alternating perspectives maintain the intensity of the emotions and relationships, leading to the inevitable decision of which is more powerful: the harm caused by dishonesty, or the strength of forgiveness and love."
— Romantic Times

"Meyers delves into the layered facets of motherhood and how children not only shape the fate of their parents, but also manage to sometimes tinker with their emotional balance and sense of judgment."
— Jewish Journal

"Plunging us into the different minds and hearts of these characters, Meyers unearths how their relationships to Savannah are affected in multiple ways. But the author makes every perspective engaging. She conveys their inner and outer lives, and the varying ways they connect with each other and with Savannah, whose head is turned in three directions."
— Improper Bostonian

"Meyers' carefully told story is a satisfying examination of the imperfect paths we all walk."
— BookPage

"Meyers teases out the well-orchestrated plot in a frank, lean narrative written in the alternating voices of the three women...creat[ing] psychologically complex protagonists by imbuing them with contradictions...it's hard to stop turning the pages of this book; much to her credit, Meyers keep us guessing untill the end."
— Winnipeg Free Press

"With The Comfort of Lies, Meyers' complex characters feel familiar yet flawed, and this sharply-woven tale demonstrates her uncanny ability to explore and illuminate the nuances of life's most thorny dilemmas."
— Brooklyn Daily Eagle

"I devoured this big-hearted story of three women whose lives collide years after a baby is put up for adoption. Meyers' wit and wisdom shine through, even when her characters are at their most sorrowful and confused. She writes with insight and compassion, about marriage, forgiveness, work, family and the true meaning of motherhood."
— J. Courtney Sullivan

"The intertwining and heart-wrenching stories of how three women come to terms with the decisions they've made and those yet to make will touch you and stay with you long after you've turned the last page. Beautifully written. Strong characters. The Comfort of Lies is a powerful, poignant and riveting novel."
— MJ Rose, international bestselling author

"I devoured this book. Randy Susan Meyers writes with great empathy and insight about three distinct women and the unlikely intersection of their lives. The story will pull you into the uncomfortable space where truths are confronted, and lead you to the other side where the world looks brighter. A sensitive exploration of why we take refuge in the comfort of lies, and what happens when we dare to release ourselves from their power."
— Shilpi Somaya Gowda

"I spent many blissful, addicted hours with The Comfort of Lies, totally hooked on needing to know what happened next in the braided stories of Tia, Caroline, and Juliette. Meyers has an uncanny ability to get inside women whose circumstances dramatically divide them and show how at heart, we're all the same. Another unforgettable Meyers smash-hit."
— Jenna Blum

"A fast-paced multi-narrator story that gets to the heart of the trade-offs of motherhood. You will be drawn in by these characters because of the mystery at the novel's center and relate to the ways in which they each create their own loneliness while surrounded by others."
— Heidi W. Durrow

"The Comfort of Lies explores a complex and beautiful web of relationships between three very different women whose lives intersect in startling and heartrending ways. This is my favorite kind of read: a page-turner soaked in empathy with an elegant understanding of the human heart. Randy Susan Meyers is a first rate talent."
— Joshilyn Jackson

"Insightful, unsettling, and ultimately hopeful, The Comfort of Lies is a compelling, multilayered story. Randy Susan Meyers skillfully exposes the insecurities and strengths of three women who find their lives forever reshaped in the far-reaching wake of a little girl's adoption."
— Beth Hoffman

"Meyers creates three distinct voices, with each woman speaking from a place of pain and strength while navigating complicated emotions in the aftermath of a life-changing event. The alternating perspectives maintain the intensity of the emotions and relationships, leading to the inevitable decision of which is more powerful: the harm caused by dishonesty, or the strength of forgiveness and love."
— Romantic Times

"A novel about love, that explores its meaning with wise restlessness and no easy answers. Profound, clear-sighted and more than a bit slyly funny, this is a book to read, to reread and to share."
— Robin Black

"Randy Susan Meyers' thoughtful, gripping new novel explores the unlikely intersection of three women in crisis. The result is a haunting exploration of the secrets we keep - and how, in the aftermath of their detonation, shattered lives can be mended. Meyers is a major talent, and her writing is a gift to readers everywhere."
— Sarak Pekkanen

"A tender, yet sharp portrayal of the messy way three women stumble into each others' worlds, Meyers explores the lies we tell each other, and maybe more importantly, the ones we tell ourselves. A whip-smart observation of the definition of family and ultimately, what it means to love."
— Amy Hatvany

"Randy Susan Meyers' must-read new novel, The Comfort of Lies, resonates with vibrations of love in forms as varied as a symphony: the discordant notes of jealousy, the sweet harmony of soulmates connecting, the high notes of sacrifice and forgiveness—all underscored by the sweeping passion of mother love that is embedded in its heart's core."
— Marianne Leone

"A roller-coaster of a ride through the world of infidelity, unwed motherhood, and adoption. Randy Susan Meyers' The Comfort of Lies deftly explores the importance of trust, and the power of love."
— Meg Waite Clayton

"With warmth, you-are-there immediacy and impressive insight, Randy Susan Meyers explores both the destructive nature of lies and the redeeming power of hard truths. Every page in this multilayered novel of separate yet entangled lives not only illustrates the accommodations we make for love but also illuminates what it means to be a family. This book is an enormous accomplishment!"
— Mameve Medwed

"This meaningful novel is, at its heart, a multi-faceted love story. It's about how people do the wrong things for the right reasons and vice versa. This is the story of the ways that families-- bonded by blood and by choice-- can save or slay us. With a vision that is generous, yet unsentimental, The Comfort Of Lies is a testimony to the healing power of the truth."
— Tayari Jones, author of Silver Sparrow

"Randy Susan Meyers plumbs the depth and intricacy of human entanglements, exploring them with a clear eye and compassion for each of her insightfully rendered characters. The Comfort of Lies is a riveting page-turner, conjuring the ways in which we compete with, lay claim to and ultimately love one another."
— Juliette Fay
or
Not Currently Available for Direct Purchase