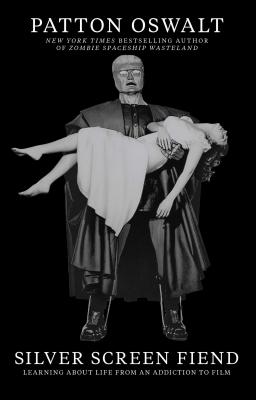 Silver Screen Fiend
Learning About Life from an Addiction to Film
Hardcover

* Individual store prices may vary.
Other Editions of This Title:
Digital Audiobook (1/5/2015)
Paperback (10/13/2015)
CD-Audio (1/6/2015)
Description
New York Times bestselling author, comedian, and actor Patton Oswalt shares his entertaining memoir about coming of age as a performer and writer in the late '90s while obsessively watching classic films at the legendary New Beverly Cinema in Los Angeles.

Between 1995 and 1999, Patton Oswalt lived with an unshakeable addiction. It wasn't drugs, alcohol, or sex. It was film. After moving to L.A., Oswalt became a huge film buff, absorbing classics and new releases at least three nights a week at the New Beverly Cinema. Silver screen celluloid became Patton's life schoolbook, informing his notions of acting, writing, comedy, and relationships. Set in the nascent days of the alternative comedy scene, Oswalt's memoir chronicles his journey from fledgling stand-up comedian to self-assured sitcom actor, with the colorful New Beverly collective supporting him all along the way.

Ideally timed for awards season, when everyone's mind is on Hollywood, Silver Screen Fiend follows up on the terrific reception of Oswalt's New York Times bestselling debut, Zombie Spaceship Wasteland. Already a beloved fixture on the comedy stage, on television, and in film—not to mention his 1.87 million Twitter followers—Oswalt announces, with this second book, that he's also here to stay on the page.
Praise For Silver Screen Fiend: Learning About Life from an Addiction to Film…
"Patton Oswalt is one of the most brilliant comedy minds of a generation. This book confirms it."
— Ricky Gervais

"I loved this book. It feels like a great one sided conversation from your funniest friend. It made me feel less alone in the precious hours I read it. But now it's gone and I have nothing."
— Amy Schumer

"Silver Screen Fiend is both a love letter to artistic obsession and string of caution tape around it. Patton describes the ecstatic demands of the arts (in this case, Stand-up and Film) with insight, fond pity, and unfailing humor. This is a book for anyone who strives to be great, or is bored in an airport."
— Joss Whedon

"Smart and pointed. [Oswalt] is a colorful writer."

"A funny and sentimental read.... deep, passionate, and personal."

"Immediate and vital... [Silver Screen Fiend is] enough to make any reader seek out the many films that made him hibernate in the first place.

Oswalt's prose is sparkling.... A coming-of middle-age meditation, Oswalt's homage to films is both hilarious and heartfelt."

"Hilarious.... [Silver Screen Fiend] shows Oswalt's maturity as a writer and a thinker."

"Oswalt is...a formidable storyteller....A love song to the silver screen."

"Vivid and funny."

"[Oswalt has] a set of synapses like a pinball machine and a prose style to match....Oswalt's writing gives off the hallucinogenic shimmer of the true obsessive, packing all the sharpness and bite of his stand-up."

"Clever and readable...Oswalt's encyclopedic knowledge and frothing enthusiasm for films (from sleek noir classics, to gory B movies, to cliche-riddled independents,to big empty blockbusters) is relentlessly present, whirringin the background like a projector."

"A must for fans of comedy and film."

Oswalt is a great conveyer of his real-life (and reel-life) experiences....great insider stuff."

"Entertaining and maniacally informative."

"[An] astute, acerbic, and footnote-crazy chronicle of life as a "movie freak mole man." ... Oswalt is a true cinephiliac, equally appreciative of the artistry of Jean Cocteau's Beauty and the Beast and Doris Wishman's Bad Girls Go to Hell."

"Anyone who loves movies...will be better for reading this enjoyable and funny memoir."
Scribner, 9781451673210, 240pp.
Publication Date: January 6, 2015
About the Author
Patton Oswalt is the author of the New York Times bestseller Zombie Spaceship Wasteland. He has released four TV specials and four critically acclaimed comedy albums, including the Grammy-nominated My Weakness Is Strong. He put together the Comedians of Comedy tour and television series. Oswalt has also appeared on many television shows and in more than twenty films, including Young Adult, Big Fan, and Ratatouille. He lives in Los Angeles, California.
Coverage from NPR
or
Not Currently Available for Direct Purchase