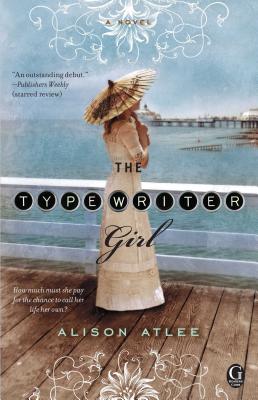 The Typewriter Girl
Paperback

* Individual store prices may vary.
Other Editions of This Title:
Hardcover, Large Print (4/19/2013)
MP3 CD (6/14/2016)
Description
A passionate historical debut novel about a young woman in turn-of-the-century England who finds love and independence at a seashore resort.

ALL BETSEY DOBSON HAS EVER ASKED IS THE CHANCE TO BE VIEWED ON HER OWN MERITS, BUT IN A MAN'S WORLD, THAT IS THE UNFORGIVABLE SIN

When Betsey disembarks from the London train in the seaside resort of Idensea, all she owns is a small valise and a canary in a cage. After attempting to forge a letter of reference she knew would be denied her, Betsey has been fired from the typing pool of her previous employer. Her vigorous protest left one man wounded, another jilted, and her character permanently besmirched. Now, without money or a reference for her promised job, the future looks even bleaker than the debacle behind her. But her life is about to change . . . because a young Welshman on the railroad quay, waiting for another woman, is the one man willing to believe in her.

Mr. Jones is inept in matters of love, but a genius at things mechanical. In Idensea, he has constructed a glittering pier that astounds the wealthy tourists. And in Betsey, he recognizes the ideal tour manager for the Idensea Pier & Pleasure Building Company. After a lifetime of guarding her secrets and breaking the rules, Betsey becomes a force to be reckoned with. Now she faces a challenge of another sort: not only to outrun her sins, but also to surrender to the reckless tides of love. . . .
Gallery Books, 9781451673258, 384pp.
Publication Date: January 29, 2013
About the Author
Alison Atlee spent her childhood re-enacting Little Women and trying to fashion nineteenth century wardrobes for her Barbie dolls. Happily, these activities turned out to be good preparation for writing historical novels. She now lives in Kentucky.
What does the first scene of the novel reveal about Betsey's character? How do her actions and attitude set her apart from the other typewriter girls? In what ways is she unconventional for a woman in the 1890s?
During her last night with Avery, Betsey wonders if "she wanted the wrong thing, this job that could end with the turn of a season, this life in a place she'd never seen" (page 23). Why is she eager to leave London and take the position as excursions manager in Idensea? If she hadn't accepted the position, what might her future have held?
What does John Jones see in Betsey that inspires his confidence in her? What does his interest in Betsey reveal about his own character? Why does he continue to support her after her inauspicious arrival?
Lillian believes that she has her suitors in hand and that she's on schedule to be married. What makes her so confident? How does she mishandle her relationships with John and Noel Dunning? What proves to be her undoing?
What does John mean when he says that Betsey is not for him? What do Betsey and Lillian each represent to him? What are John's ambitions and what does he see as the steps to realize them?
What do John's reminiscences of his family reveal about him? Why is he keen to bring his brother, Owen, to live with him?
Each chapter opens with a quote from How to Become Expert in Type-writing. How did these quotes shape your reading?
Why does John take Betsey to the Sultan's Road the night of Lillian's musicale? How does Betsey feel when she realizes what he wants from her? Why doesn't she yield to him?
Betsey's sexual freedom is unusual for her time, a time when "in all the ways a man could meet ruin, there was one way in which he could not, one especial way reserved only for woman" (page 184). What motivates Betsey to live as freely as she does? Why is it so essential that she "choose"? Why is she intent on remaining unmarried?
How would you describe Betsey's general attitude toward men? What events have shaped it? In what instances does her independent streak inspire admiration or condemnation from the men she works with?
What natural talents does Betsey use to her advantage to make the excursions scheme successful and to win the respect of her employers? What does she learn from John and Mr. Seiler about business and managing the board of directors?
What sort of man is Sir Alton? What does his treatment of Betsey reveal about his prejudices? In what ways does he undermine John, despite admiring and relying upon him?
When Betsey says she "wanted only to be safe and not owe anyone anything" (page 192), do you believe she's being honest with herself? How do her plans for the excursion scheme prove otherwise?
The night after the fire, when John tells Betsey he wants to marry her, why does she refuse? Why does she tell him that she doesn't trust him?